When you first launch the game, you're prompted to complete Bootcamp. It's a training course designed to help you learn game basics in a real battle. After completing it, you get a nice reward of credits, in-game gold, and more bonuses to bolster your progress as you advance in World of Tanks.
Garage
Once you finish your Bootcamp training, you'll be introduced to your Garage. Get to know this screen—you'll be spending a lot of time here. This is where you view all your vehicles, research and buy new vehicles, train your crews, chat with other players and, of course, start your first battle.
Step 1. Select your Vehicle
You have Tier I vehicles of all nations at your disposal from the very start. You can take any of them into battle.
To select a vehicle, click its image in the vehicle panel. The selected vehicle is displayed in the Garage.

Step 2. Select Battle Mode
There are several Battle Modes in World of Tanks. As a new player, you can select from two modes: Random Battle or Proving Ground. To select a battle mode, click its name in the dropdown menu.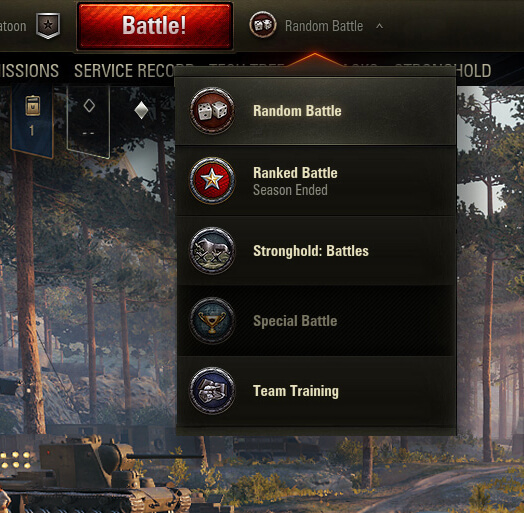 Step 3. Roll Out
You have selected a vehicle and a battle mode. Now click Battle! and prepare for your first taste of tank combat!

In Battle
After clicking Battle!, you see the pre-battle loading screen with complete rosters for both teams and the objective of the battle. Keep an eye out for the useful tips in the center of the screen.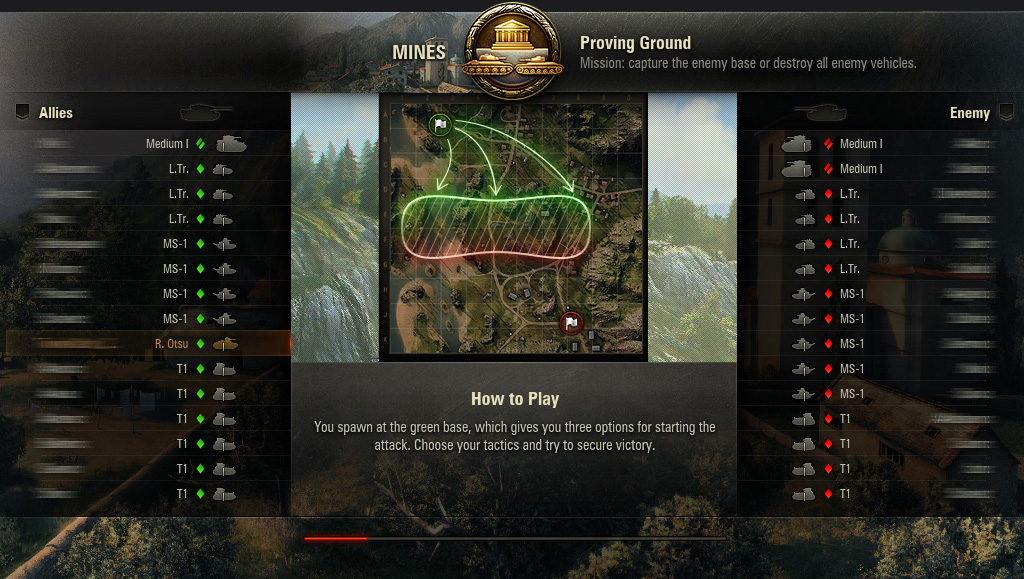 When loading is complete, you see the Battle Screen, which provides key information while you are in battle.
Interactive image. Click
(Next) to proceed to the next element.
Vehicle State Panel
Your vehicle's HP, state of modules and crew members, hull and gun position, and current speed.
Ammunition & Consumables
Icons that show the shell types and consumables mounted on your vehicle. Equipment that is activated in battle is also displayed in this panel.
Minimap
Map of the battlefield featuring the bases and vehicles of both teams. Your vehicle is marked with a white icon with view range circles around it, and a camera direction cone. Hold Ctrl and click a minimap sector to draw your allies' attention to it. Use the + and – keys to adjust the minimap size.
Team Panels
Lineup of both teams: players' nicknames, names and silhouettes of their vehicles, and the number of enemy vehicles destroyed by each player. Your allied team is displayed on the left, with your name marked in yellow. The lists also display who is still in action on both teams, and current Platoon formations.
Score
Use this panel to keep track of the course of combat and vehicles that are still intact. Types of vehicles are represented by their vehicle icons.