Welcome back to the new season of Clan Wars Diary! It's me again, BananaWeewa!
In my last diary entry, I shared my experiences joining a beginner-friendly clan. I'm a bit disappointed in myself that I did not meet personal objectives.
But! I'm well-rested this time and ready to take on the challenge again. I aim to get at least a reward tank this time — without an auction permit. In order to reach my goal, I decided to join one of the top Thai clans, HYDR4. They always rank within the top 10 of Stronghold's Advances and Seasonal Clan Wars.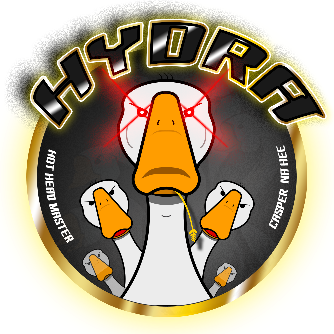 My Goal: Obtain the 116-F3 Reward Vehicle
The War God campaign may have similar rules to the previous campaign. But this time, it introduces the 116-F3, a new Chinese autoloading heavy tank that can deal massive damage in a very short time. It also has impressive frontal armor.
Based on the stats, the 3-round autoloader can do a devastating 1590 average damage per magazine. Don't be fooled by its overall stats!
Since I already have all the Clan Wars reward vehicles, I want to collect this too. As a bonus, I'll try to get Increased Shell Resistance to increase my tank's HP — and track HP too. Which means the tank will be tougher, and makes it harder to immobilize with just one shot on the tank's track.
(Though I feel I'll likely end up using this piece of equipment on meta tanks again.)
Both the vehicle and equipment are exclusive to the War Gods campaign and may not appear anytime soon™.
The parameters displayed are valid for the vehicle with each crew member trained to 100% major qualification level. Some vehicle characteristics can be further improved with the Commander's bonus to major qualification level, crew perks, and skills, as well as special in-game items.
116-F3
X
Average Damage
Average Penetration
Hit Points
Top Speed / Reverse Speed
Commander (Radio Operator)
Gunner
Driver
Loader
Average Damage
Ammunition
Average Penetration
Time for Complete Loading
Dispersion at 100 m
Shells in the Magazine
Aiming Time
Time for Loading Between Shots
Gun Depression / Elevation Angles
Shell Types
Shell Velocity
Concealment of Moving Vehicle
Hit Points
Concealment of Stationary Vehicle
Hull Armor
Signal Range
Turret Armor
View Range
Turret Traverse Speed
Engine Power
Specific Power
Traverse Speed
Top Speed / Reverse Speed
Next, I'd like to share with everyone how a top clan prepares players for battle in a competitive mode.
During the campaign, I'll work to find some exciting replays or strategies (with HYDR4's permission) that can be shared with those interested in Clan Wars, or are preparing themselves for the next campaign.
Let's see how they operate before the campaign begins!
Preparation Stage
HYDR4 consists of a lot of veteran players who had participated in many Clan Wars campaigns and Advances. Also, they always join seasonal Clan Wars campaigns to train themselves and study how to dominate areas on each map. HYDR4's goal is to become one of the top clans in the server, especially amongst the Thai community.
They are always on the lookout for players who are willing to commit and learn how to be better players in both Random Battles and Clan Wars.
Every night during non-Clan Wars season, they would try to gather at least 15 players to join in Advances to practice their gameplay and test out ideas on how to play on each map with different vehicles.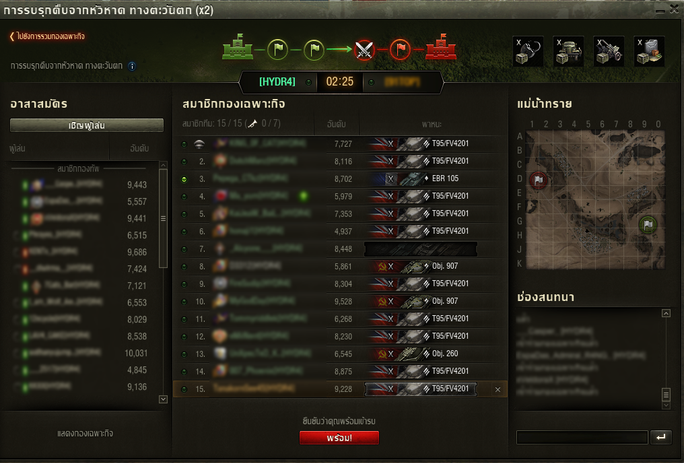 Example of training in Strongholds
To make sure that they can make it through the Clan Wars campaign as a clan, all members are required to list down their available time so that battles can be planned well and players who want Fame Points get what they need.
Most competitive clans require members to own meta vehicles — especially Clan Wars reward vehicles and campaign mission vehicles. It's no exception here in HYDR4.
---
KaRath's Guide to Tanks
Find out how to face against a couple of familiar faces on the Clan Wars battlefield so you don't waste your shells.