EL Gaming and B-Gaming emerged champions of the APAC Wargaming League last Season, but will they be able to maintain their seats and qualify for this year's Grand Finals? That'll be the question on everyone's lips come 13 January, when a fresh new Season kicks off with a tightened pool of 8 Gold Series teams and the return of some familiar faces.
Here are the teams who will be battling for glory this Season:
| | | | |
| --- | --- | --- | --- |
| EL Gaming | B-Gaming | MeltDown | T-E |
| Caren Tiger | DarkWolves | Horsemen | TCZ |
You'll also be able to see a lot more of your favourite teams, as this Season's battles will take place in a triple round-robin tournament, and all of them will be streamed LIVE!
Plus, if you've ever dreamt of eSports stardom, this could be your moment. The Silver Mavericks tournament is back, but this time with lots more potential to shake up the status quo, and it'll be open to all brave souls looking to ascend to the circles of the WoT elite. Sounds exciting? More details are yet to come, but for now, here's how things are set to play out in the League at the end of this Season: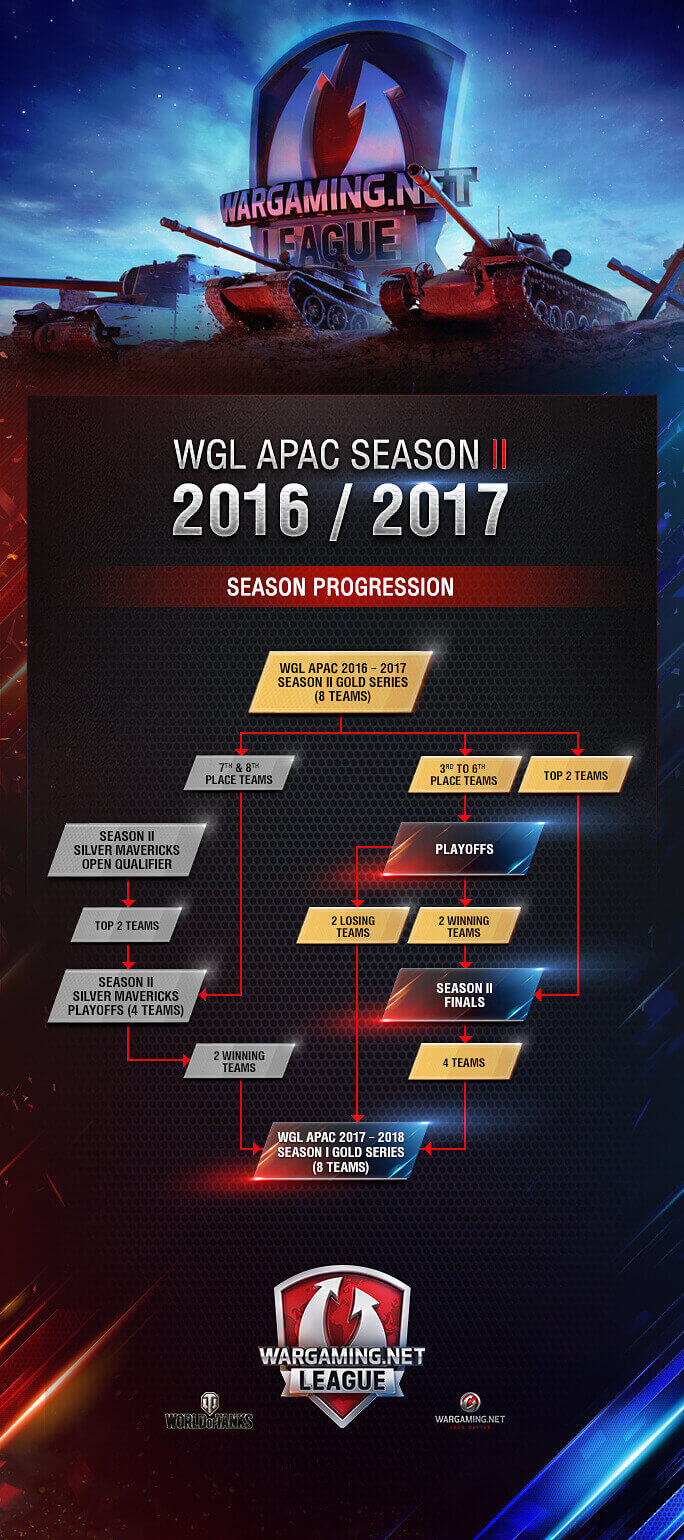 With all these changes in place, the coming Season seems to be shaping up to be a pretty exciting one. Will we be seeing a new champion at our Season Finals in early April, or will our current top teams continue to reign supreme? Be sure not to miss the first WGL match of the year this weekend, on Friday, 13 January!

LIVE BROADCAST

The WGL APAC Season II 2016-2017 Gold Series
13 January – 26 March 2017
Fridays, 19:00 UTC +8
Saturdays & Sundays, 14:00 UTC +8
SEASON SCHEDULE

Don't forget to follow us on Facebook, Twitter and YouTube for all the latest updates and information on the Wargaming League! For more fast-paced fun and fabulous prizes, check out the official tournament page and embark on your path to eSports glory.