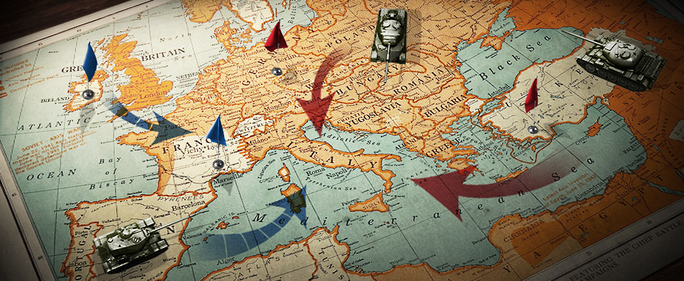 Welcome to The Game Plan! Now that you're familiar with the pros and cons of the IS-7, it's time to learn to exploit them. Read on and let _xXx_Nomad_o7o7o7_xXx_ from Team Efficiency show you how to make the best of this Russian behemoth's strengths!
---
PLAYSTYLE
When the match starts, be sure to analyse your team composition and the map. Think about the best flank to dominate and find a position where you can hide your hull (or lower plate at least) and allow your turret to shine in a hull-down position. You can pretty much laugh at most tanks that attempt to penetrate your turret, as most will fail. Beware however of The T110E3, T110E4, JPE-100, and occasionally the Obj 268 gold rounds, as they can penetrate your turret frontally. Of course, be aware of enemy SPGs, as high-tier artillery shells will not be kind to your tank.
The IS-7 should be a frontline tank, as the high top speed (you can hit nearly 60kph downhill) allows you to get into forward positions quickly and bully lower-tier tanks that have been caught out of position by playing too aggressively. Sniping with this tank is not advised, as the combination of poor accuracy and dispersion, as well as the relatively low AP penetration, will cause some frustration. Personally, I like to load a generous amount of APCR and get up close and personal. Facehugging enemy tanks is a great way to bully them into submission.
TANK SETUP

Ammo
I run 13 AP/15 APCR/2 HE - I find it to be a good mix of silver and gold rounds. As you can see, I am fairly liberal with gold usage, especially when engaging other heavily-armoured tanks, such as other IS-7s, IS-4s and E-100s. Plenty of players will also run full APCR loadouts due to the penetration advantage and significantly higher shell velocity. The APCR rounds are quite cheap, and it is definitely possible to make a profit with just APCR if you penetrate every round.
Equipment and Consumables
Vertical Stabiliser, Shell Rammer, Enhanced Gun Laying Drive/Improved Ventilation. There is some debate between the GLD and Vents. Personally, I like to run the GLD as the extra 10% aim time can be useful in targeting enemy weak spots during mid - long range engagements (yes, I know I said this is a terrible sniper, but sometimes when moving to a new location, damage is damage). However, Vents is also highly viable, as squeezing the extra DPM out of the gun and improving the soft stats in a brawl is extremely useful. If you have Vents + the Brothers in Arms perk, it certainly helps the tank out a fair bit. In the end, the decision is purely up to player preference and individual playstyle.
Crew Skills
| Crew | 1st | 2nd | 3rd | 4th |
| --- | --- | --- | --- | --- |
| Commander | Sixth Sense | Repair | BIA | Recon |
| Gunner | Repair | Snapshot | BIA | Armourer |
| Driver | Repair | Smooth Ride | BIA | Off Road Driving |
| Loader | Repair | Safe Stowage | BIA | Camo/Firefighting |
| Loader* | Repair | Adrenaline Rush | BIA | Situational Awareness |
*The second loader has to be in the second spot as he is also the radio man.
CONCLUSION
Russian bias is best bias. Very stronk tenk. Hide your lower plate, get hull down, bully lower-tier tanks and those with less armour than you. I hope you enjoyed the article, and thanks for reading!