It's been an epic weekend at the Champions Rumble: CIS incumbents Natus Vincere and TORNADO ENERGY Team took up arms to defend their region's honour, while European Challengers DiNG and Kazna Kru fought tooth and nail to achieve glory for their own. Only 1 team survived the bloodbath to obtain the ticket to the Grand Finals 2017 and 80,000 USD in prize money, and here they are, your new Rumble Champions…



CHAMPION




TORNADO ENERGY TEAM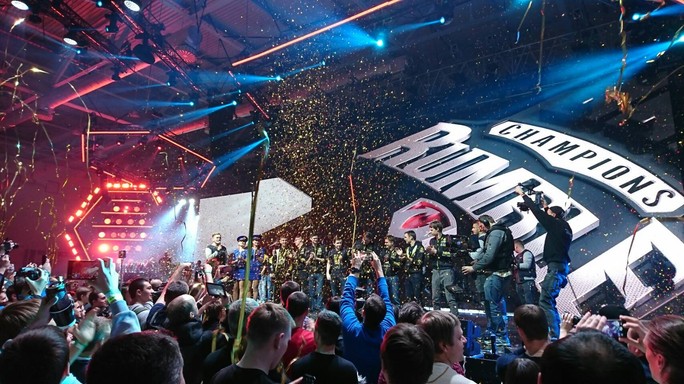 Dealing a stunning last-minute 7-5 blow to runner-ups Na'Vi, who they had been unable to best at the 2016 Grand Finals, the TORNADO ENERGY Team avenged their previous defeat by emerging the ultimate winner of this year's Rumble tournament, and thereby assured themselves a spot in next year's Grand Finals. Though Na'Vi fought valiantly in the Final match too, it just wasn't enough to oppose the new Champions' overwhelming might.
And of course – almost as if repeating their 2016 Grand Finals history together – this epic applew0w moment happened (though it certainly didn't stop Tornado from seizing the victory in the end):
Congratulations once again to our top teams, and a big thank you to all who have participated in this year's thrilling Rumble – a fittingly grand end to 2016 in the Wargaming.net League. Judging by the brilliant performances they put up in New York and Moscow, we're definitely looking forward to see more of them in the upcoming WGL Season II, which will begin in January with a tightened pool of 8 teams and the return of some familiar faces. Stay tuned!
---
Don't forget to follow us on Facebook, Twitter and YouTube for all the latest updates and information on the Wargaming League! For more fast-paced fun and fabulous prizes, check out the official tournament page and embark on your path to eSports glory.