The competition was stiff, but Caren Tiger and Naughty Kids have respectively managed to clinch the 1st and 2nd places in the JPN Major League. Next up, the APAC Masters! Only time will tell if they have what it takes to earn the top regional title, so let's get to know our 2 valiant contenders a little better!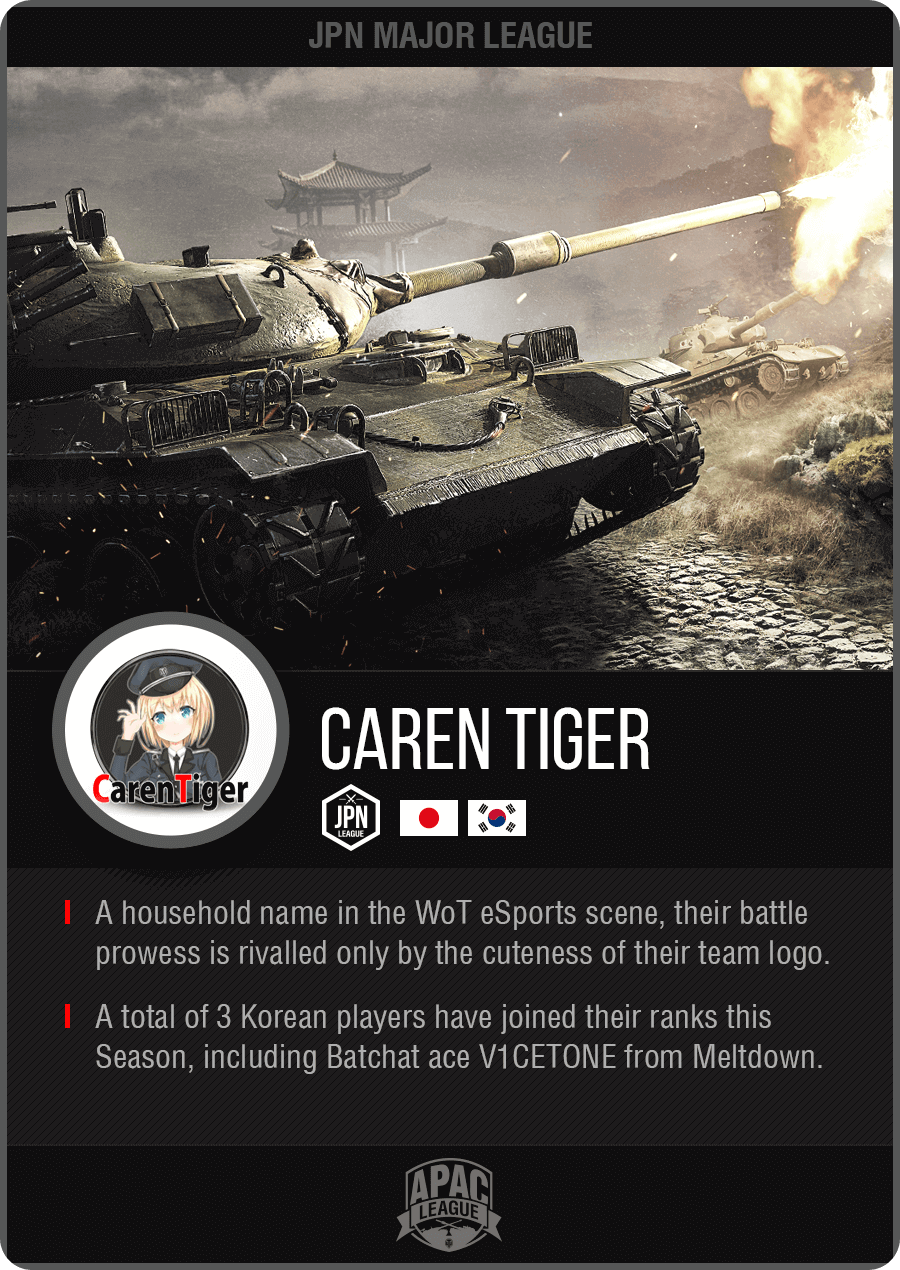 Could you introduce your team for all the fans?
Aki00v (team captain): The team was founded in 2014 by our old member, plateaux, as CharlotteTiger. Then we renamed ourselves CarenTiger in 2015. All our original members were from the CIV clan, and in the current roster Poly is the only one from that era.
What difficulties have your team encountered in this tournament?
We went through constant training in order to perform in the WGL. Now we are mainly focusing on improving our communication with our new Korean players; they're putting in a lot of effort in learning Japanese.
How does your team train for APAC League matches?
We usually organize scrims, but sometimes we just sit down and discuss tactics within the team. We train 4-5 times per week. Our cute team logo is our strength!
Which teams do you see as a threat in this tournament?
We already consider Team Efficiency our main rival. Within the JPN League, we know Naughty Kids and Typhoon are very strong.
What are your objectives in participating in the APAC League?
We are very happy to have realized that the JPN League is the most difficult one in APAC. Our goal is obviously to win the APAC Masters.
We want to keep joining WoT competitions. If there is a chance to go professional, we definitely want to try.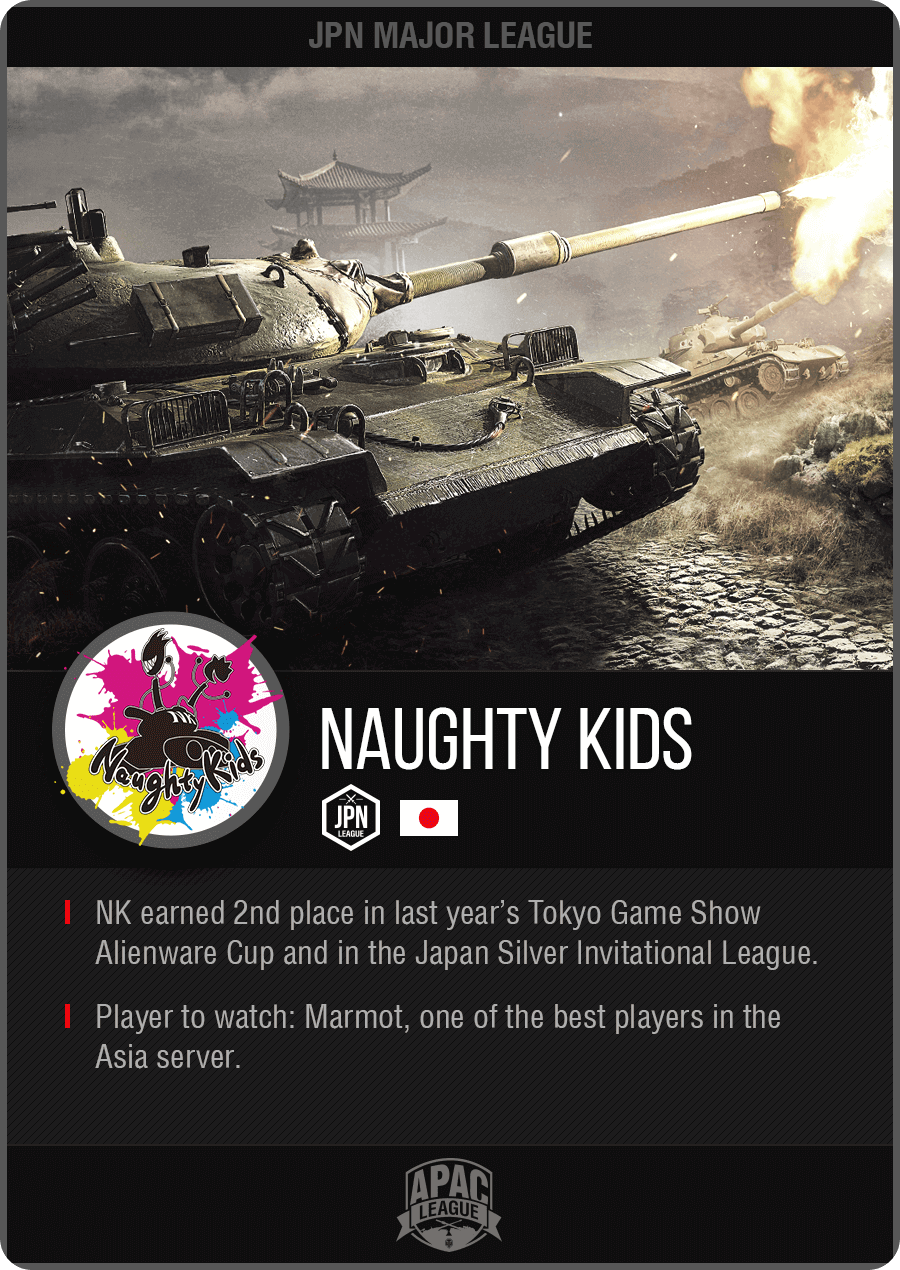 Tell us a bit about your team's background.
Kid (team captain): In order to join Wargaming.net League APAC Bronze 2015-16, former B-Gaming player tomatoJP and current NK member ArpK created the team BadCompany. We managed to finish in 2nd place and get promoted to Silver, and that's where we started our adventure as Naughty Kids.
While we weren't able to qualify for the Gold Series in the WGL, we have always been part of the competitive scene. We joined our first offline event last year during the Tokyo Game Show's Alienware Cup. We are also committed to participating in casual tournaments and team battles.
What are your battle preparations like?
2-3 times a week we have a two-hour session of practice and tactics reviews. If we have important matches [coming up] and enough opponents to train with, we try to increase the number of those sessions. We also regularly play random battles and team battles, watch replays, and prepare tactics. I'm usually in charge of tactics for Clan Wars too, so I spend a lot of time on StratSketch and YouTube.
Which maps would you want to see in future Seasons of the APAC League?
We like Steppes – it was used before and it's a fun map, so we hope it will be back! Personally, I would like to try other Attack/Defense maps; you need to play the maps to decide if they are fun or not. I would also love to see more Attack/Defense maps [in the game].
Do you intend to participate in future major WoT tournaments? Would you want to compete professionally if you have the chance?
Obviously, we want to continue joining competitions. If Wargaming or other third parties give us a chance to go pro, we would definitely pursue it.
You've made it to the final stage of the APAC League tournament. What else would you like to achieve as a team?
After finishing 2nd place in the Japan Silver Invitational League, we knew we had to improve even more for this tournament. The final goal for our team would be to be able to compete against top EU or CIS teams on their level, at offline events.