With this weekend's Playoffs looming just beyond the horizon, Team Efficiency and The Janitors must be under no small amount of pressure. But as the top 2 challengers from the ANZ Major League, we're sure they'll put up a good fight for the Masters title. Read on to find out more about them as they prepare for battle!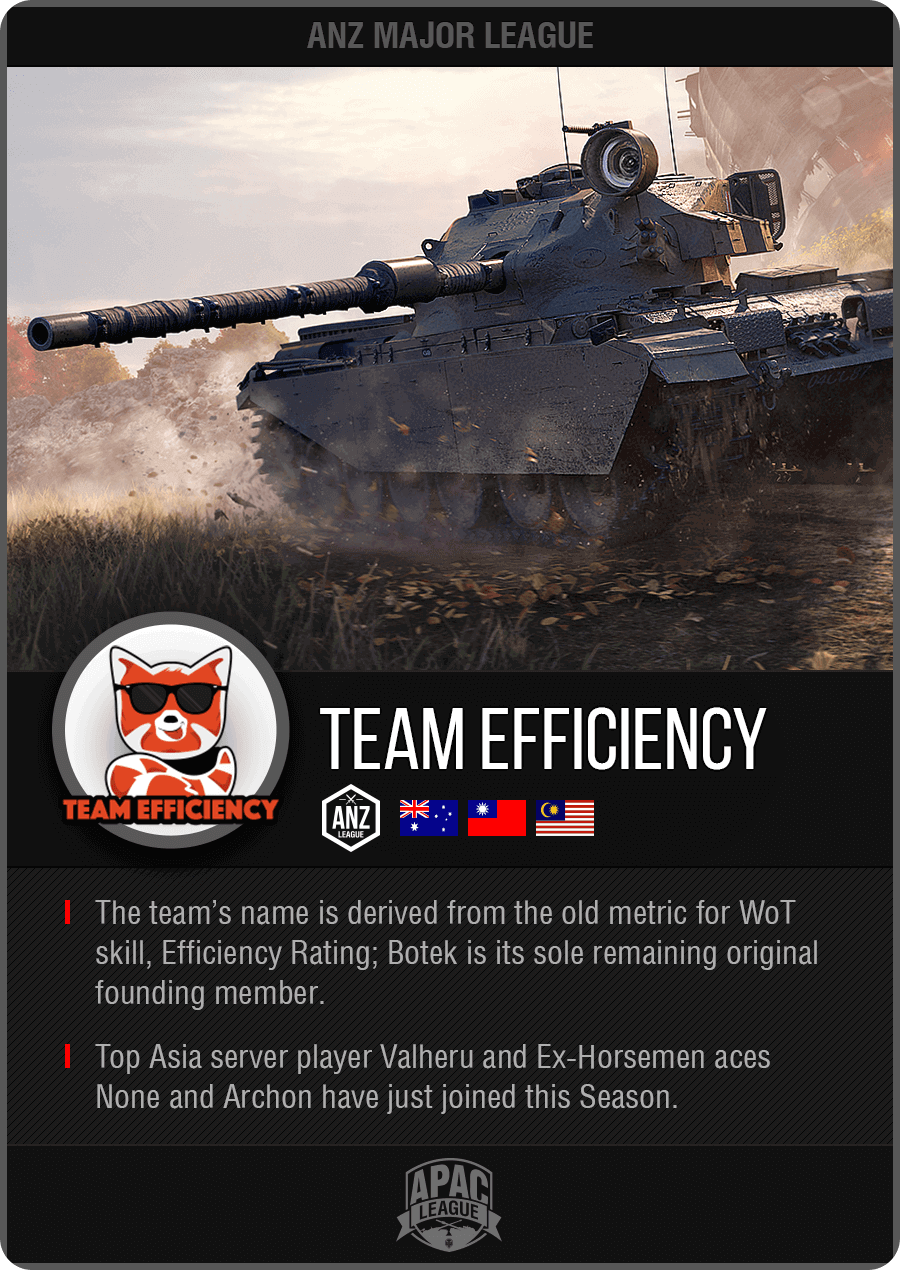 What made you decide to participate in tournaments?
Saffe: I think most readers will know that this is not our first tournament.
The reason most of our players started playing competitively would be to look for a new challenge in the game. Everyone starts by playing random games; the more competitive players will then move on to Clan Wars. After that, the only real option is to transition into competitive play.
What was the biggest obstacle your team has encountered so far?
The biggest challenge was probably around early 2015 due to inactivity; a lot of the Singapore-based players had to go into military service. I was brought on by Botek and slowly started bringing more ANZ-based players in, which helped to increase activity.
After that, it was more about gaining experience. Once all the players had at least one season under their belts, our success as a team kind of spoke for itself – we qualified for the last 3 Wargaming.net League APAC Finals in Sydney/Taipei, and 2 Grand Finals in Moscow.
What would you say makes your team special?
I would say the biggest difference between us and the other teams is the experience, but also individual skill level. Most of the players on our team could probably go straight into any roster on another team.
Which team do you consider the most dangerous in this tournament?
Our strongest opponent would obviously have to be Caren Tiger, as they have previous WGL experience. We have a great rivalry with them, but fortunately, we have come out on top in pretty much all our meetings.
The other teams we don't really know much about and they are mainly new to competitive play, so it's hard to comment on them.
If you could change the APAC League map rotation, are there any maps you would want to add?
No, the current map pool is pretty good. Cliff is a bit boring now with the removal of boosts, but with Sand River being included in the Playoffs, I think it's a good mixture.
Catch them on social media!
Facebook
YouTube
Saffe
JT
Valheru
Party
Botek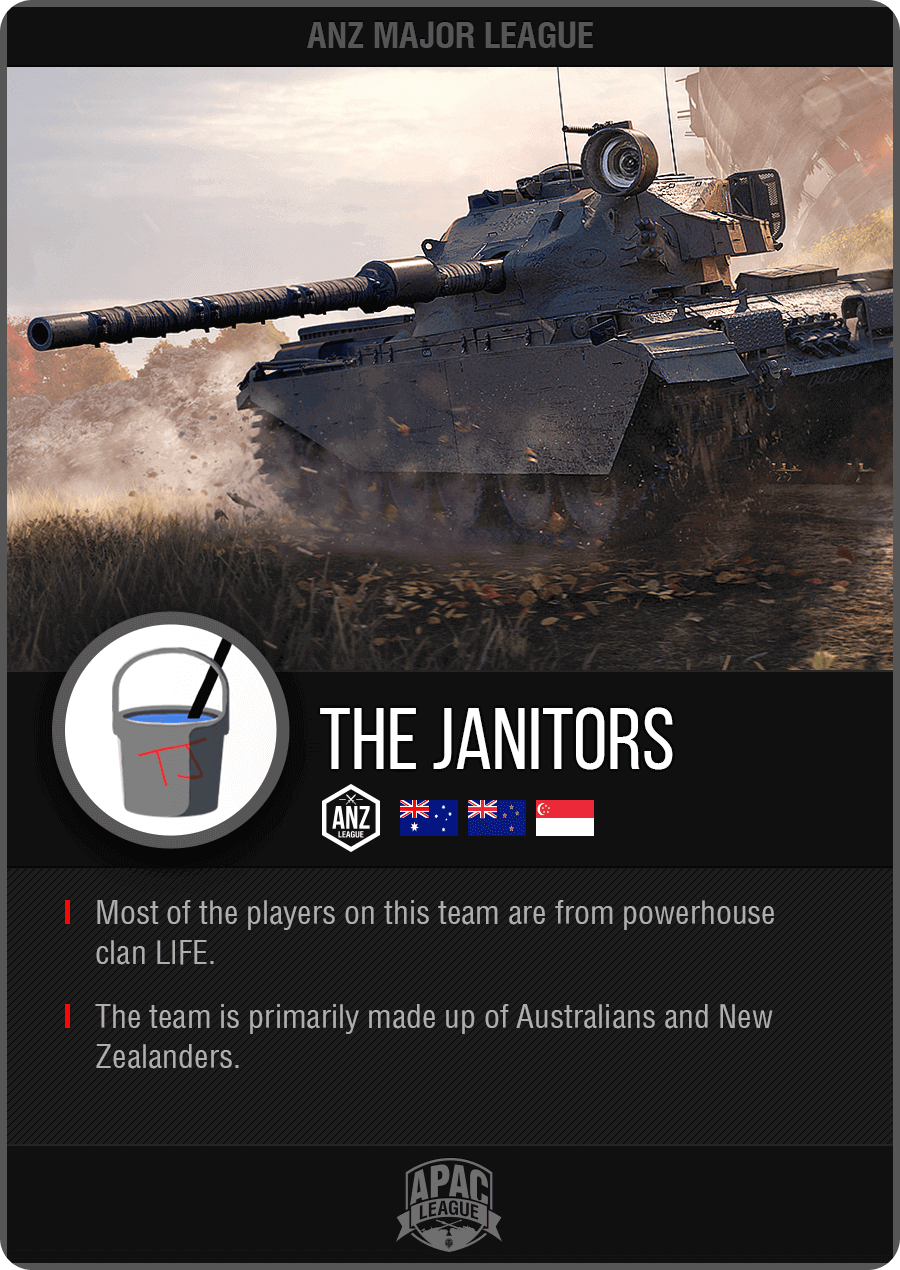 How was your team formed?
Naic (team captain): We formed just before the [registration] cutoff date for the League so that we all had a reason to procrastinate doing actual work.
Our founding members were Naic, Jordy, Benny, and Trax, as they all have the biggest shot records.
Why did you join the APAC League tournament?
We had experience raging at each other in our clan (LIFE), so we entered the tournament so we could rage some more. We train by playing Clan Wars and fielding 6 teams with 40 players.
What do you think is your team's biggest selling point?
It is without question that our team's greatest strength is being able to play and call while being drunk.
What kind of strategies are you expecting the other Major League teams to use?
We just hope that they won't bring seven 268 Version 4s or flip a tank; we have no plans that encompass those possibilities.
Which maps do you think would make good additions to future APAC League Seasons?
We would like to see Erlenberg included so drowning ourselves can be the new meta in the league.
Also we would like to see Glacier included in the future seasons so that we can try dropping tanks onto our enemies.