Tankfest 2021 is right around the corner, Commanders!
Join us for a live stream of this annual event created by The Tank Museum in Bovington, U.K.—home to one of the best collections of armored vehicles worldwide. The theme this time is the Year of the Sherman, as 2021 marks 80 years since the Lend-Lease bill was signed to help Britain re-equip and meet the demands of war. The very first Lend-Lease Sherman, nicknamed "Michael," was delivered to Britain a year later, in 1942, and now rests at The Tank Museum for all to see.
The Tankfest Online 2021 stream is guaranteed to be a blast for history buffs and tank enthusiasts worldwide, but it will also be an excellent opportunity to earn guaranteed in-game rewards the longer you are tuned in. Read on to find out how!
Tankfest Online 2021 Live Stream
Stream starts: September 19, 2021 at 22:00 UTC+8
Tune in to the World of Tanks Europe Twitch channel this Sunday for four hours full of tanks and the best display of historic moving armor in the world. From interviews and excursions into the history of the Lend-Lease program to tank demonstrations, tours of various European tank museums, and much more, it will be an eventful show that you don't want to miss.
Join Wargaming's own Richard "The Challenger" Cutland, a Royal Tank Regiment Veteran, and Richard Smith, Director of The Tank Museum in Bovington, who will lead you through the day.
Twitch Drops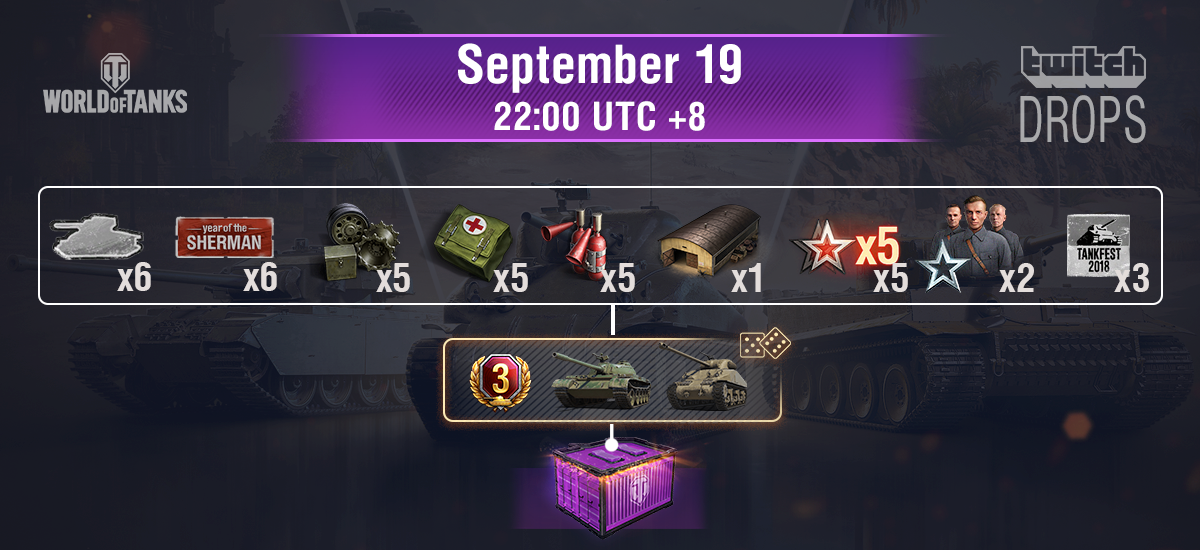 Regular Drops
After 60 minutes:

After 120 minutes:

6x Tankfest inscriptions
6x Tankfest emblems
5x Large Repair Kits
5x Large First Aid Kits
5x Automatic Fire Extinguishers

1x Garage slot
5x missions for 5x XP per victory
2x Personal Reserves: 200% Crew XP for 1 hour
3x Tankfest decals
Mystery Drop
After 180 minutes, guaranteed one of the following:
3 days of World of Tanks Premium Account

OR
You will receive compensation in credits should you receive but already own a mystery drop vehicle.
How to Get Twitch Drops

Twitch Drops are in-game rewards credited to those who tune in to special Twitch streams; you can find out more about how to earn them here. To be eligible, you need to link your Wargaming.net and Twitch accounts.
Go to your

Wargaming Account management page
Click the

Twitch Button

on the right
Authorize the connection on the next page
After successfully connecting the accounts, you will see Twitch as a linked platform in your Wargaming account settings. You'll also see Wargaming.net in your Twitch account settings.

Once you have linked your accounts, all you need to do for a chance to get these rewards is watch designated World of Tanks Twitch streams with "Drops enabled". You can check your personal Twitch inventory to find out which Drops you've unlocked, or to claim your Drop rewards.

Look out for stream announcements like this one right here on the World of Tanks portal for more opportunities to win!
Roll out and celebrate Tankfest 2021!