Commander,
Complete Moon Missions, earn Mooncakes, and reap a whole bunch of goodies!
The Mid-Autumn Festival is an auspicious time for many East Asian cultures, which believe that this is when the Moon is at its brightest and fullest. For them, this is a time for family, celebration, and, of course, traditional delicacies like mooncakes!
This year, World of Tanks is joining the celebrations and welcomes all our commanders to embark on a unique battle journey, where you can expect both the thrill of the fight and a range of rewards!
From September 16 through 27, take part in this special event to accomplish 9 Moon MIssions, earn Mooncakes, and get rewarded for your combat merits!
Now for the details.
A Special Website
To join the event, please head directly to the ad-hoc website, containing all the information you need. There, you'll find rules governing Moon Missions, special tabs to unlock Moon Levels with Mooncakes as part of your Personal Progress, and exchange Mooncakes for valuable goodies. You can also find the Story page that becomes unveiled as you progress through Chapters with other players.
But before heading to the website, please read the article to learn how to make the most of the Mid-Autumn Festival event in World of Tanks.
The Background
Before delving into technical details, let's pay homage to the cultural backdrop of the whole occasion. They say the tradition of celebrating the Mid-Autumn Festival dates back to ancient times; when dragons roamed the lands, and the sky was lit up by 10 Sun Crows. According to one legend, one day all ten Sun Crows appeared in the sky at once, bringing all living beings to the verge of extermination. When hope was almost gone, the Emperor summoned the land's most skilled archer, Hou Yi, and ordered him to kill the 9 "extra" Sun Crows. He was ultimately successful in his endeavor, thus restoring the Earth to its normal climate. What happened next — this you'll have to discover through the in-game event, while trying your hand at the role of this legendary archer and proving your worth in the 9 Moon Missions!
Mooncakes
The first thing you need to know about the event is its special currency, Mooncakes. You can't buy them — you can only earn them by completing Moon Missions, one by one. Another way to procure the event's currency is by acquiring special bundles in the Premium Shop that feature Mooncakes as free bonuses.
What's the point of collecting Mooncakes? Well, that's simple:
To unlock

Moon Levels

(Personal Progress)
To exchange them for goodies in Moon packages, which feature:
| | | |
| --- | --- | --- |
| | | |
| Prowling Tiger decal | 'Moon Viewing' 2D style | Dragon decal |
Consumables

and more!

And finally, to move through Chapters (Story Progress) and reveal the whole story behind the festival
But remember: If you don't claim your earned Mooncakes by the end of the event on September 27, they will 'expire' (just like the real thing), and you will not be able to redeem your rewards.
Moon Missions
These are special missions that refer to a particular episode of the archer Hou Yi's story and they require you to perform various actions or achieve certain results in battle. Every day, a new mission will be available for you to complete and, if successful, you'll be treated to 8 Mooncakes and a 'Hare in the Coat of Arms' decal (these rewards are available for each mission you complete). Persistent players who complete all 9 Moon Missions will be bestowed the mesmerizing 'Moon Viewing' 2D style!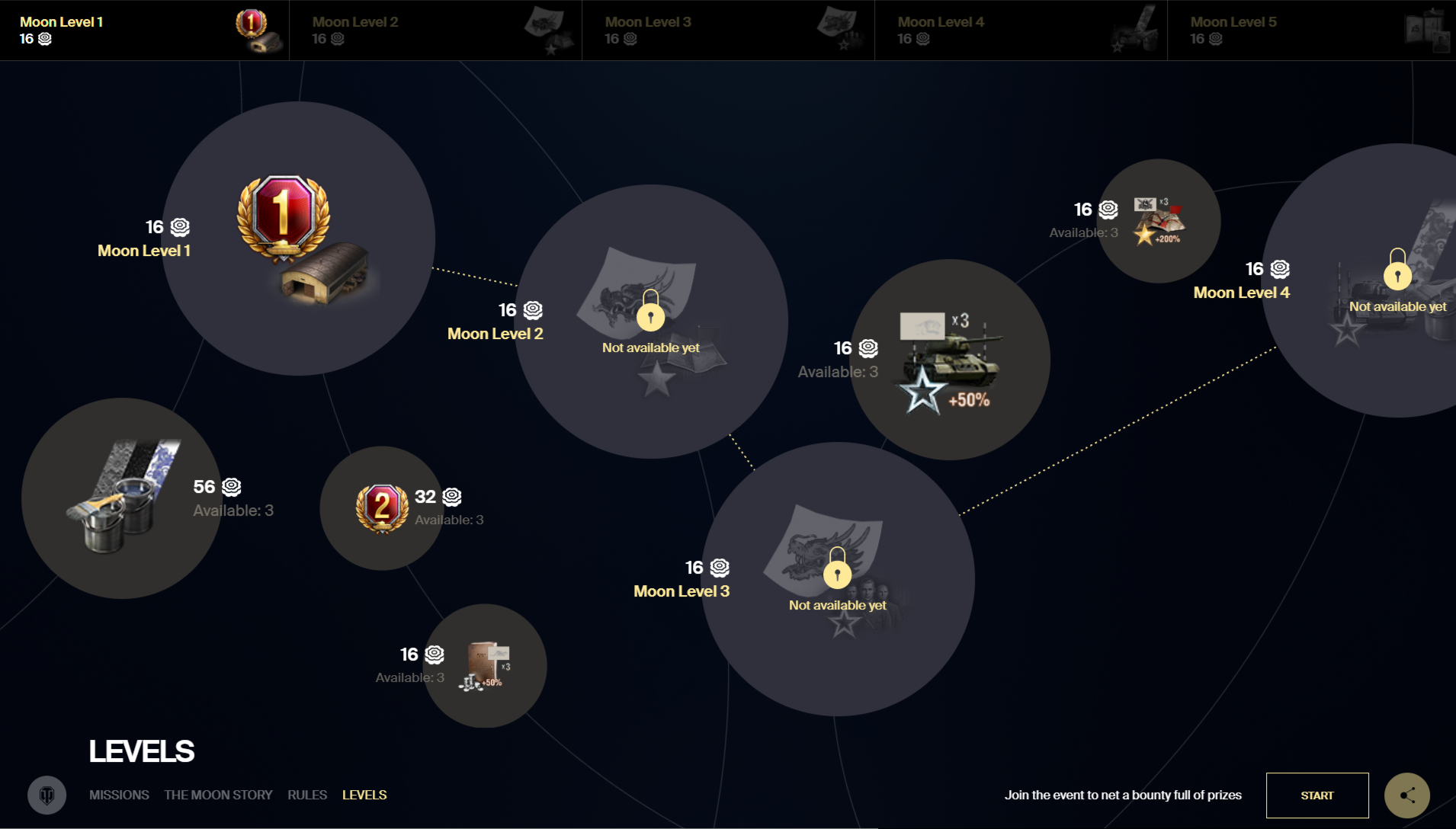 Personal Progress
Personal Progress will run from September 16 through September 27 and will consist of 5 Moon Levels. All you need to do is:
Earn

Mooncakes

by completing

Moon Missions

, or purchasing special bundles with in-game content that feature Mooncakes as free bonuses.
Move through Moon Levels using Mooncakes. These Levels will be opened sequentially, from the first to the fifth, and are not bound to any specific date.
Unlocking Levels will reward you with valuable in-game items:
100%-trained

universal crew member

with Repair as 'zero perk' and enough experience for an extra skill or perk

Customization Options

:
| | | |
| --- | --- | --- |
| | | |
| Chinese Dragon Emblem | "Chinese Ceramics" 2D Style | Dragon 3 Decal |
A day of

WoT Premium Account

A

Garage slot

A variety of

Personal Reserves

And

more!

After the completion of all Moon Missions, you will receive more than enough Mooncakes to unlock all Moon Levels and get your hands on each and every reward. Should the number of Mooncakes you have gathered not be enough to get the rewards you want, you will be able to get more of them within the special bundles in the Premium Shop.
Story Progress
This is the most intriguing part of the event where all players will need to unite in their efforts to unlock all 5 Chapters and reveal the full story, while receiving extra Mooncakes along the way. The Story Progress will last only 5 days — 1 day per Chapter — and will run from September 16 till September 21. The mechanics are simple: players must collect a certain number of Mooncakes during a given Chapter (24 hours) by completing Moon Missions or acquiring Mooncakes from the special bundles in the Premium Shop. Once done, they all receive the Chapter reward (which is 3 Mooncakes) and gain access to the next Chapter.
Once you have successfully completed all five Stages of Story Progress, you'll receive a x5 XP multiplier for the first victory of the day from September 23 through September 26 in any vehicle.

Note that the rewards for the Story Progress will only be granted to those who have contributed Mooncakes during any of the Chapters. The silver lining is that even the minimum contribution will bring you every reward from every Chapter!
To redeem the rewards you are entitled to, you need to head to the relevant Chapter tab on the website, find the 'GET THE REWARDS' button in the Story Progress section and click it. The Story Progress rewards that haven't been redeemed before the end of the last Chapter, will be awarded to your account the next day (September 22).
It's time to get lucky and be prosperous with the Mid-Autumn Festival in World of Tanks! Join the event, fire good shots like the legendary archer Hou Yi did and win a constellation of rewards!