TL-1 LPC | OFFSPRING CUSTOMIZATION OFFERS
Commanders!
Roll out in

VIII
TL-1 LPC with The Offspring-crewed to a great soundtrack. Scroll down to see all the bundles, offers, and customizations up for grabs!



TL-1 LPC, Tier VIII American Medium Tank

Penetration: 208 / 280 / 45 mm
Damage: 280 / 280 / 370 HP
Turret Armor: 177 / 76 / 50 mm
TL-1 LPC Offers
Available from January 18 at 13:00 (UTC+8) through January 25 at 13:00 (UTC+8)
The

VIII
TL-1 LPC is a versatile vehicle with a fast-firing, accurate gun and a solid bouncy turret. It can easily take advantage of any terrain to ricochet enemy rounds, while its sloped frontal armor can sustain decent fire. The accuracy and DPM of its well-balanced gun are reliable, even on the move, allowing you to support your team as a proper flanker from the second line. Its 280 HP of alpha damage is not the best for its tier, but it's enough to seriously damage opponents. Thanks to the tank's good maneuverability and top speed, it can easily change flanks and take up key positions more quickly than other vehicles.
The Offspring Customization Offers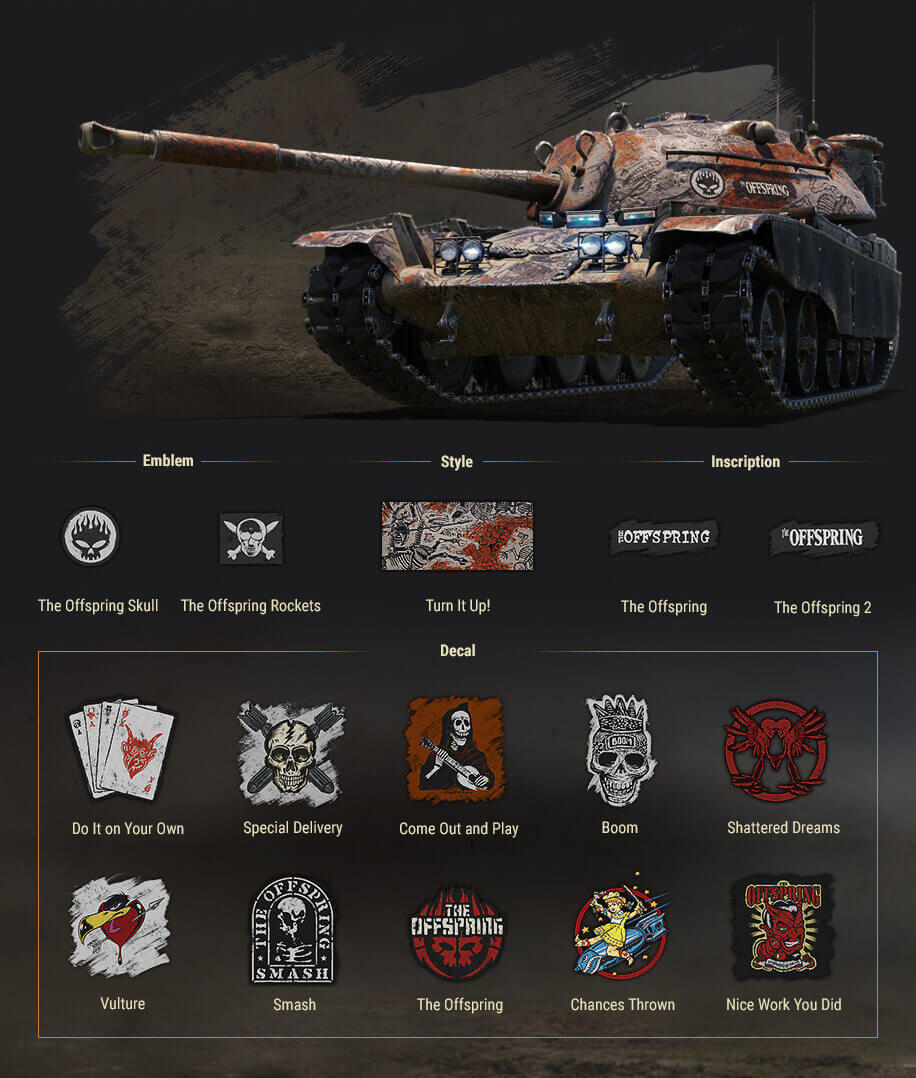 The Offspring customization items
Available from January 18 at 13:00 (UTC+8) through January 25 at 13:00 (UTC+8)
The Offspring's music overflows with good vibes and positive energy for the battlefield. And now, it's inspired both an all-season style and a whole set of cool thematic elements. These elements can be applied to vehicles of any tier or nation, and are available in the TL-1 LPC Offspring: Ultimate bundle. Each element is based on cover art from The Offspring's many albums, as well as the band's official symbols.
The "Turn It Up!" 2D style takes its cues from the works of famed Mexican artist, José Guadalupe Posada, known for his crazy paintings of skulls and skeletons that feature prominently on the band's album covers. Between the decals, emblems, and inscriptions, no one will deny your rebellious side!
Package Contents

"Turn It Up!" 2D style

Nice Work You Did decals

Chances Thrown decals

"The Offspring" decals

Smash decals

Vulture decals

Shattered Dreams decals

Boom decals

Do It on Your Own decals

"Come Out and Play" decals

"The Offspring Skull" emblems

"The Offspring Rockets" emblems

"The Offspring" inscriptions

"The Offspring 2" inscriptions

TL-1 LPC

The Offspring band crew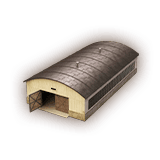 Garage slot

The Offspring bonuses

Pretty Fly 3D style for the TL-1 LPC

Unique voice-over for the crew

Unique soundtrack

Gold

Credits

+50% to credits for 1 hour

x5 XP mission

Crew with Band of Brothers
as a FREE zero perk and enough XP to train the next skill/perk to 100%
Discount
Pretty Fly 3D Style Offer
Available from January 18 at 13:00 (UTC+8) through January 25 at 13:00 (UTC+8)
The Offspring Crew Voice-Overs: TL-1 LPC
Dexter Holland
Commander (Radio Operator)
This lead singer, guitar player, and songwriter is a modern-day Renaissance man! He has a Ph.D. in Molecular Biology, makes Gringo Bandito Hot Sauce, and is a real-life jet pilot! The rest of the crew still isn't certain whether or not those aircraft skills will transfer over to an intense tank battle, though.
The lead guitarist attacks his instrument with a mixture of anger, sheer joy, and reckless abandon. Like any great guitarist and gunner, Noodles knows that you have to take chances and give it your all if you want to hit the right notes.
The band's drummer. Dozing off to his metronome may prove hazardous to health. Tick‑tock‑tick‑bang! Tick‑tock‑tick‑blam! Still, when driving, he avoids sudden movements. Any break in rhythm is considered incompetence for a drummer.
This bass guitarist can load shells just as skillfully and passionately as he immerses thousands of fans in the breathtaking atmosphere of his performances. His endless positive energy and punk vibes
provide a much-needed morale boost to the entire crew.
Unique Soundtrack: TL-1 LPC
The Offspring - The Kids Aren't Alright (WoT MusicTeam remix)