Commanders!
Welcome to our brand-new podcast series, The Finest Half Hour! If you love tanks, World War II military history, and thrilling tales of battlefield valor, you're sure to enjoy this weekly audio treat, brought to you by Wargaming and narrated by British Army veteran and armored warfare instructor Richard Cutland.
Subscribe to the podcast on your favorite platform and don't miss any of the upcoming episodes released every Tuesday! You can also follow the show for updates and historical insights on Facebook and Twitter.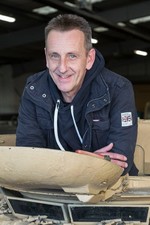 Richard "The Challenger" Cutland
The Finest Half Hour: Episode 12
A new British commander joins the fray. He is eccentric, infatuated with good press, but also perhaps just the genius they need: his name is Montgomery.
In this episode, we witness two of the greatest foes of the war matching wits. Both sides feel they are near a turning point–just one more push, and the war in the desert might finally come to an end.
Which way will the pendulum swing?
To help tell the story, we've partnered up with The Tank Museum, Bovington, to showcase an M4A1 Sherman tank, which helped turn the tide at the Second Battle of El Alamein in October 1942.
After the Fall of Tobruk, Churchill asked President Roosevelt for help defending Egypt and the Suez Canal. The U.S. shipped 300 of the new Sherman M4A1s around the Cape of Good Hope. They arrived in September, just in time for the battle. The new tanks were more reliable and better armored than the German light and medium tanks of 1939-1942; they also outclassed the M13/40s and M14/41s fielded by the Italians.
The Tank Museum's M4A1 is the oldest surviving example of this model. It has two significant features not seen on later production Shermans. One is the main armament sight, set in the top of the turret; the other is the extra pair of machine guns, operated by the driver, at the front. The tank was the first Sherman tank to be delivered to the UK under the Lend-Lease Act. It was nicknamed Michael, after Michael Dewar, head of the UK's Tank mission in Washington, D.C.
Close the hatch, brace yourself, and prepare for The Finest Half Hour!