The sheer amount of happenings for Wargaming this year made it difficult to choose just 10 top moments. From game releases, new development units and giant events, we've picked some of our favorites.
World of Warships Hits the High Seas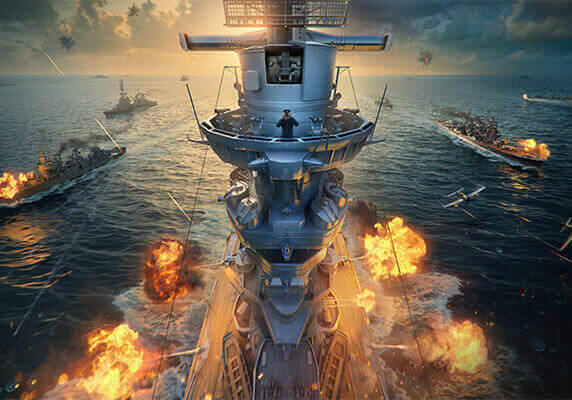 After an intense Beta period World of Warships was ready to chart a course for epic naval warfare. Released on September 17, the game marked the latest installment in Wargaming's giant free-to-play combat series. Helmed by the team at Lesta Studio in St. Petersburg, World of Warships let players command some of history's most iconic vessels in giant battles.
PvP and PvE game modes play out across 10 unique maps. PvP combat lets teams of 12v12 take to the seas and clash for supremacy. PvE mode pits players against computer AI in a series of skirmishes to sharpen their wits for PvP and practice their teamwork. Throw in Ranked Battles, Signal Flags, camouflage and our partnership with the anime ARPEGGIO OF BLUE STEEL -ARS NOVA-, then players have waves of content to explore.
WG Cells
WG Cells is the new publishing and development division that will focus exclusively on mobile titles. The success of World of Tanks Blitz served as the catalyst that spawned this new unit, and WG Cells includes development studios in Seattle and Kyiv. It will be gradually expanding its presence in regional markets.
WG Cells' portfolio includes several new iOS games:
To learn more about WG Cells, visit the website:
WG Labs
WG Labs is the new lean and agile platform designed to foster innovation in the videogames industry. What's great about this new unit is that wit will support external development teams in game creation and publishing, as well as generating, evaluating and launching in-house products. WG Labs means gamers out there will get to experience games that go beyond the scope of military warfare. Players can expect lots of new platforms and engaging mechanics for whatever they enjoy.
Anyone can submit their ideas. Who knows, maybe you have the next big thing at your fingertips?
Master of Orion Announced
One of Wargaming's biggest announcements of the year was the rebirth of the legendary Master of Orion. The critically acclaimed 4X strategy game laid the blueprint for a generation of games and gamers.
A game that taught Victor Kislyi about what it means to manage and take risks, Wargaming couldn't pass up the chance to bring Master of Orion back to fans. This passion project is being developed by Argentine-based NGD Studios and with key members from the original title's team to deliver an experience that lives up to the legend.
You can check out the Collector's Edition of the game and discover lots more information about the upcoming title from the website.
Players can expect a revamped user interface, an orchestral score from the original game's composer, voiceovers by well-known actors, new user tutorials, and more to deliver a classic yet fresh experience to one of gaming's most respected franchises.
For more information on Master of Orion, please visit:
World of Tanks roll out on PlayStation 4 and Xbox One
After breaking ground on console, World of Tanks had no intention of stopping. In July, the game made its way to current-gen consoles, releasing on Xbox One and fully harnessing the console's capabilities. This also brought a console first: cross-platform play between Xbox 360 and Xbox One consoles. Tankers could even transfer their progress from the Xbox 360, take advantage of the awesome Havok damage physics system, and try out the "Proving Grounds" PvE mode.
World of Tanks on PlayStation 4 is also set to roll out in the near future. The game is ready to kick off its second Open Beta this weekend, and is free for all gamers on the console. All Beta participants joining the fight this weekend can get their hands on the T1E6-PS US Premium Light Tank and the exclusive PlayStation® 20th anniversary M22 Locust Premium US Light Tank—each with unique camouflage and emblem.
World of Tanks Blitz on Windows 10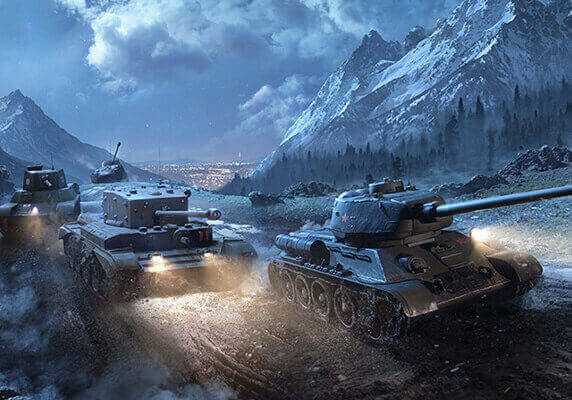 World of Tanks Blitz mobilized on Windows 10, bringing 7-vs-7 tank action to Windows 10 mobile devices, tablets, and PCs. This means that players all across Windows 10, iOS and Android are able to battle against each other. Along with intuitive touch-screen controls for tablets and phones, World of Tanks Blitz is set to feature keyboard and mouse support for PC.
World of Tanks Generals Released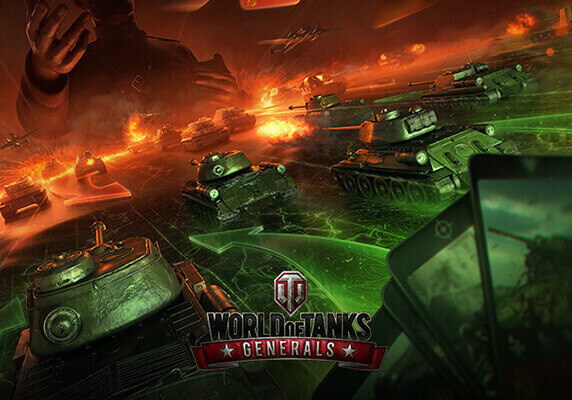 World of Tanks Generals brought epic, tactical card combat to players. Featuring tanks, artillery, orders, squads, it brought a unique twist on World War II combat to test players. With 200 cards across U.S.A., Germany, and the U.S.S.R., generals can construct their deck to fit their playstyle and take on gamers from around the world.
Rise of Continents
Rise of Continents for World of Tanks Blitz was the biggest in-game event Wargaming has ever put on. The worldwide event, which began on September 28 and ran until October 25, tested Europe, the CIS, Asia, and North America over a series of goals to determine who was the best. Sponsored by Sennheiser (who gave away lots of cool in-ear headphones), Rise of Continents was divided into four, week-long stages, with objectives like "most tanks destroyed". All tankers had to do was start up the game to join in. At the end of the competition, the CIS came out on top, with Europe close behind.
Band of Brothers Actors Reunion
In June, Wargaming sponsored the Band of Brothers Actors Reunion in Normandy, which coincided with the commemoration of the 70th anniversary of the end of World War II. Supported by War History Online and the World War II foundation, visitors had the chance to mingle with the stars of HBO's critically acclaimed drama and visit the Overlord and the Utah Beach Museums over the four-day event. They also toured coastal fortifications from the Atlantic Wall and other historical sites with historians, as well as visited a re-enactor's camp. On the last day of the commemoration, there was a wreath laying ceremony with the actors at the Richard D. Winters Leadership Monument in Sainte-Marie-du-Mont.
Wargaming.net League Grand Finals 2015
The biggest event in World of Tanks eSports, the Wargaming.net League Grand Finals continued to grow bigger and better. 12 elite eSports teams battled over two days, from April 25–26 at the EXPO XXI in Warsaw for a slice of $300,000. The final saw HellRaisers, a team who had shocked everyone by defeating last year's champions Na`Vi, go head-to-head with EL Gaming. In the end, it was a decisive victory for HellRaisers, who conquered their opponents 7:1.
This year, fans can look forward to even more eSports tank action. With the introduction of new game modes and teams, the 2016 Grand Finals will be a spectacle not to be missed.
To learn more about the Wargaming.net League, please visit:
2015 was a fantastic year for Wargaming, and players all over the world can expect that we'll keep up this momentum for 2016, bringing you more awesome experiences, so stay tuned!