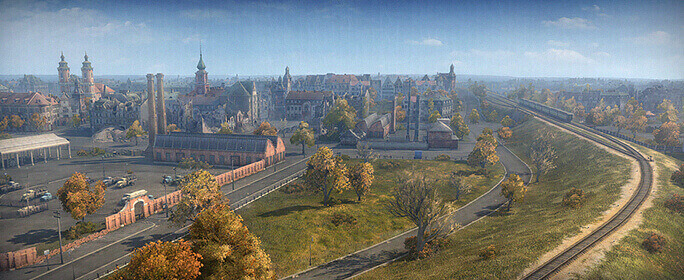 Railway and train cars, industrial districts and huge plant chimneys, ravaged houses and the abandoned merry-go-round... Welcome to Widepark, the fictitious West European town from the World of Tanks. It presents a small yet complicated and asymmetric summer city map for dynamic battles. The unique and sightly landscape, as well as the railway embankment dividing the teams are the renowned features of the Widepark map. And what are the historical places and parts of cities hidden by artists on this small map?
---
---
The map used to have the "Munich" working name, which is still mentioned in the titles of WoT replays. To avoid any confusion, before the official release, the map received a neutral name, which stands for another small town developed and artistically implemented by the WoT developers.
In the upper part of the map, there is a town and a small pond. In the bottom part, there is the industrial area, where the artists placed the most outstanding objects found in different parts of the world.
On the Widepark map, one can recognize the objects that first appeared on the Himmelsdorf map. This technique of repeated use of particular objects on different maps allows to save RAM and optimize the game client.
The town has plenty of hidden objects that have actual historical prototypes: an old merry-go-round with coloured flags, trolley car, newsstand and an equestrian statue. Which object on the Widepark map do you like the most?