Episode 10 Schedule
| | |
| --- | --- |
| EPISODE START | 18 Nov 2019 (Monday) 07:00 UTC +8 |
| EPISODE END | 25 Nov 2019 (Monday) 04:00 UTC +8 |
| CEASEFIRE | 04:00 - 07:00 UTC +8 |
Select the corresponding tab in the battle type drop-down list to enter the Frontline queue.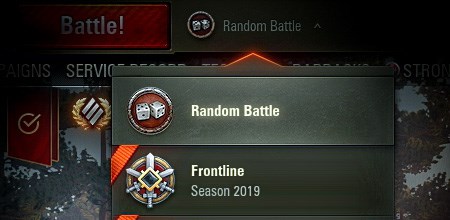 Commanders!
The 10th episode of Frontline is about to begin. We sincerely hope you've enjoyed your time playing Frontline, and we're already hard at work making great plans for the future of this mode.
In the meantime, we'd like to remind you that you still have the opportunity to get your hands on the formidable reward vehicles available this Season. Now is the best time to jump back into the battlefield and make the most of the final Frontline episode! Let's look at each vehicle individually once again.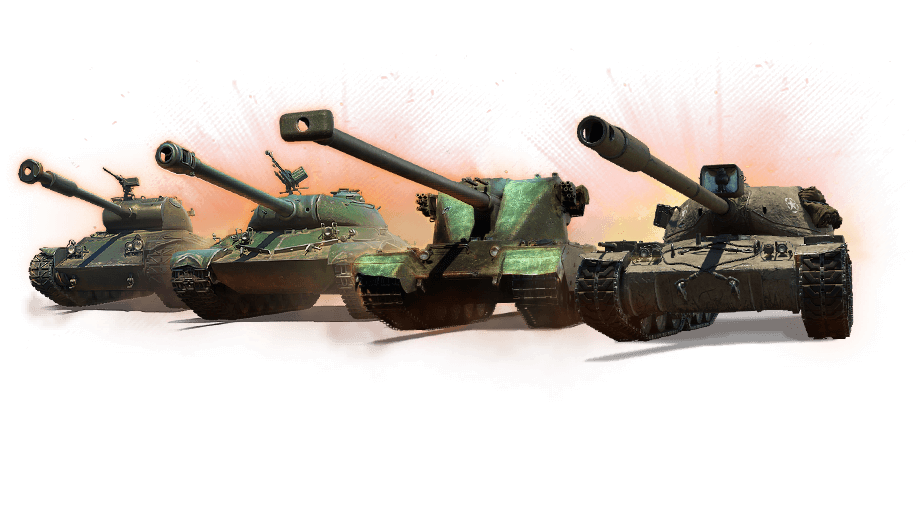 These armored warriors are worth sweating over, so don't miss this last chance to earn them for your tank collection!
Exchange Prestige Points for Gold and Bonds
After completing the Season, you'll be able to exchange your remaining Prestige Points for rewards, regardless of whether you have enough to purchase a reward tank or not.
The exchange rate will be as follows:
1 Prestige Point = 300 Gold and 100 Bonds
You can exchange your Prestige Points in the tank selection window of the Frontline interface.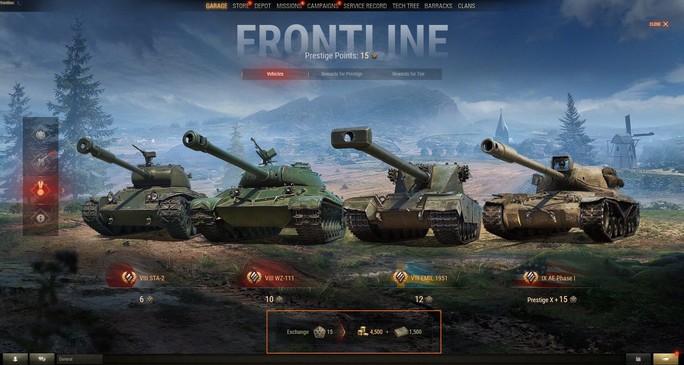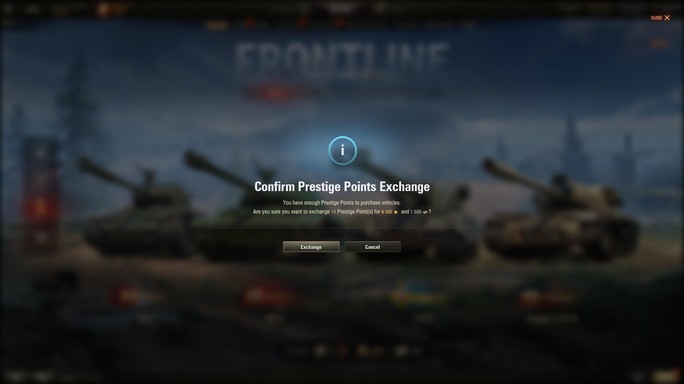 The opportunity to exchange Prestige Points will be available immediately after Episode 10 is over, from 25 November 2019 (10:05 UTC +8) - 12 December 2019 (09:00 UTC +8).
NOTE: If you don't exchange them before the deadline, your Prestige Points will automatically be converted to Gold and Bonds upon login between 12 December 2019 (09:01 UTC +8) to 12 February 2020 (09:00 UTC +8). However, should you fail to log in during this period, all your hard-earned Prestige Points will be forfeited!
Use Your Rental Fund to Enlarge Your Tank Collection!
If you spent Gold on rental vehicles this year, it was accumulated in a special fund. You can still use it to get a discount when purchasing any of the 11 original rental tanks available in Frontline this Season. If you haven't done that yet, now is the best time to enlarge your collection at a discounted rate! All unused funds will be removed from your account after 12 December, 2019 (09:00 UTC).
Compensation for Frontline Personal Reserves
If you still have unused Frontline Personal Reserves at the end of the 2019 Season, we'll compensate you the full cost of those purchased for gold. Compensation will happen automatically upon login between 12 December 2019 (10:05 UTC +8) - 12 February 2020 (09:00 UTC +8).
NOTE: As with your Prestige Points, if you do not log in during the period stipulated above, your remaining Frontline Personal Reserves will simply be removed and no compensation will be awarded.

For example, if you have 10 Reserves left, and 5 of them were purchased for gold, then we will refund the full cost of 5 Reserves at the end of the Season. All unused free Reserves will disappear.
If you have both purchased and free Reserves in your vault, and you used both of them during the Season, then we will consider that you have spent the free ones first. For example, if you had five purchased and five free Reserves, and you spent five of them, then we will assume that you only used the free ones. So we'll refund the full cost of five Reserves.
See You Next Season!
On behalf of the whole Frontline team, we'd like to express our deep and sincere appreciation to every one of you. We tried hard to surprise you with the most epic mode in World of Tanks, and we'll be waiting for you in the revamped Frontline next year, with even more rewards and specials. We have several ideas on how to make this mode even more exciting and challenging, so stay tuned for more details!
See you in Frontline 2020, and good luck on the battlefield!