Tank Commanders,
We've compiled a list of solutions to common cases of game client instability. If you're having trouble with your game client, look through the list below for a possible solution!
Issue

Solution

Unable to change gamma/brightness settings

(Mainly on computers/laptops with Intel graphics cards)

We recommend updating your graphics card drivers to the latest versions. The latest versions of graphics card drivers can be found here:

Tracks are not displayed on tanks when using AMD graphics cards

Flickering on AMD Radeon Dual Graphics and CrossFireX graphics cards

Blurring Issues

If your in-game display is blurred, change your graphics settings:

In the Hangar, click on Settings. In the next window, choose Graphics.
Uncheck the box marked "Dynamic Adjustment for 3D Render".
Move the slider for 3D Render Resolution to 100%.

Update Issues

If your computer has an older version of the game client, you will need to update it to the latest version. You can open the launcher and allow it to automatically update, or simply update it yourself.

In order to update it by yourself:

Unable to Launch Game

When launching the client, you may experience the following error (the name of the file in the error may differ from the one in the screenshot):

In this case, follow these steps:

Delete any modifications you may have installed
Download this archive
Close the game client

(this is a must!)

Unpack the archive to the root directory of your game client (e.g. C:\Games\World_of_Tanks)
Run the file "WoT_Integrity.bat". The launcher will be run in a mode where it will restore broken/missing files of the game client.
Wait until the progress bar of the launcher is completely filled.
Click on the Play button.

Decrease in Framerate

If you experience slowdown in framerates after the update has released:

Go to the in-game Graphics Settings menu (Settings -> Graphics) and click on the "Recommended" button.
If your framerate remains unchanged despite making these changes, use these instructions to change your graphics settings to achieve optimal framerates.

Game client screen mode cannot be changed to to full-screen

To solve this problem, you will need to remove the game client settings. To do that:

Close game client.
Download the archive from our site.
Unpack the archive and run "

WoT_Integrity.bat".
If the game remains unstable despite following these steps, try the following steps:
Launch the game in safe mode: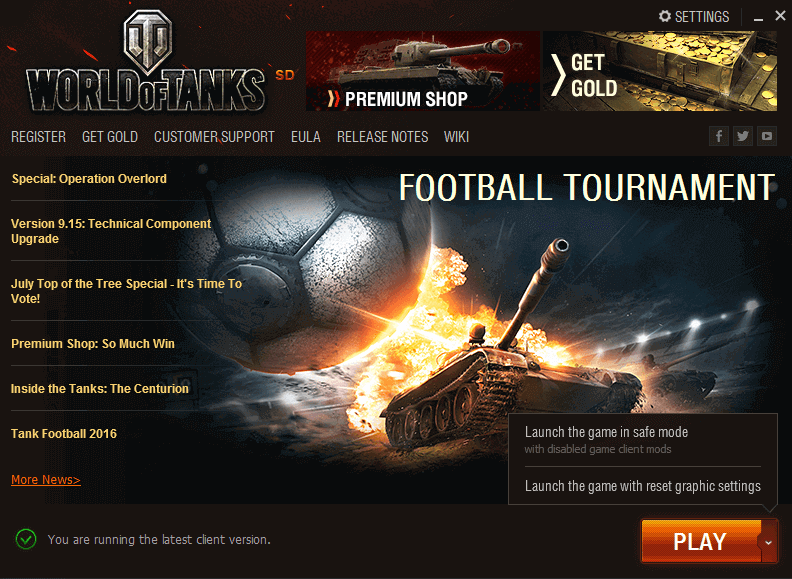 Exit the client and run the game again
If you use mods, add them to the game one by one to see if any of them are the cause of instability.
If these solutions still do not help, and the game remains unstable, please go to the Customer Support Centre.