Round Six of the #ANZPL is over and what a round it was! Here's Your weekly debrief of the evening's highs (and lows) to keep you up to date and in the know with all things ANZPL.
Because of Daylight Savings Time, the games will now start at 7:00PM AEDT/UTC+11!
Click here to watch Round Six's broadcast!
Match 1: Conquerors Vs Skorpions
First up is Conquerors Vs Skorpions in what was arguably the most exciting match of the evening. Beginning with a win each in the first two games on Prokhorovka the teams then went on to battle it out on Ruinberg to decide the winner. The Conquerors came out swinging and both games were extremely close. Despite some excellent gameplay from Napalmer and The_AussieGamer the Conquerors managed to come out on top 3:1 with the final game coming down to a nail-biting one on one between Night and Trax with seconds left on the clock.
Match 2: Archers Vs Comets
Starting with an Archers defence on their map choice of Ruinberg the Comets played an incredible first game managing to cap the point without losing a single vehicle while also knocking out four of their opponents. However, It didn't take long for the Archers to find their flow, taking back the initiative and comfortably winning their next game three games for a 3:1 victory.
Match 3: Matildas Vs Bulldogs
Unfortunately the Matildas were down a player due to extenuating circumstances for three of their four games last Friday against front runners the Bulldogs. Despite this the Matildas put up a valiant fight but the result was to be expected. The final match saw Matildas with a full lineup but at the end of the day it wasn't enough to stop the Bulldogs coming away with a 0:4 victory.
Match 4: Panthers Vs Sentinels
Match four saw the Panthers and Sentinels duke it out on Himmelsdorf and Cliff with Sentinels winning the first two games after a Panthers gamble on the cap fails to pay out for them. However, the Panthers landed on their feet in games three and four on Cliff, punishing some early Sentinels aggression with some excellent pushes of their own securing themselves a well earned draw.
Week Six Leaderboard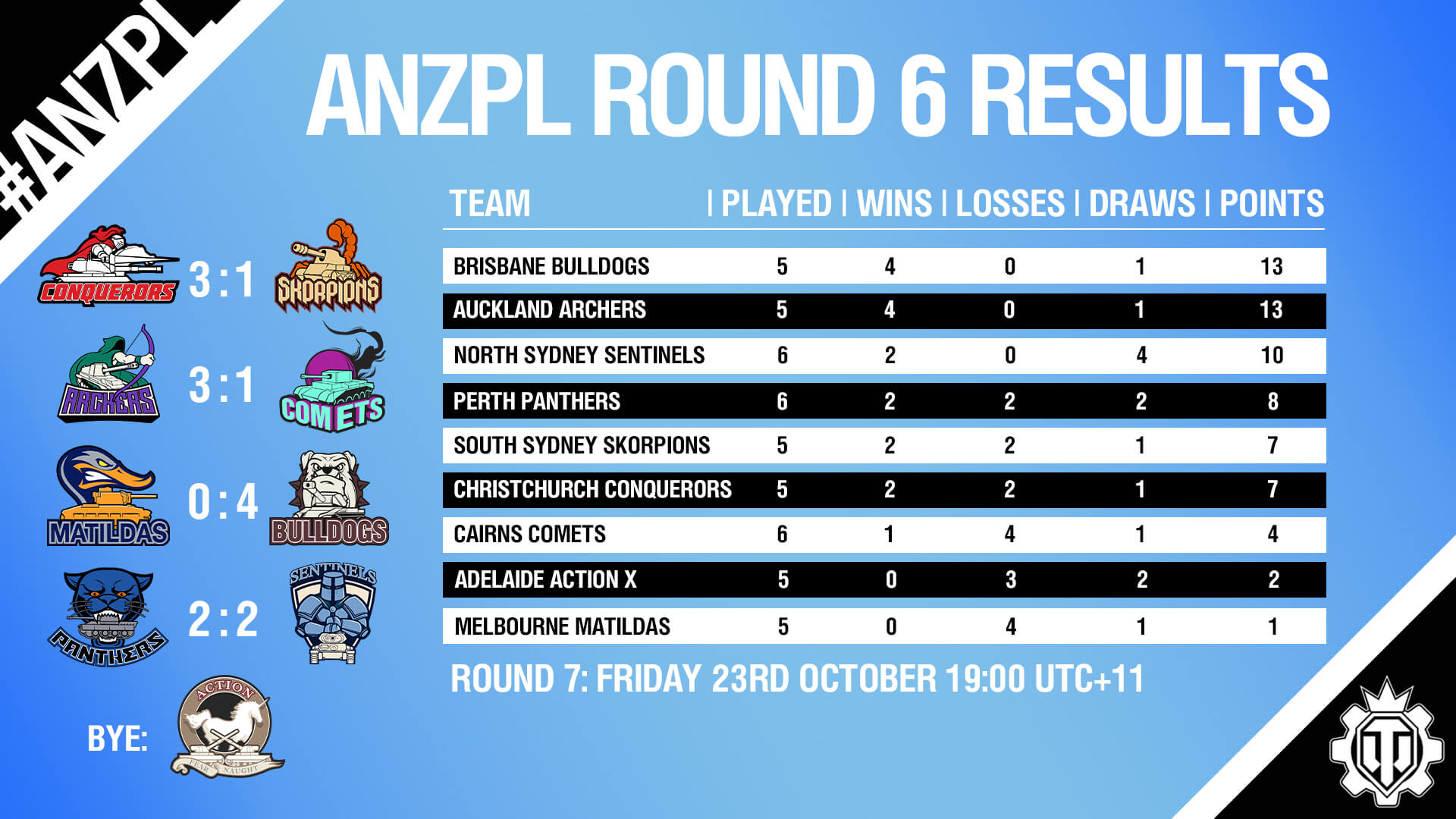 The Bulldogs and Archers hold on to their top spots with the Sentinels hot on their tails. The Skorpions are bumped down to fifth place after their loss while the Conquerors secure a spot there with them. The Panthers continue to climb the ladder this week with a precarious spot at fourth. Action X and the Matildas will need to pull out all the stops now to get them to the playoffs.
Week Seven Lineup
Here are the matches for this Friday, starting at 7:00PM UTC+11 over at our World of Tanks ANZ Twitch Channel! Hosted by Jordan 'Elfishguy' Mays and Ben "SandMan" Green.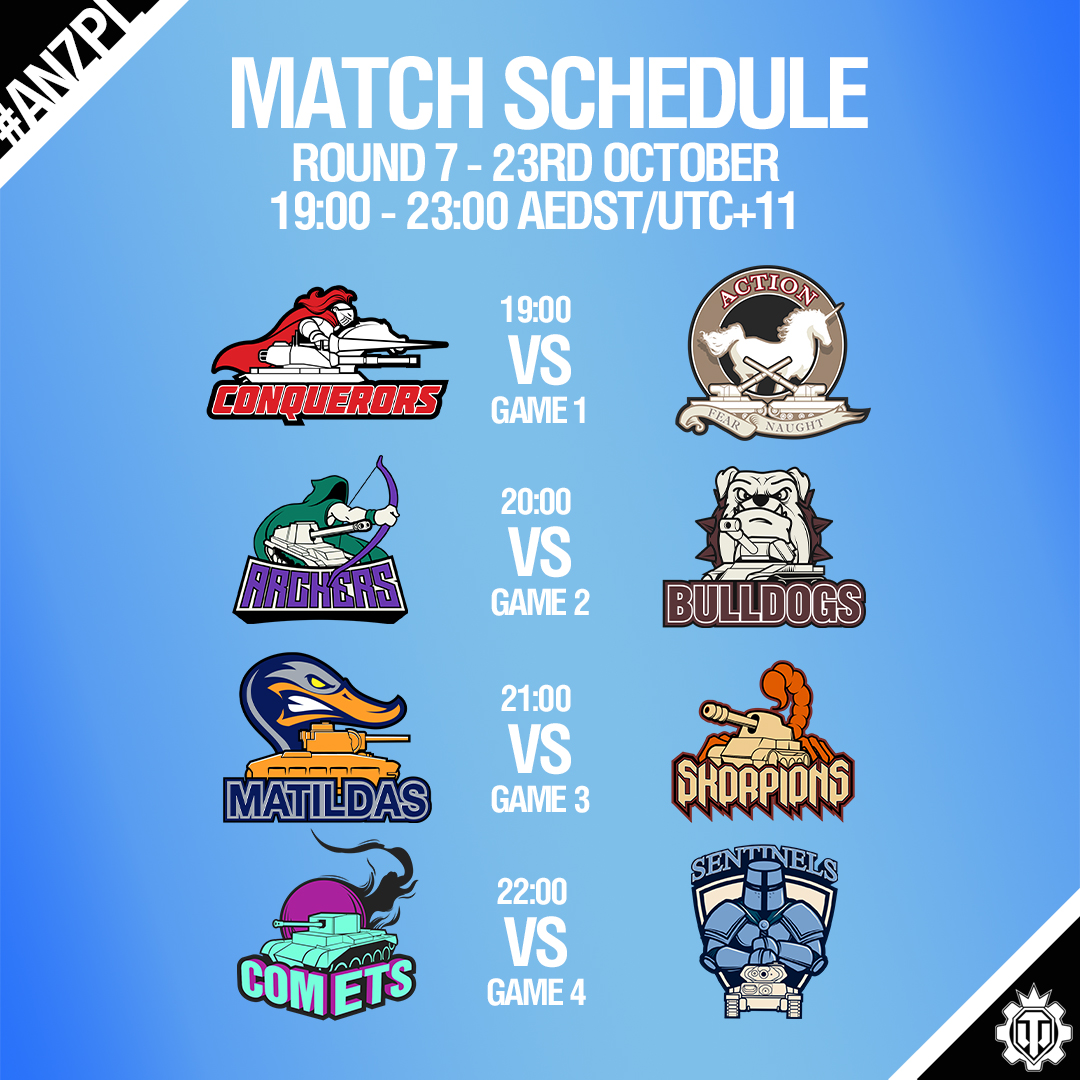 Looking forward to seeing you for week seven of the #ANZPL and as always, get your "HYPERX" in chat to win yourself a custom mechanical keyboard with limited, not to be sold, World of Tanks Keycaps (ANZ ONLY). So get your food and drinks, chuck on the #ANZPL and close your week out in World of Tanks esports style.