What a way to start off the #ANZPL. An incredible showing by each team led to some fantastic and close games for Round One. To catch you up to speed if you've missed out, we've compiled a highlight from each match up as well as a recount of all the action! Want to watch the first weeks games? Click here to watch our saved broadcast!
Match 1: Skorpions v Action X 2:2
An incredible debut match to kick off the #ANZPL. Both teams were very well matched, in what was a tit for tat exchange throughout the first few matches. Neither team could crack the opposing team's defence, until the Skorpions saw a glimmer of hope led by their Bat-Chat's saw the Skorpions take out both of the Action X's Kranvagn in what looked like an all but sure victory for the Skorpions. However, some great counterplay by party and some trouble in focus fire saw the Action X snatch the victory and end the series in a 2-2 Draw.
Match 2: Sentinels v Conquerors 2:2
Our next match saw who are hotly contested as the favourites, the Sentinels come up against a solid offering by the New Zealand team. The Conquerors were putting up a solid defence but were down 2-1 coming into the last game of the night for them. In what looked like a sure thing after a valiant push on Attack by the Sentinels, the Conquerors managed to hold out on Defence, with Trax preventing Critacus from capping for the victory, drawing the series at 2-2, despite a solid attempt by Critacus to kill a retreating Trax for the win.
Match 3: Bulldogs v Panthers 3:1
East meets West for Match Three, and what a match it was. In a week that thought perhaps the defend meta was taking shape, the Bulldogs were the first to punch through and take the tournament's first attacking win. Some incredible plays by the Bulldogs team directed by Ravvi ended up in an absolute upset for the Panthers, despite them trying so desperately to hold on with this last minute reset.
Match 4: Comets v Matildas 3:1
What a match to end it on, and perhaps a match up that a lot of people might've thought would go the other way, the Comets played some incredible Tanks, and were an absolute force to be reckoned with. With the Bulldogs taking the first Attacker win, many were questioning if it was a one off, or something that could be repeated, and the Comets once again proved that Attackers can indeed steal a victory! They completely took the Matildas by storm, and will be a team everyone will now be keeping their eyes on after such a terrific performance.

Week One Leaderboard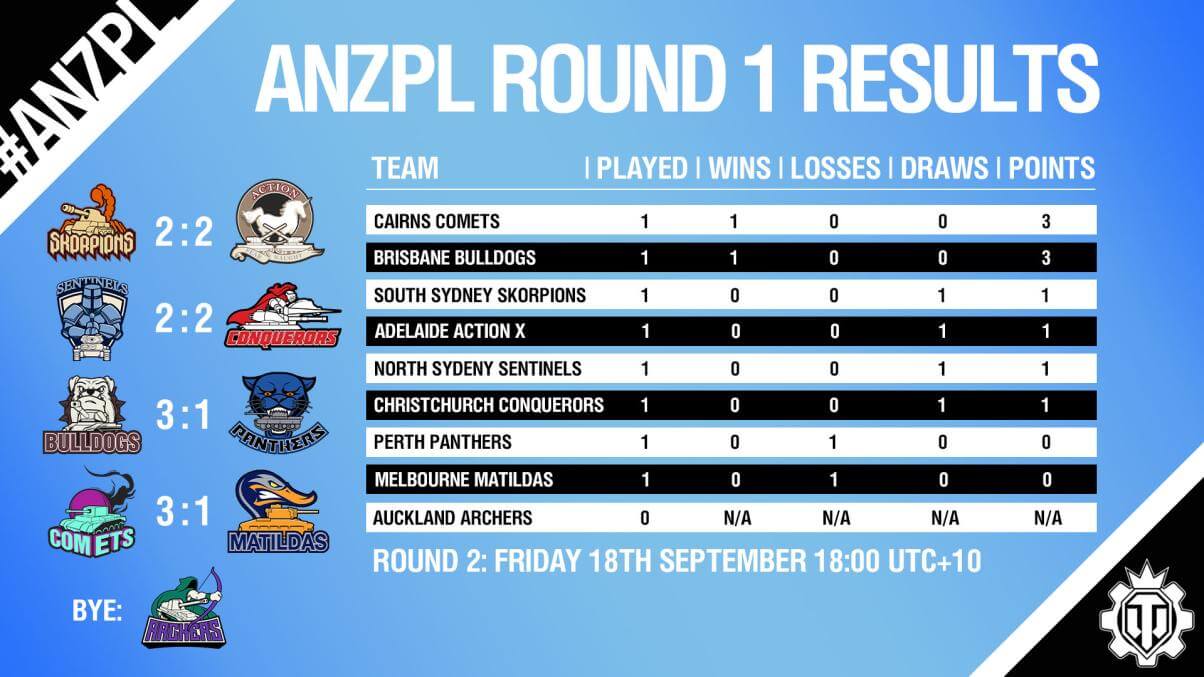 The leaderboard looks slightly different to what many would have expected, with the Comets being what could now be considered the underdogs of the entire tournament. Week Two is sure to shake this up, and it'll be interesting to see how the teams take the lessons of the first week, and make changes after seeing how everyone played.
Week Two Lineup
Here are the matches for this Friday, starting at 6PM UTC+10 over at our World of Tanks ANZ Twitch Channel! Hosted by Kevin "KaRath" Zhu and Jordan "Elfish" Mays.
| | |
| --- | --- |
| Archers vs Action X | 6:00 PM UTC+10 |
| Sentinels vs Matildas | 7:00 PM UTC+10 |
| Skorpions vs Panthers | 8:00 PM UTC+10 |
| Bulldogs vs Comets | 9:00 PM UTC+10 |
We can't wait to see you for the second week of the #ANZPL and as always, get your "HYPERX" in chat to win yourself a custom mechanical keyboard with limited, not to be sold, World of Tanks Keycaps (ANZ ONLY). So get your food and drinks, chuck on the #ANZPL and close your week out in World of Tanks esports style.