Round Five of the #ANZPL is done and dusted with Round Six just around the corner. As per usual we've compiled a highlight from each match up as well as a recap to keep you up to speed!
Because of Daylight Savings Time, the games will now start at 7:00PM AEDST/UTC+11!
Click here to watch Round Five's broadcast!
The ANZPL Barracks
First up, however, is a show that does what this article does but even better! Each Tuesday at 8:00PM UTC+11 our ANZ CCs put together the best moments, talk about the best play by the players, and analyse next week's matches in theANZ Premier League Barracks, your one-stop show for everything related to the#ANZPL as a part of our Tanks.TV offerings! Drop by our Twitch Channel to see 9_9_destroyer and FadingNeptune get you up to speed and take the deep drive on everything ANZPL.
Match 1: Conquerors Vs Bulldogs
The Conquerors had a rough week being outplayed by the Bulldogs in a decisive 0:4 victory. Ironguard brought out an E-100 for the first time in ANZPL with the Conquerors dealing lackluster damage on their home map of Himmelsdorf. Ravvi and joeattora made the play of the game with a perfectly executed bait and switch in twin Bat Chats; helping secure the win for game three while leaving Kyle and Eugene scratching their heads. Game four came right down the wire with Soldat_Udachi surviving just long enough to secure the fourth a final win for the Bulldogs putting them on top of the leaderboard.
Match 2: Archers Vs Matildas
The first match on Steppes saw the Matildas driving straight into an Archers ambush waiting on the other side of the railway line with SaxonOrrick being deleted before he could fire a shot. The Matildas then came back with a vengeance on Sand River with some great focus fire from their Super Conquerors and STB-1's taking the victory in game two. After taking out Returned early in game three the Matildas were off to a strong start but the Archers didn't let it go unpunished and in the end the Matildas bleed out too much to secure a second win. Round four was similarly close with both teams taking a beating but the Archers coming out on top with a 3:1 victory.
Match 3: Panther Vs Comets
Silent saves the day after what looked like a bad start for Panthers, resetting some early pressure on the cap from Comets and sacrificing himself in the process to secure the win in game one. Game two saw an all out brawl with Panthers overcommitting for a kill on acachispirit and getting farmed in a Comets crossfire as result. Panthers got their payback in game three after pushing the Comets into a crossfire of their own and high rolling some absolutely punishing shots onto the Comets. Panthers then went on to finish strong with a 3:1 win after dominating the cap in game four and pushing back the Comets attempts to drive them off.
Match 4: Action X Vs Sentinels
The Sentinels had another good week with a comprehensive win in game one on Prokhorovka and stealing the win in game two simply by Rainbow staying alive. Action X were able to make a comeback in game three with a beautifully executed counter push seeing party dealing huge damage in the STB-1. Game three came right down to the wire with Action X not quite executing on their attack and the Sentinels playing just a little bit better to take out the 3:1 victory.
Week Five Leaderboard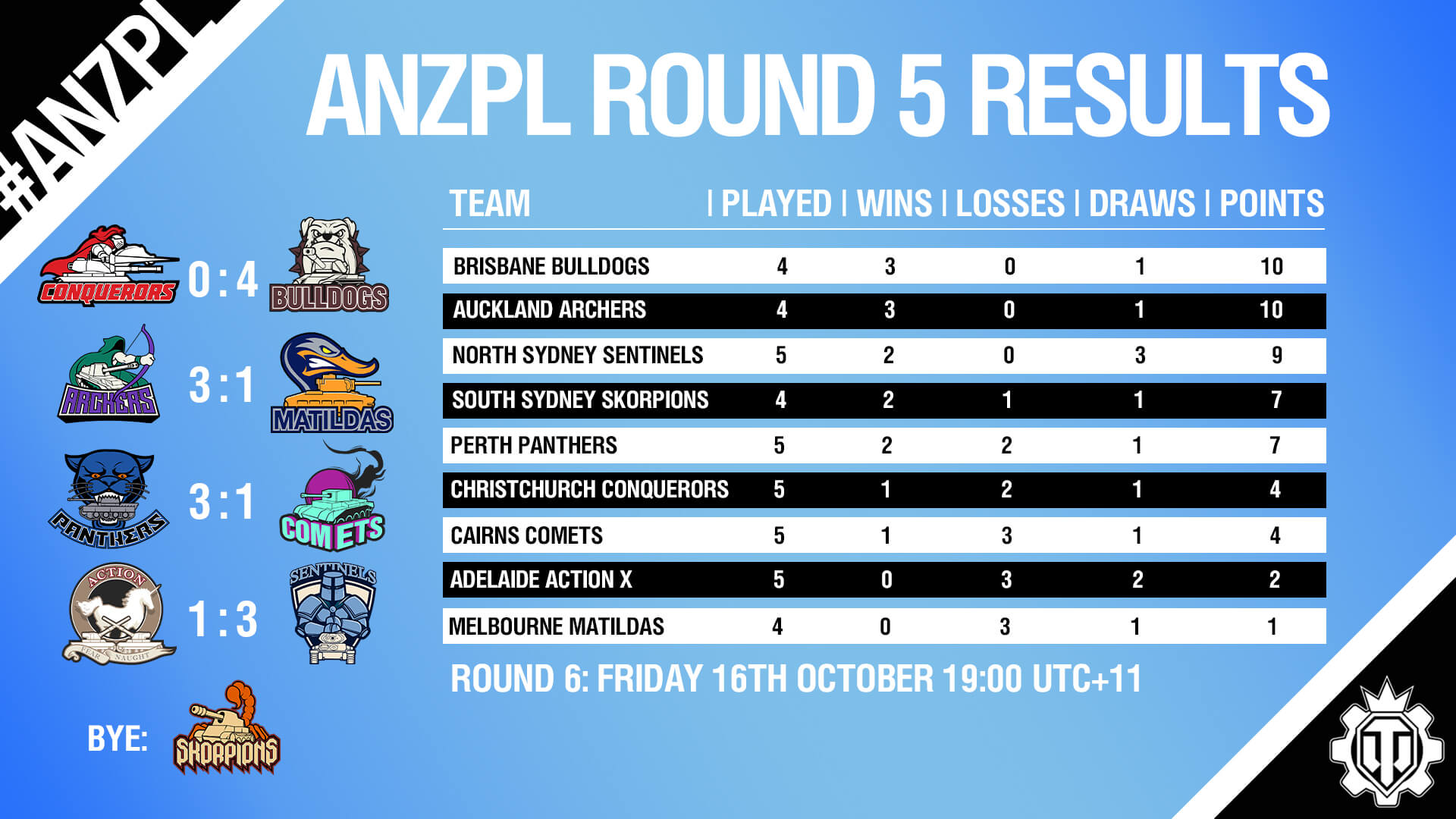 The Bulldogs and Archers are now tied for top spot on the leaderboard followed closely by the Sentinels. However, the Skorpions were on bye this week — meaning next week, the leaderboard could look a lot different. The Panthers seem to be turning things around after a few changes in their lineup and could be one to watch out for as the Conquerors, Comets, Action X's and Matildas lag behind.
Week Six Lineup
Here are the matches for this Friday, starting at 7:00PM UTC+11 over at our World of Tanks ANZ Twitch Channel! Hosted by Jordan 'Elfishguy' Mays and Kevin 'KaRath' Zhu.
| | |
| --- | --- |
| Christchurch Conquerors vs South Sydney Skorpions | 7:00 PM UTC+11 |
| Auckland Archers vs Cairns Comets | 8:00 PM UTC+11 |
| Melbourne Matildas vs Brisbane Bulldogs | 9:00 PM UTC+11 |
| Perth Panthers vs North Sydney Sentinels | 10:00 PM UTC+11 |
Looking forward to seeing you for week six of the #ANZPL and as always, get your "HYPERX" in chat to win yourself a custom mechanical keyboard with limited, not to be sold, World of Tanks Keycaps (ANZ ONLY). So get your food and drinks, chuck on the #ANZPL and close your week out in World of Tanks esports style.