Round Eight is done and the final round before playoffs is just around the corner! As per usual, we've compiled a highlight from each match up as well as a recount of all the action to catch you up to speed if you've missed out, so let's get into it!
Match 1: Bulldogs v Skorpions 2:2
Skorpions came to play in games one and two this week with Napalmer and JT especially standing out as players that are consistently putting in the work throughout ANZPL. Great damage was dealt out from the entire Skorpions team, along with some excellent teamwork and map control saw them taking out two wins on Steppes. The Bulldogs may have been shaken but they were quick to bounce back in games three and four on Murovanka, combining some great focus fire with perfectly timed pushes to put the pressure back onto the Skorpions. The final game saw Napalmer making an aggressive push that was punished by joeattora, forcing the Skorpions into an all-out brawl with the Bulldogs who used their HP advantage and some well timed rotations from twin Bat-Chats joeattora and LightningMan to put down the Skorpions and finish on a draw.
Match 2: Archers v Sentinels 1:3
Archers vs Sentinels was set to be an epic showdown with both teams vying for their playoff spot. The Sentinels put on a great across the board performance in game one on Sand River with everyone putting in a solid effort, dealing around 1.5K of damage each with Rainbow able to farm up 3K on clean up duty in the Bat-Chat. This paired with some great HP rotation added up to a comfortable first game win for the Sentinels. In game two Rainbow threw a spanner in the works for Archers holding them back with the Strv 103B, blocking shot after shot with the Archers eventually running out of time and HP needed to make a decisive play. The Sentinels looked to have a good setup in game three on Ruinberg but the RNG gods smiled on the Archers, allowing them to capitalise on some of the Sentinels shots not landing as well as Blaze being able to get into a good hull down position and deal out some hurt to secure the game three win. Game four was over in a hot minute with twoplustwo getting deleted early on by the twin 50 Bs Rowendy and Syndy, forcing the rest of the Archers to send it down the hill in an all-out brawl that saw the Sentinels come out on top securing themselves a place in the playoffs.
Match 3: Panthers v Conquerors 4:0
The Panthers and Conquerors are two teams that seem evenly matched on paper but you might not think so after the Panthers performance last Friday. Ice racked up an insane 4.8K of damage in game one in the UDES 15/16, absolutely punishing a push from Kyle and conehead23 across the K line of Ruinberg. Game two once again saw the Panthers absolutely dominating, catching the Conquerors off guard with their 50 Bs rolling into a crossfire from the Panthers superheavy E 100s. Game three on Prokhorovka looked good for the Conquerors as they picked themselves up from games one and two but at the end of the day it was too little too late and they ran out of time to mop up the rest of the Panthers. In game four the Conquerors mixed things up with Trax and Slayer in Strv 103Bs but the Panthers didn't fumble, charging them down and making short work of them to end the match with a 4:0 victory.
Match 4: Matildas v Action X 0:4
Both teams fought incredibly hard in the last matchup of the night, but Action X simply outplayed the Matildas. The first two games on Himmelsdorf saw both teams looking like punch drunk boxers with Action X punching harder at the end of the day, deconstructing the Matildas plays and bringing good focus fire to bare. Game three on Murovanka sawTsar_CamagoH bringing out a Badger and DPMing up a storm, knocking out Colwyn_Prodigy and sending cjhunt fleeing in terror. Despite this, it wasn't enough to stop Action X from capping out to secure their third win. In the final game of the night the Matildas sent it straight at Action X with a predictable outcome, arty_noob caught an ammo rack mid charge and the rest of the Matildas were picked off for a solid 0:4 victory to Action X.
Week Four Leaderboard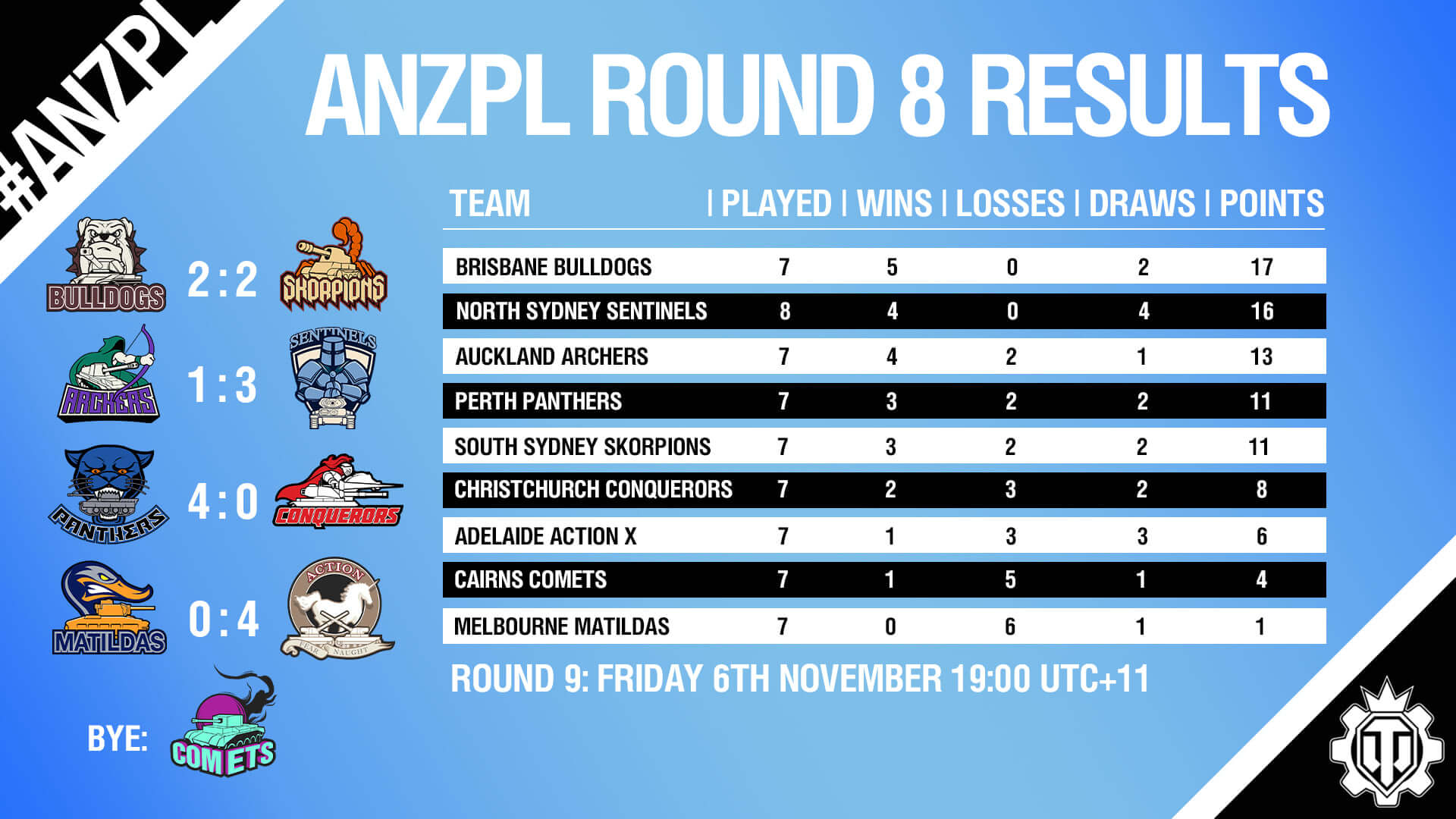 The Bulldogs and Sentinels have now confirmed their place in the playoffs leaving the Archers, Panthers, and Skorpions vying for their spot in round nine where the Archers are set to play Skorpions in what should make for an exciting match. Pride was on the line between Matildas and Action X with their bottom of the table clash last but Action X was able to secure a comfortable four game win to close out the night.
Week Five Lineup
Here are the matches for this Friday, starting at 7:00PM UTC+11 over at our World of Tanks ANZ Twitch Channel! Hosted by Kevin "KaRath" Zhu and Jordan "Elfish" Mays.
| | |
| --- | --- |
| Comets vs Conquerors | 7:00 PM UTC+11 |
| Archers vs Skorpions | 8:00 PM UTC+11 |
| Bulldogs vs Action X | 9:00 PM UTC+11 |
| Matildas vs Panthers | 10:00 PM UTC+11 |
Looking forward to seeing you for week three of the #ANZPL and as always, get your "HYPERX" in chat to win yourself a custom mechanical keyboard with limited, not to be sold, World of Tanks Keycaps (ANZ ONLY). So get your food and drinks, chuck on the #ANZPL and close your week out in World of Tanks esports style.