Another week of ANZPL is done and what a week it was! As usual, we've compiled a highlight from each match up as well as a recount of all the action to catch you up to speed if you've missed out!
Match 1: Skorpions v Bulldogs 2:2
Kicking off the night we had the Skorpions and Bulldogs duking it out on Sand River. The first battle was neck and neck with JT seemingly getting caught out in the open, but after a little bit of an over-commitment from Madhouse the Bulldogs house of cards started to collapse. Both teams fought hard with Dark racking up a solid 4K of damage in his IS-7 but it wasn't enough to steal victory from the Skorpions. If the first battle was hard-fought the Bulldogs made battle two look easy as they patiently farmed up damage on the Skorpions while they struggled to break the Bulldogs defensive set up. After a disappointing second battle, the Skorpions bounced back on Ruinberg getting the overmatches where they were needed and sporting some great focus fire to get the win with Russian and Night doing 4.1K and 3.6K damage respectively. The final battle saw the tables turned yet again as the Skorpions moved quickly to put pressure on the cap. The resets came through thick and fast from the Bulldogs while JT and Russian lumbered into the fight in twin Maus's bleeding out HP all the way, handing the Bulldogs an easy win to finish 2:2.
Match 2: Action X v Conquerors 3:1
Action X had a great night starting off strong on Himmelsdorf. A good early set up from Conquerors with some decent early trades and cap pressure fell by the wayside mid-game as they struggled to put their 50B's to good use while Action X collapsed upon them, catching them in a crossfire and ending the game decisively. Conquerors looked as though they were going to make things a bit harder for Action X in battle two as they managed to push their 50B and E-100 for the reset. However, they bleed out too much in the process giving Action X their window of opportunity to pounce with CJ chalking up a nice 4.2K of damage by the battle's end. Moving onto Ghost Town the Conquerors got off to a rough start taking a lot of damage as they moved onto the cap while Thake and Goober in 50B and Bat-Chat tried to get flanking shots. CJ and Eugene were quick to chase them off, knocking out Goober and forcing Thake into a hasty retreat for another comfortable victory. In their final battle of the night the Conquerors managed to put an end the Action X's winning streak in a close game that came down to a two vs two between Caen and DONGERLORD in E 100 and Obj. 277 against goober and Slayer in E 100 and S. Conqueror with Conquerors coming out on top to finish the night 3:1.
Match 2: Panthers v Archers 2:2
The first game on Prokhorovka got off to a slow start as the Archers maneuvered for map control and probed the Panthers positions. When the push did come down the one line they lost Trax while failing to trade for Lightingman, putting them in a difficult position. Ultimately the Archers were too slow to make a move and Panthers took the win as the timer hit zero. Battle two saw the Archers taking more of the initiative and map control, seeing the play for the two flag coming out from Panthers and reacting accordingly. When the decisive push did come from Panthers, they had already bleed out too much HP for it to be effective. On to Himmelsdorf where Archers started their attack on flag two with Trax and ToasteD in E 100's along with Blaze and Celestia in 50B's for support. Panthers made a concerted push with all their tanks, driving the Archers off the cap and coming out on top of the ensuing brawl. In their final battle, the Panthers went for a push through the courtyard where the Archers were waiting for them. After bleeding out a lot of HP the Archers were in a position where they could just wait for the Panthers to make a move, then swoop in to finish them off.
Match 3: Matildas v Sentinels 2:2
The Matildas kicked off with a spirited defense on Ruinberg, going with a more mobile lineup that served them well against the Sentinels who fielded two Super Conquerors which ended up very separated from the fight when they were most needed and missed a few key shots on the Matildas cross that could have swung the game in their favour. Battle two was over before it even began with the Matildas capping out for the win with hardly a shot fired leaving everyone wondering what on earth just happened. The Sentinels managed to redeem themselves on their attacking run on Cliffs in a close battle that saw good reactions from both sides. Jordy and Bailes did well, understanding when to make plays with good focus fire all round but the counter play from Sentinels was on point bringing the game to a three on three with the HP advantage on the Sentinels side. The final battle of the night had everyone on the edge of their seats with both teams rushing the hill with Sentinels losing Sydny straight off the bat. Matildas went to push the advantage, taking out Zanin but losing Bailes and Whippet in the process bringing the game to a three on three. Jordy sprung into action in an attempt to knock Rowendy out of the game but failed to land a penetrating shot with three shots in a row going into Rowendy's gun and a fourth bouncing off the turret. From there it was all over as Rainbow made short work of the remaining low HP Matildas, stealing a draw from the jaws of defeat.
Week Four Leaderboard
Action X retained their top spot on the leaderboard this week after another win, followed closely by the Sentinels. Archers, Matildas and Skorpions are all vying for the third and fourth spots while Bulldogs, Conquerors and Panthers still have plenty of time to turn their prospects around. Some big shake ups compared to last season with teams like Action X and Matildas really holding their own and seeming like teams to watch where some of the top teams from last season are now starting to fall behind.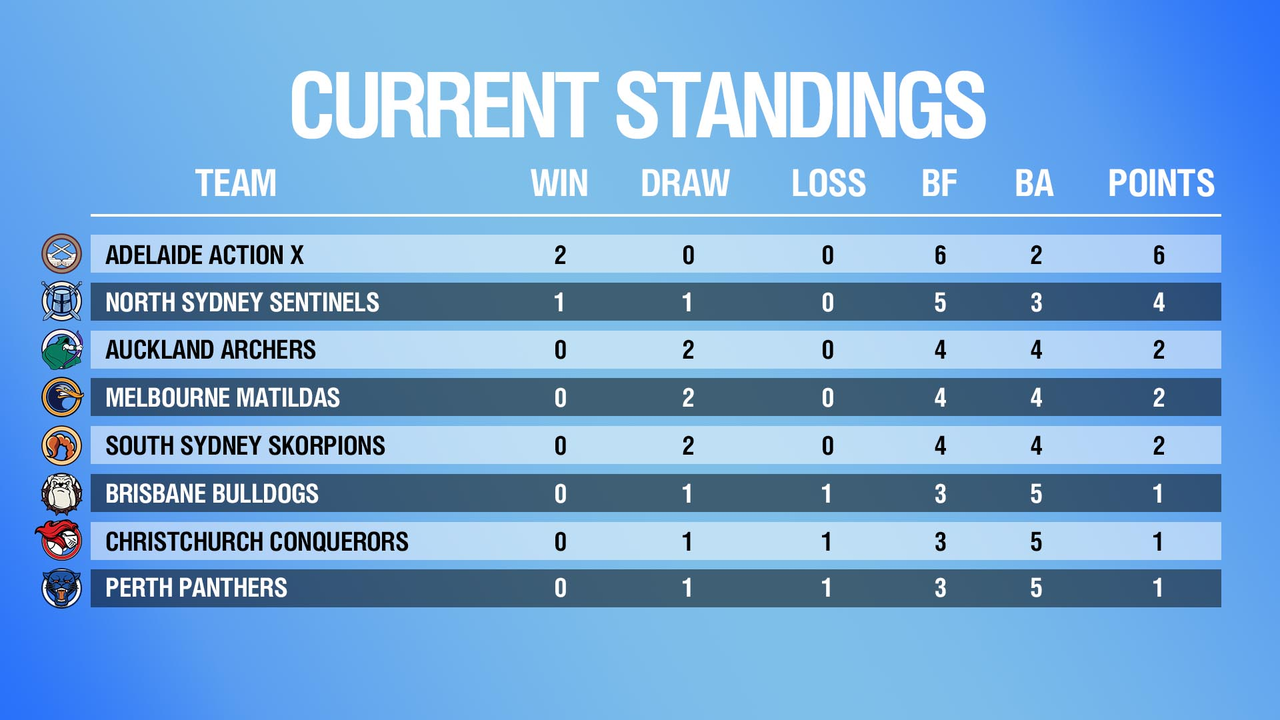 Week Five Lineup
Here are the matches for this Friday, starting at 7:00PM UTC+11 over at our World of Tanks ANZ Twitch Channel! Hosted by Kevin "KaRath" Zhu and Jordan "Elfish" Mays.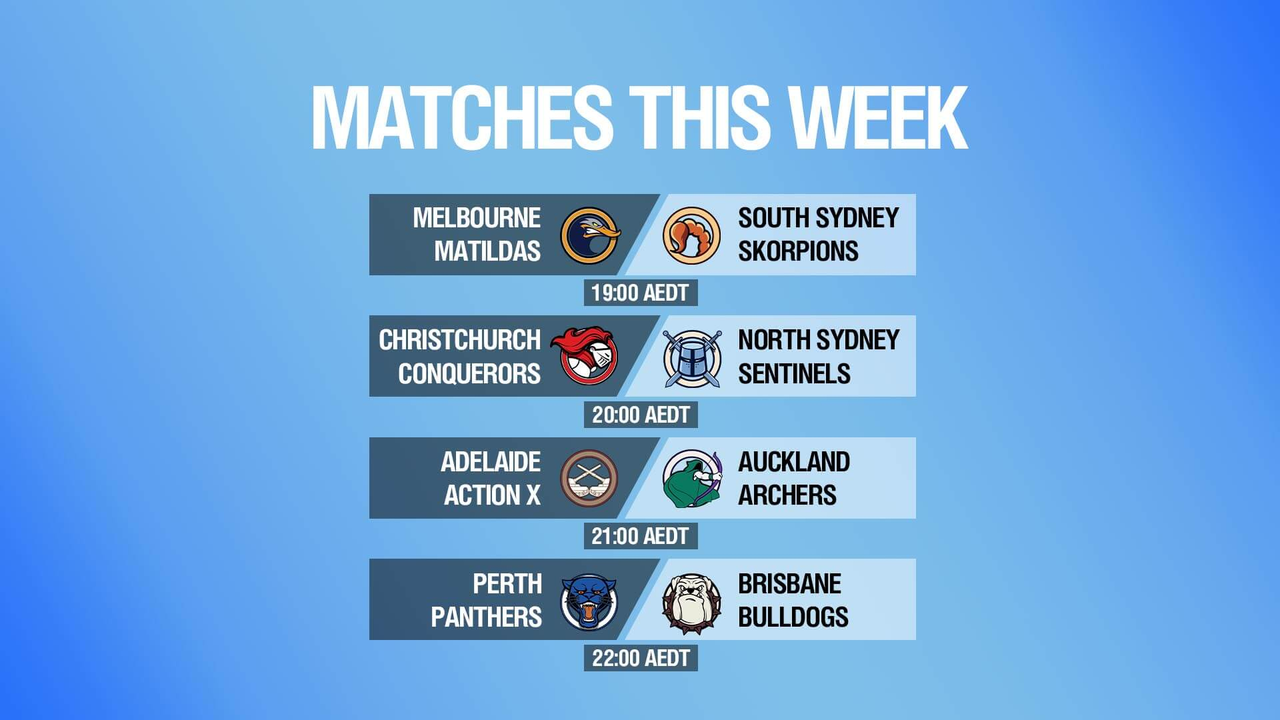 The ANZ Fantasy League
For our avid ANZFL fans, here what was the best performing team of five for Week Two. A strong performance all round by the top five followed closely by Dark and Speed.
If you would like to participate in the Fantasy League, it's still not too late to win a share of 20,000 and earn some great prizes from one of our sponsors the Republic of Gamers and HyperX, click the giant button below!
Looking forward to seeing you for week two of the #ANZPL. So get your food and drinks, chuck on the #ANZPL and close your week out in World of Tanks esports style.