Some big changes to the leaderboard this week after last Friday's games and as usual we're here to break it all down for you with a highlight from each match up as well as a recount of all the action to catch you up to speed if you've missed out!
Match 1: Matildas v Skorpions 2:2
Matildas started with another solid defence on Ruinberg, getting the resets when they were needed and making short work of a push from Skorpions with some great focus fire and Bailes not missing a single shot from his 50B. After a short-lived first battle, Auzzi put in the work on battle two. Landing shot after shot on the Matildas in his Bat-Chat, igniting Whippet and coming off reload just in time to finish off arty_noob and end the game with 4.5K of damage. Skorpions played an excellent attack on Cliff, utilising their time nicely and getting the information they needed before making their decisive push, but couldn't seem to bring that same finesse to battle four, ending their night on a draw.
Match 2: Conquerors v Sentinels 3:1

Conquerors played fantastically last week, really giving the Sentinels a run for their money. The first battle on Ghost Town was close, but Goober was able to tip the balance with a critical flanking move, getting off a clip from his Bat-Chat and then disappearing back into the town. Battle two had everyone screaming as the Sentinels were once again capped out for a second week in a row! Moving onto Cliff the Sentinels struck back, baiting the Conquerors into a push over the hill and punishing them for it, bringing the score to 2:1. The deciding battle looked like it could have gone either way but Slayer made a decisive play, chasing down and finishing off a one-shot HP Rainbow who seemed to have no idea he was coming to finish up with a 3:1 victory over the Season One champions.
Match 2: Action X v Archers 2:2
Action X and Archer provided us with some great games last week. Kicking off on Prokhrovka Action X showed us once again why they're a Season Two favourite with CJ giving a master class in light tanking and the rest of the team showing off their focus fire skills as they landed two tracking shots in a row on Celestia as he chased CJ down. Knocking Celestia out of the game for free, a loss the Archers couldn't recover from. The Archers got their revenge in battle two, with Celestia knocking out a tracked CJ and the Archers dealing out some great damage while taking very little in response for a convincing defence. Battle three came down to a brawl at the doughnut on Cliffs with the Archers coming out on top as Action X failed to fully commit in time while battle four went the way of Action X as they maintained good map control and got the crucial over-matches to force a draw.
Match 3: Panthers v Bulldogs 2:2
Finally, we have Panther v Bulldogs beginning on Prokharovka where the Bulldogs looked to be in a favourable position but after an uncoordinated push, threw it all away as they drove into a crossfire. Determined not to drop the ball this time around the Bulldogs redeemed themselves in their defence, coming away with a comfortable victory with a good spread of damage dealt from across from the Bulldogs side. Up next was Sand River where Panthers were able to hold firm on defence while Randomizd looked like a one-man army, knocking out four of the five Bulldogs tanks before the timer ran out. Unfortunately, the Panthers were a man down for the majority of the final battle of the night after LightningtMan disconnected, putting them at a considerable disadvantage, closing out the night on a draw.

Week Three Leaderboard
Action X still cling onto their top spot while the Conquerors shake things up as they leapfrog up the leaderboard to second place after their victory over the Sentinels. However, they're followed closely by Archers, Matildas and Skorpions so next week could once again see things changing dramatically. Bulldogs and Panthers lag behind but still have plenty of time to turn their fortunes around.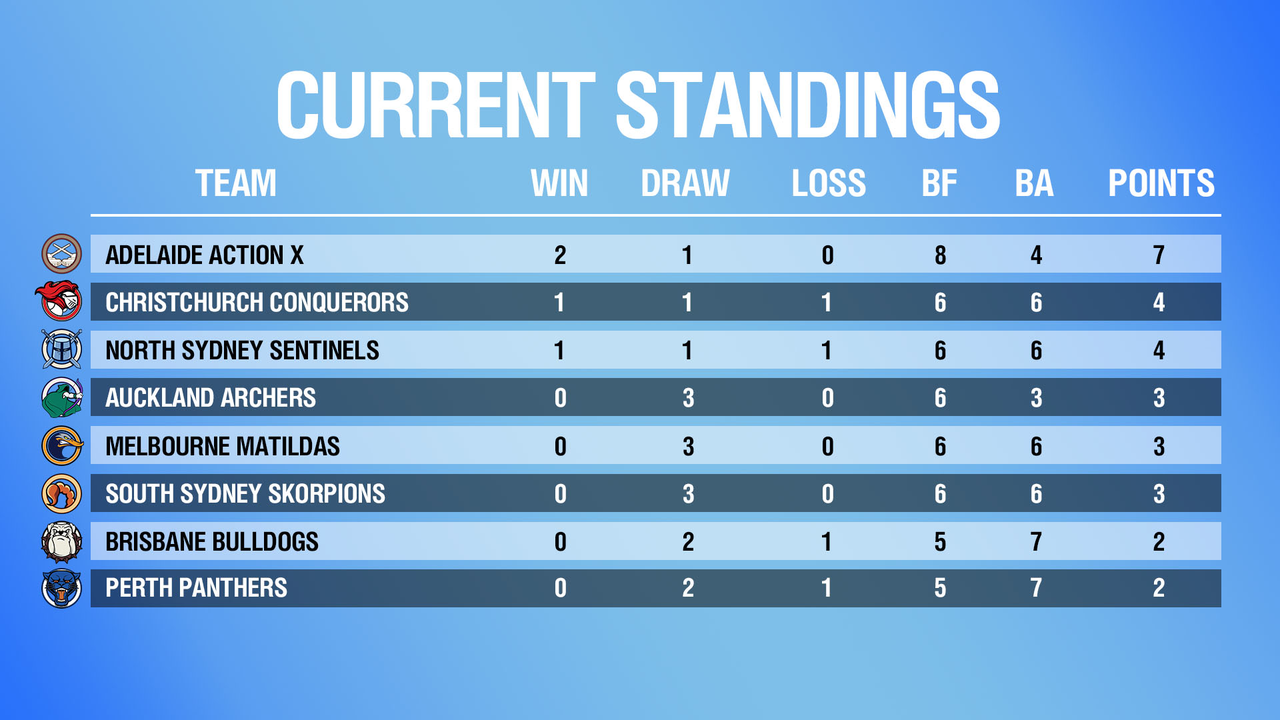 Week Four Lineup
Remember that this weekend is Easter weekend so there will be no games this Friday. Here are the matches for next Friday the 9th, starting at 6:00PM UTC+10 over at our World of Tanks ANZ Twitch Channel! Hosted by Kevin "KaRath" Zhu, Jordan "Elfish" Mays and Ben "SandMan" Green.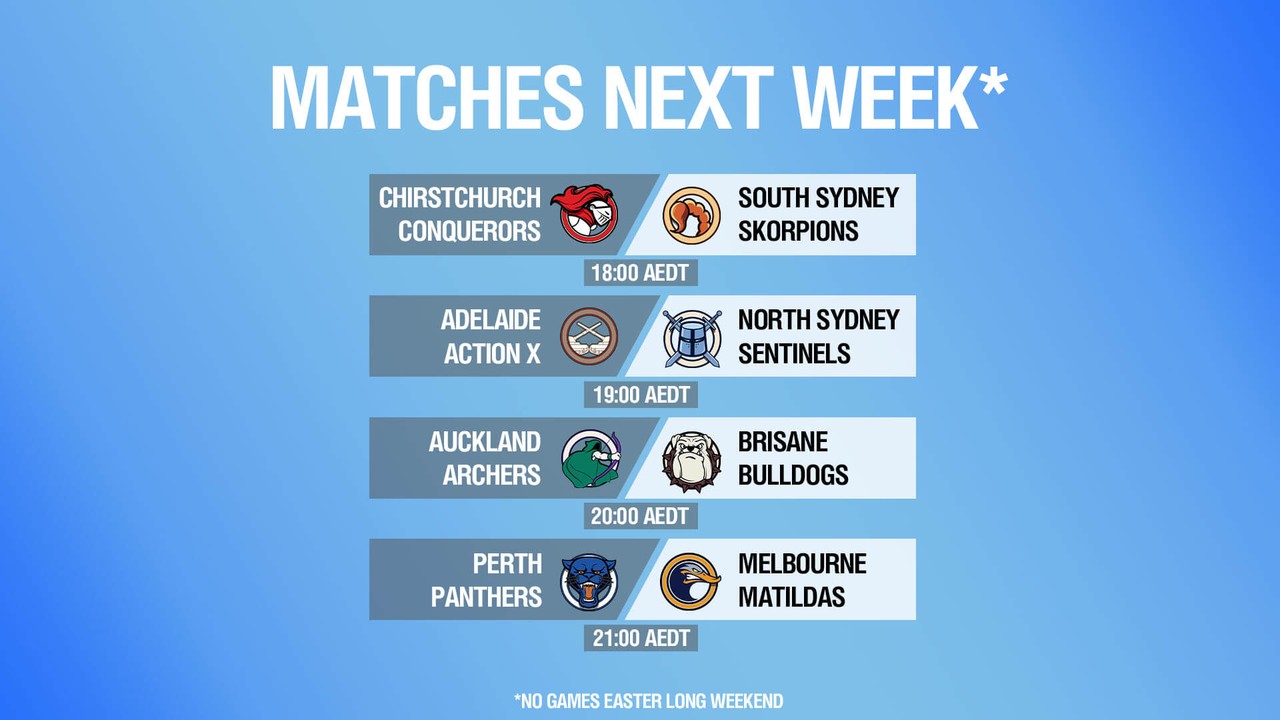 ANZ Fantasy League
For our avid ANZFL fans, here what was the best performing team of five for Week Three. A strong performance Madhouse followed by double threat Twit and Randomizd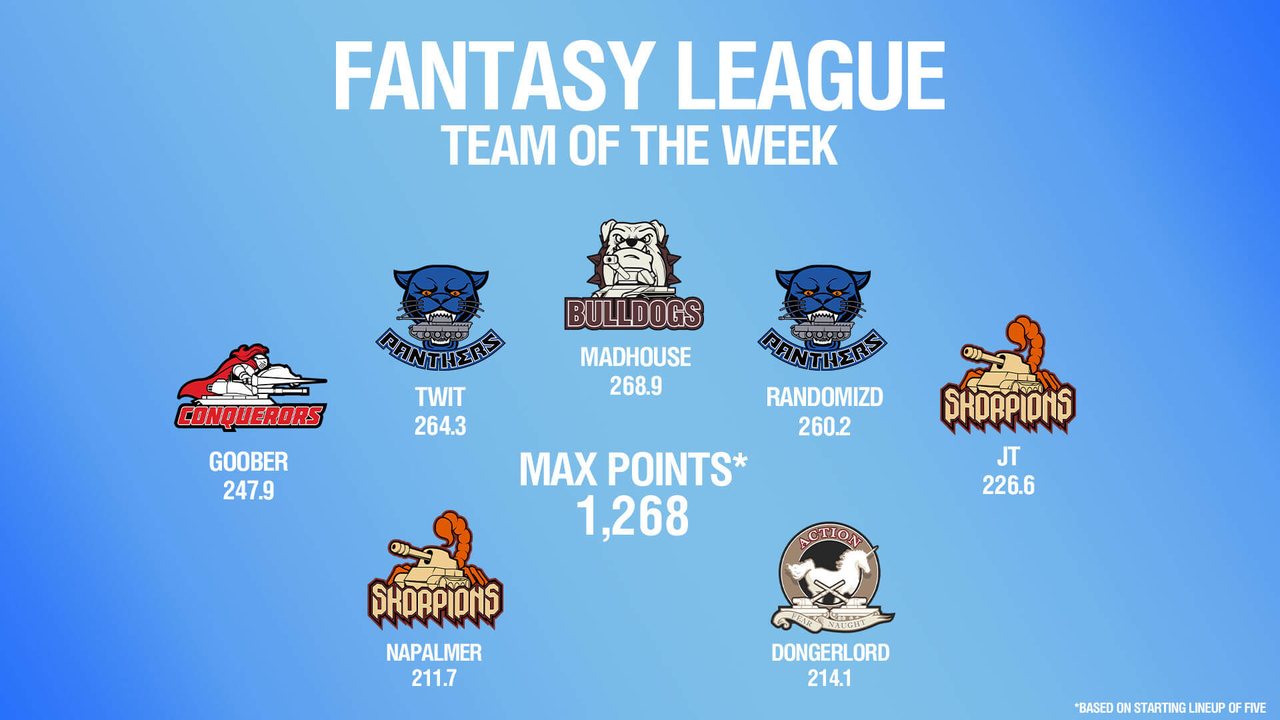 If you would like to participate in the Fantasy League, it's still not too late to win a share of 20,000 and earn some great prizes from one of our sponsors the Republic of Gamers and HyperX, click the giant button below!
Looking forward to seeing you for week two of the #ANZPL. So get your food and drinks, chuck on the #ANZPL and close your week out in World of Tanks esports style.