Round Four gave us some incredible games last Friday! As usual we're here to break down all the action with a Hot Shot clip from each matchup as well as a recount of everything that went down to bring you up to speed!
Don't forget, each week we will be running the ANZPL Hot Shot competition, allowing you to vote on your favourite moments from each week for a chance to win a $50 Ironside Coffee gift voucher weekly, or the grand prize of a year's supply! Each clip in this wrap up is one of the four you can vote on, and there's a link to the voting form at the bottom of the article.
Last but not least, given we've just passed the mid-season mark, we have reviewed the ratings of our ANZPL stars in Fantasy League! Check the bottom of the article to see who's ratings have gone up or down...
Match 1: Matildas v Archers 3:1
Starting off on the Matildas' map choice of Tundra, the Archers did well to get a win on the attack. However, it was a close shave with things coming down to a 1v1 between Trax and Bolagnaise who both ended the game with over 4K damage done. The Archers weren't able to keep that energy going into the next game though, where they had some bad trades early on losing a lot of HP then failing to reset the Matildas cap pressure.
The Matildas maintained their great form into Cliff where they put up a great defence, taking full map control and showing they're not to be underestimated as the Archers tanks began dropping one by one while they looked for a way in. In the final game the Matildas were able to go all the way, bleeding the Archers out before making their move and closing things out with their second cap win of the night.
CLIP A - TWO OVER TWO
Match 2: Conquerors v Bulldogs 3:1

The Conquerors looked unrecognisable last Friday in their games against leaderboard toppers the Bulldogs in one of the biggest upsets in ANZPL history. Starting on the Conquerors map pick of Ghost Town the Bulldogs were quick to get on the cap, but it didn't pay off as they soon found themselves 3,000 points of HP down with the Conquerors yet to take a hit. As a result the game seemed to be over before it even began. The next game looked much closer as the Bulldogs struggled against the Conquerors attack. Despite managing to bring the game to a three on three the Bulldogs were all one shot of HP while their opponents were much healthier and the Conquerors went up 2:0.
Moving onto Sand River the Conquerors sealed the deal after foiling the Bulldogs attack with seconds left on the cap. Even though it was a close cap reset the Conquerors were still far and away the better team, eliminating all the Bulldogs tanks while still having four of theirs alive by the games end. In the final match the Bulldogs were able to redeem themselves somewhat, pulling through with a win on their Sand River defence but the Conquerors had done what they needed to do and the unbeatable Bulldogs had been defeated.
CLIP B - CUTTING IT CLOSE
Match 3: Action X v Skorpions 0:4

Action X vs Skorpions should have been a close matchup by all accounts but the Skorpions were on another level last week. Starting on the attacking side of Cliff, the Skorpions were quick to punish Zanin for a hill climb before Night was able to finish him off and claim hill control. After that the Skorpions went for a re-push on the doughnut, coming out on top with a four on two tank lead that was never going to be winnable for Action X. The next match came down to another doughnut fight but the Skorpions were waiting with a very strong crossfire as Action X pulled up the ramp. In the ensuing skirmish Action X lost Shankypants, Colen27 and Eugene while CJ went down to JT in mid.
On Ghost Town the Skorpions continued their winning streak. The first game was close, coming down to a two v two of CJ and Shankypants against Napalmer and Russian. In the end an ignite from Russian into Shankypants and a well timed helping hand from Napalmer won the day. In their final battle of the evening the Skorpions again bested Action X after winning the Bat-Chat fight on the out map edges with a two for one trade before moving onto reset Action X's cap pressure for a very nicely played 4:0 win.
CLIP C - OH YEEEAAH!
Match 4: Sentinels v Panthers 4:0
Finally we had the Sentinels and the Panthers to finish off the night. Starting on Tundra, Rainbow did well to get away from the Panthers after he was almost isolated and knocked out, buying time for the cavalry to arrive. When they did, the Panthers were sitting ducks and the Sentinels were able to use their superior brawling ability to win the first match. Game two saw a big group push from the Sentinels on the attack, with the Panthers managing to bring things to a three v two in their favour. However with only autoloaders up against the Sentinels Super Conqueror and Obj. 277 they just didn't have the DPM to convert it to a win.
The final two games took us to Himmelsdorf where the teams brawled on the banana in game one. Despite the Panthers bringing things to a three v four, Speed was able to buy enough time for Rainbow to make a run for it in his 50B. The Panthers then moved onto the cap and with seconds to spare on the timer, Rainbow pulled through with a module shot onto Twit's E 100 to secure the series win. The final game the Sentinels finished things off in style with a huge brawl and some huge shots from Monkey, hitting a massive 3,000 HP ammo rack onto PhantomSweet with his Jg.Pz. E 100.
CLIP D - MONKEY SEE, MONKEY BOOM!
Week One Leaderboard
The Bulldogs lose their top spot on the leaderboard this week to the Skorpions while the Conquerors finally get some point up there after their fantastic performance. It will be very interesting to see where things go from here and whether some of these shake ups will have a lasting effect.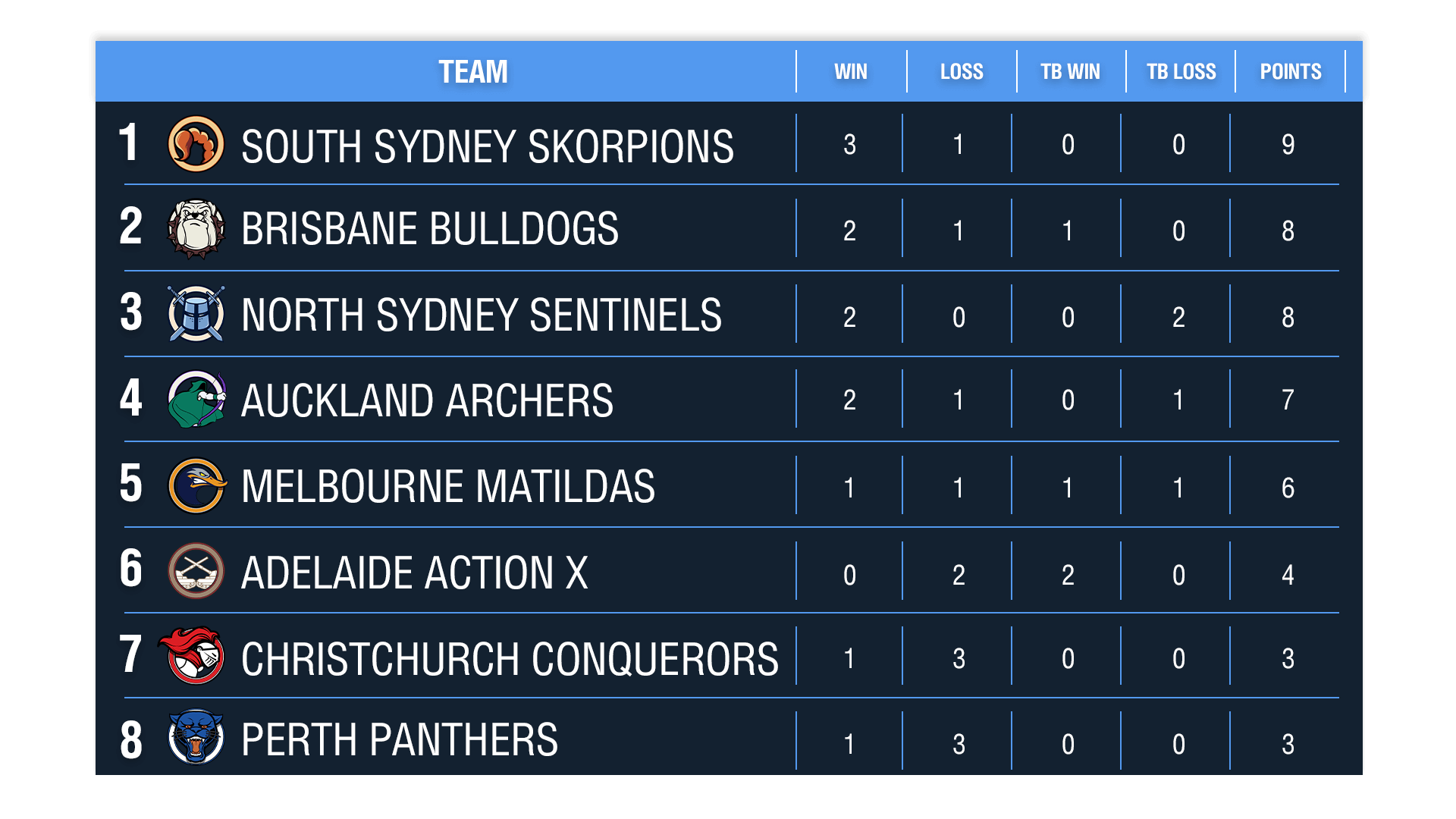 Week Two Lineup
Here are the matches for this Friday the 1st, starting at 6:00 PM UTC+10 over at our World of Tanks ANZ Twitch Channel! Hosted by Ben "Sandman" Green, Kevin "KaRath" Zhu and Jordan "Elfish" Mays.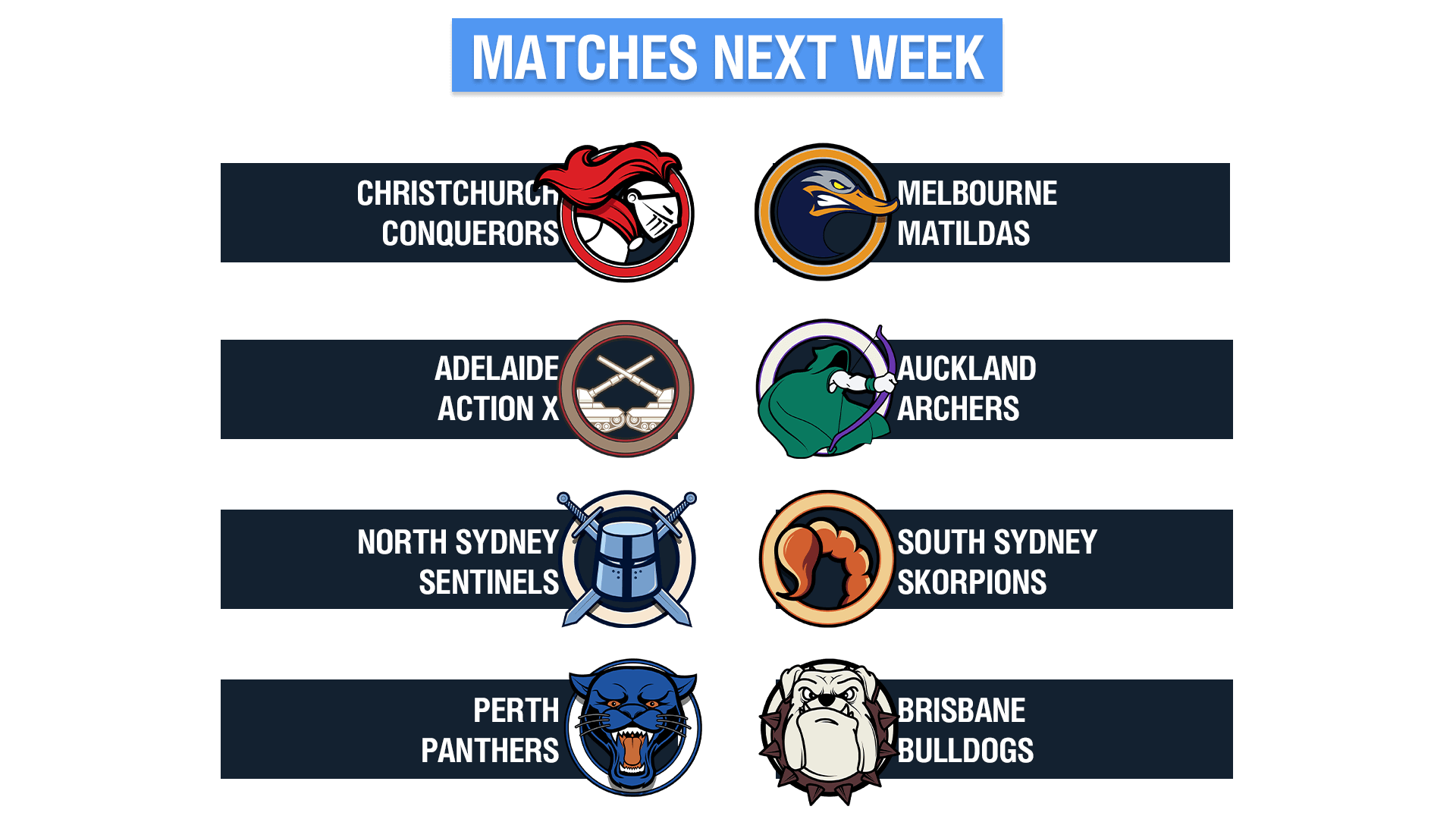 ANZPL Fantasy League
For our avid ANZFL fans, here is what the best performing team of five for week four was.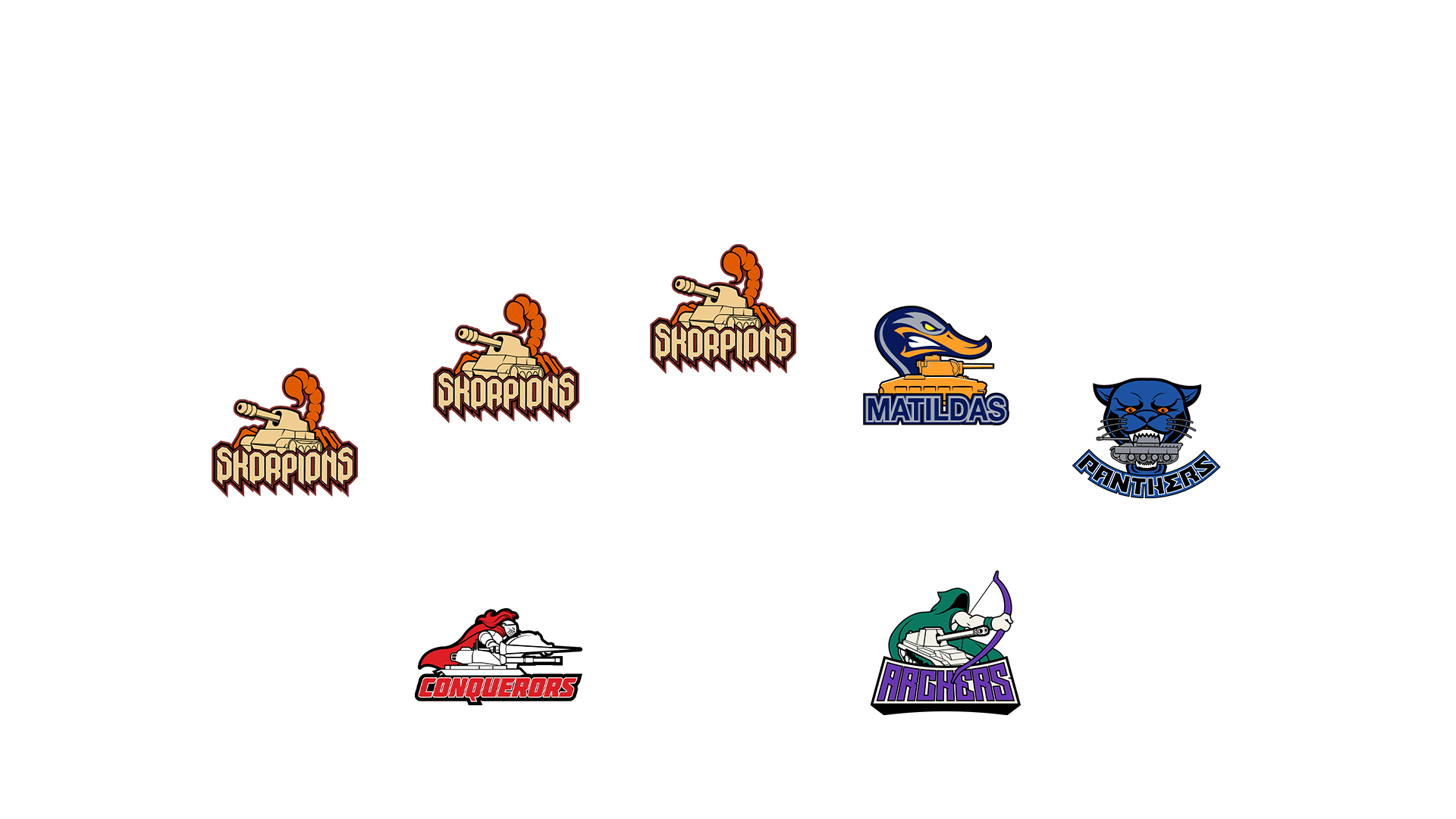 Congrats to our TOTW! Can't wait to see your stat cards during this week's broadcast. Until then, we have some ratings reviews to share with you before you select your Fantasy teams for this week. Ratings have been reviewed based on match performance (total/average FP) level of participating in battles, and for long standing players, overall trends in form. Considering this is our first ratings review (and also one occurring mid-season) player ratings could only be changed by a maximum of one star. With all that said and done, check out the players with updated ratings below! (Players who do not feature in the following list are unchanged.)
Adelaide Action X
Colen27 - 3 > 4

Zanin - 1 > 2
Auckland Archers
Trax - 4 > 5

ToasteD - 2 > 1

Stewy - 2 > 3
Brisbane Bulldogs
Christchurch Conquerors
Buff_Hamster - 4 > 3

KritaKil - 2 > 3

Bluey - 1 > 2
Melbourne Matildas
MerryTurnipDay - 3 > 4

twoplustwo - 1 > 2
Perth Panthers
PhantomSweet - 2 > 1

Dastardly - 1 > 2
North Sydney Sentinels
South Sydney Skorpions
JT - 5 > 4

Auzzi - 3 > 4

Benny 1 > 2
HotShot Competition
Don't forget to cast your vote on this week's Hot Shot!