Illustration Column III: Sisterhood of Steel feat. Shibafu #12 (Final) Released!

Commanders!
This latest illustration column is a collaboration between World of Tanks and Shibafu, a popular Japanese illustrator known for his unique style and detailed portrayal of weapons.
This 12th and final illustration is the tank known by many players for its distinctive long hull, the TOG II* heavy tank!
We've prepared a wallpaper version, so feel free to decorate your desktop with this illustration.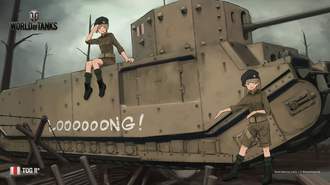 Go to the Download Page of "Illustration Column III: Sisterhood of Steel feat. Shibafu Part 12"
This illustration concludes the Illustration Column III: Sisterhood of Steel feat. Shibafu. We would like to thank everyone for their support this year! In particular, we'd like to give special thanks to the artist, Shibafu, for bringing us all these beautiful tank (and ship) illustrations! We hope to see you again in the near future!
We've also received comments from Shibafu, so please take some time to read them if you are interested!
---
Artist's Comments
Hi, everyone! I'm Shibafu.
I had the pleasure of doing several works of art for the "Sisterhood of Steel" illustration series, depicting girls with tanks, this year.
I did not have much experience drawing tanks as the focal point of an illustration until now, but this experience made me realise two things.
The first thing, you could perhaps call "beauty in the dirtiness". It's kind of obvious if you think about it, but each part of the vehicle is dirty for a reason. I struggled a great deal on the expressions, making adjustments after adjustment by creating new brushes and other tools.
The other thing is the size of tanks. In World of Tanks, you don't get to see tanks with people. For example, even the Hetzer which I thought was small is 2.17m tall, so I had to fiddle a lot with the composition to properly depict people in proportion to the tanks.
"Sisterhood of Steel feat. Shibafu" may have reached an end, but please do come and see my illustrations once more if an opportunity arises.
Thank you for your support, and see you! ---