Tank Commanders,
As we all know, German vehicles can be a pain to deal with in battle. When you're about to make an enemy of German forces, you will want to bring along the best of what you've got. That's what the Soviet military did back in the Berlin War. The ISU-122S was one of the vehicles deployed to capture Berlin.
This Premium tank destroyer is modelled with white stripes on the side, just like how the Soviet forces used to identify ally tanks at that time. It also comes with a Brother in Arms "0 Skill".
Find out more about the vehicle below!
Event Start: 27 May, 2016 (Friday) @ 14:00 UTC+8 (06:00 UTC)

Event End: 03 June, 2016 (Friday) @ 14:00 UTC+8 (06:00 UTC)
---
Package Name


Military Parade -

ISU-122S

Package Contents
ISU-122S
1 Garage Slots
* Each tank comes with "0 Skill" Brother in Arms Crew

1,650

Value in Gold
6,700

Price


USD 28.17
---
Featured Premium Tanks
ISU-122S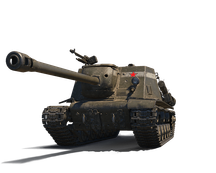 This Soviet Tier VII tank destroyer was created on the basis of the IS heavy tank. It is armed with a quick-firing and powerful 122-mm gun. Although its single-shot damage cannot be compared to that of the legendary BL-10, the gun's high rate of fire enables it to deliver over 3,000 damage per minute. A low silhouette and decent manoeuvrability make this vehicle an ideal tank hunter.
The ISU-122S is modelled in high definition and depicts one of the vehicles that stormed the streets of Berlin. White stripes on the sides served as identification markings for other Soviet forces. This is truly a must-have for collectors and all those who love Soviet armour.
---
Purchase these deals for yourself or as gifts for your friends. Please refer to the Premium Shop Guide for information on how to use it.