What's Hot:

High damage per minute
Good mobility across all terrain
Good gun dispersion on the move
Can equip vertical stabiliser for greater accuracy
Special crew from the movie Fury

What's Not:

Target slow moving targets and flank them to overcome its gun's low penetration and damage per shot.
Angle your armour well against opponents on par with you, but knowing when to run is a useful skill.
This vehicle size attracts enemy fire. Keep moving to avoid being hit.
[Premium Shop] Sherman's Birthday
Sale Period: 08 February, 2019 (Friday) @ 14:00 UTC+8 to 11 February, 2019 (Monday) @ 14:00 UTC+8
Click on the bundle names below to display more information. Remember to log in on the Premium Shop to see all items on sale!
M4A3E8 Fury (USD 25.35)

M4A3E8 Fury - Collector's Gem (USD 39.85)
M4A3E8 Fury (USD 25.35)
Discount: 8%
Bundle Contents
1x

Garage Slot
100% Crew

2,500
Price
M4A3E8 Fury - Collector's Gem (USD 39.85)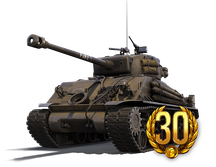 Discount: 18%
Bundle Contents
1x

Garage Slot
100% Crew

4,500

30 Days Premium Account Time

5

x Victory EXP Bonus (15 times)

15x Personal Reserves: +100% Crew EXP (Duration: 2h)
Price