Tank Commanders,
This agile scout is yours to command once you complete all the Challenge on Wheels missions.
The more progress you have achieved on the challenge, the greater your discount on your package.
Purchase your Panhard EBR 75 below!
Important Note: Purchasing the bundle gives you the full pack of rewards for the missions not completed and automatically checks all unfinished event battle missions as completed. After purchasing the bundle, you will no longer have access to them.
---
Panhard EBR 75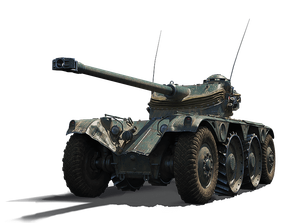 What's Hot

Great accuracy allows it to fire on the move
Fast tank for diligent scouting duties
Efficient credit earner

What's Not

Watch where you drive. This vehicle flips easily on uneven ground

It can be easily spotted even from long distances, so keep moving to mess your enemy's aim
[Premium Shop] Challenge on Wheels
Sale Period: 21 February, 2019 (Thursday) @ 09:00 UTC+8 to 09 March, 2019 (Saturday) @ 09:00 UTC+8
NOTE:
Keep your account secure! Be wary of accepting gifts from players or accounts you don't know -- fraudulent gifts can block both accounts -- and don't freely share your own information!
Click on the button below to go to the Premium Shop. Remember to log in on the Premium Shop to see all items on sale!