T34 B
IS-6 B
Schwarzpanzer 58
What's Hot:

High penetration
Tough turret armour all around, especially the front
Great gun depression; can play hull-down

What's Not:

Long reload time
Long aim time
Weak hull armour -- not suited to leading pushes
Low mobility
What's Hot:

Suited to aggressive play styles
High damage per minute: High alpha damage and good rate of fire
Excellent angled armour all around the tank
Good mobility
Few frontal weakspots; weak spots are hard to hit

What's Not:

Low penetration
Angled armour best used on flat ground -- be careful on hills!
Low ammo capacity
Poor gun handling at a distance -- but who needs that when you're fighting head-to-head?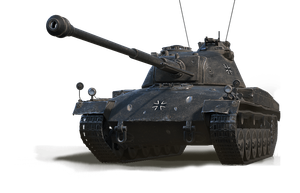 What's Hot:

High penetration
High shell velocity
Decent accuracy
Good mobility

What's Not:

Low HP pool
Low damage per minute
Weak hull and turret armour
[Premium Shop] Back in Black
Sale Period: 13 July, 2018 (Friday) @ 14:00 UTC+8 to 27 July, 2017 (Friday) @ 14:00 UTC+8
Click on the bundle names below to display more information.
T34 Shadow Edition - Supreme (USD 112.63)

T34 Shadow Edition - Deluxe (USD 68.78)

T34 Shadow Edition (USD 50.58)

IS-6 Shadow Edition - Supreme (USD 112.78)

IS-6 Shadow Edition - Deluxe (USD 67.25)

IS-6 Shadow Edition (USD 49.79)

Schwarzpanzer 58 - Supreme (USD 116.18)

Schwarzpanzer 58 - Deluxe (USD 68.61)

Schwarzpanzer 58 - Shadow (USD 37.43)

Premium: 360 Days (USD 83.77)

Premium: 180 Days (USD 48.10)