Overview
Tale of the Tank
What's Hot
What's Not
Dependable gun: Good depression angles and reload speed

Great crew trainer

Commander comes with Sixth Sense Perk unlocked

Great for collectors: First Lend-Lease M4 Sherman in the game
Tale of the Tank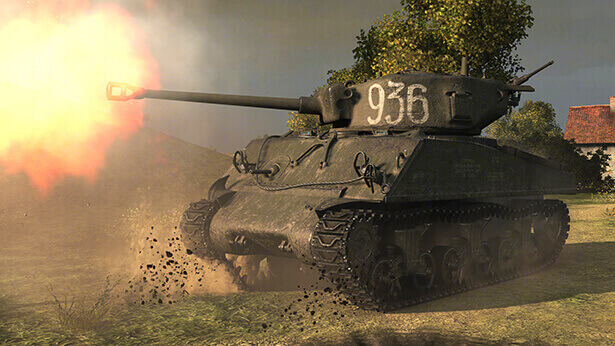 VI
Loza's M4-A2 Sherman , marked "936", is the first Lend-Lease M4 Sherman in World of Tanks. It was commanded by Colonel (Ret.) Dmitry Fedorovich Loza of the Soviet army during World War 2.
A graduate of the Saratov Tank School, Loza saw his first battle in August 1943. Later, in 1945, then-Captain Dmitry Fedorovich Loza was placed in command of the 1st Tank Battalion of the 46th Guards Tank Brigade, which spearheaded the armoured thrust of the Vienna Offensive in Lend-Lease M4-A2 Shermans.
As his battalion advanced through Hungary towards Vienna, they captured trains, warehouses, and workshops full of German weapons. Among the captured items were ammunition, artillery guns, and 4 intact

VII
Panthers . The same day, they defeated a German tank column.
In early April, the battalion broke through German lines and arrived at Vienna, holding ground to allow the rest of the brigade to arrive safely.
For his actions during the Vienna Offensive, Loza was awarded the military honour of Hero of the Soviet Union and the Order of Lenin, two of the highest distinctions possible in the Soviet Union.
After the war, Loza studied at and graduated from the Frunze Military Academy in Moscow, where he became a senior lecturer. He retired with the rank of Colonel in 1967.
Commander with Sixth Sense Perk
This vehicle comes with a commander that has the Sixth Sense Perk already unlocked!
One could hardly ask for a more fitting perk. With Sixth Sense, you'll know when you've been spotted, so you'll know when you should go into hiding.
Having Sixth Sense right out of the box will save you lots of grief in battle.
Dependable 76mm M1A2 gun
With a -10° gun depression angle, you'll be able to take full advantage of hilly terrain to stay safe while punishing your opponents with your gun that reloads every ~3.3 seconds.
Good for Crew Training
This vehicle comes with space for a 5-person crew, making it an excellent crew trainer!
Great for Collectors
This is the first Lend-Lease M4 Sherman in World of Tanks, and has the story of a war hero to go with it. If you're a collector, it's not to be missed!
Not easy to fight Tier VIIIs
Your armament and armour may not be particularly effective against Tier VIII opponents.
---
Get Loza's M4-A2 Sherman Now!
Event Start: 09 February, 2018 (Friday) @ 14:00 UTC+8 (06:00 UTC)
Event End: 16 February, 2018 (Friday) @ 14:00 UTC+8 (06:00 UTC)
M4 Loza - Standard

M4 Loza - Ultimate

M4 Loza - Supreme
M4 Loza - Standard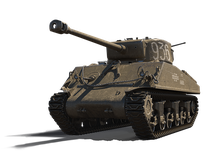 Package Contents:

Price
M4 Loza - Ultimate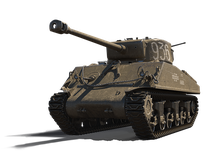 Package Contents:
VI

Loza's M4-A2 Sherman

(with 100% Crew, Commander with 0-skill perk and "Sixth Sense")

1 Garage Slot

5

x

Victory EXP bonus

(15 tokens)



15x Personal Reserves: +200% Crew EXP (Duration: 2 hours)

2,000
Price
M4 Loza - Supreme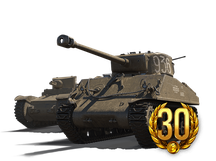 Package Contents:
VI

Loza's M4-A2 Sherman

(with 100% Crew, Commander with 0-skill perk and "Sixth Sense")

5

x

Victory EXP bonus

(30 tokens for M4 Loza only)




2

Garage Slots

30 days Premium Account time
20x Personal Reserves: +300% Crew EXP (Duration: 2 hours)

4,250
Price