Tank Commanders,
It's Day 20 of the Advent Calendar!
Today, we give you a sale featuring the Fury. For the next 24 hours, you'll be able to purchase the following bundle containing this rare tank:
Fury

- Standard: Contains the tank, 1 garage slot,

4,200

and a full crew with 100% skill.
More details about the bundle, including the cost can be found below. Enjoy!
Roll out!
---
Event Start: 20 December, 2016 (Tuesday) @ 13:45 UTC+8 (05:45 UTC)

Event End: 21 December, 2016 (Wednesday) @ 14:20 UTC+8 (06:20 UTC)
---
Package Name




Fury - Standard




Package Contents
Fury
1 Garage Slot
Full Crew w/ 100% Skill

4,200


Value in Gold
8,250

Price


USD

34.42
---
---
Featured Premium Tanks
Fury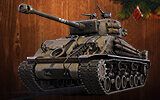 This tank is no ordinary Sherman. It starred in its own movie alongside famous film actors. Fury is an American medium tank. Its in-game equivalent is the Tier 6 M4A3E8.
As a Premium tank, Fury stands at the same tier as the M4A3E8, but comes better equipped than Shermans in stock configuration and allows you to earn more credits per battle. It also comes in handy when you wish to speed up training for rookie crew members.
---
Purchase these deals for yourself or as gifts for your friends. Please refer to the Premium Shop Guide for information on how to use it.