Tank Commanders,
It's the 14th day of the Advent Calendar!
Today, we bring you a sale featuring the IS-3A. For the next 24 hours, you'll be able to purchase this bundle for this tank:
IS-3A - Standard

: Contains the tank and 1 garage slot
More details about the bundle, including the price, can be found below. Enjoy!
Roll Out!
---
Event Start: 14 December, 2016 (Wednesday) @ 13:45 UTC+8 (05:45 UTC)

Event End: 15 December, 2016 (Thursday) @ 14:20 UTC+8 (06:20 UTC)
---
Package Name




IS-3A - Standard




Package Contents
IS-3A
1 Garage Slot

Value in Gold
12,490

Price


USD

51.33

Package Name
IS-3A - Ultimate

Package Contents
IS-3A
1 Garage Slot
15 x5 EXP Token
30 Personal Reserves: +100% Crew EXP (2h)

5,500

Value in Gold
19,490

Price


USD

70.04
---
---
Featured Premium Tanks
IS-3A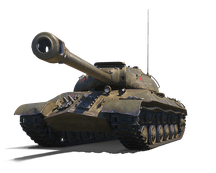 The IS-3A is a Tier 8 vehicle from the USSR tech tree. This awesome vehicle only existed in theory. Students from the BTV military academy created a diploma thesis on installing an automatic loader in the IS-3 and T-10. In World of Tanks, the IS-3A is able to load slightly faster without the loader crew. However, the autoloader does not have a clip.
---
Purchase these deals for yourself or as gifts for your friends. Please refer to the Premium Shop Guide for information on how to use it.