Tank Commanders,
The Advent Calendar is officially up and running!
On the 10th day of December, we bring you a sale featuring the AMX 13 57 GF. For the next 24 hours, you'll be able to purchase this bundle for this tank:
AMX 13 57 GF - Standard

: Contains the tank, and 1 garage slot
More details about the bundle, including the price, can be found below. Enjoy!
Roll Out!
---
Event Start: 10 December, 2016 (Saturday) @ 13:45 UTC+8 (05:45 UTC)

Event End: 11 December, 2016 (Sunday) @ 14:20 UTC+8 (06:20 UTC)
---
Package Name




AMX 13 57 GF - Standard




Package Contents
AMX 13 57 GF
1 Garage Slot

Value in Gold
5,300

Price


USD

22.47

Package Name
AMX 13 57 GF - Ultimate

Package Contents
AMX 13 57 GF
1 Garage Slot
10 Personal Reserves: +100% Crew EXP (2h)

3,650

Value in Gold
9,450

Price


USD

33.86
---
---
Featured Premium Tanks
AMX 13 57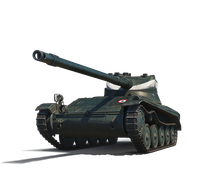 The AMX 13 57 is a Tier VII French light tank. The vehicle is a special modification of the AMX light tank. Its key feature is a long-barreled 57-mm gun with 8-shell loader drum. The time interval between shots is only 1 second, which allows to rapidly dish out 720 HP of damage to the enemy and then retreat for reloading.
The AMX is a classic light tank. High maneuverability and a view range of 390 meters make it well-adapted for spotting and raiding.
Another pleasant feature is the increased profitability in experience and credits earned and the possibility to transfer crews from other French light tanks without any penalties.
---
Purchase these deals for yourself or as gifts for your friends. Please refer to the Premium Shop Guide for information on how to use it.