Tank Commanders,
While the crew were driving the T-34-85 Rudy into the Premium Shop, we heard a bark. Not the kind that commanders give, but from an actual animal. After exiting the vehicle, the crew kindly introduced us to an adorable Szarik - the tank's German Shepherd dog.
The T-34-85 Rudy is a classic tank from the Polish TV series "Four Tank-Men and a Dog". In World of Tanks, the tank is crewed by a Commander, Gunner, Driver, and Loader. Szarik takes the seat of a Radio Operator but is clearly unable to perform a role designed for humans.
Find out more about the vehicle below!
Event Start: 20 May, 2016 (Friday) @ 14:00 UTC+8 (06:00 UTC)

Event End: 27 May, 2016 (Friday) @ 14:00 UTC+8 (06:00 UTC)
---
Package Name


Military Parade -

Rudy

Package Contents
T-34-85 Rudy
1 Garage Slots
* Each tank comes with "0 Skill" Brother in Arms Crew

1,650

Value in Gold
5,500

Price


USD 23.29
---
Featured Premium Tanks
Rudy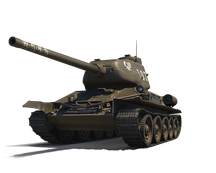 An immortal classic joins World of Tanks! This T-34-85, nicknamed Rudy, from the Polish TV-series "Four Tank-Men and a Dog," will be a great present for anyone who grew up watching the adventures of Janek, Gustaw, Grześ, Tomuś, and their dog Szarik. All these characters are represented in the game as the crew of the legendary tank and come with the Brothers in Arms perk.
The combat parameters of the Rudy are very close to those of a standard T-34-85 from the Soviet Tech Tree. The main difference is the unique exterior of the vehicle—Rudy is modelled in high definition, with careful attention to minute particulars, and exhibits all the details of the original vehicle, including the signature palm prints of the crew.
---
Purchase these deals for yourself or as gifts for your friends. Please refer to the Premium Shop Guide for information on how to use it.