Tank Commanders,
First up in the range of the Berlin Quartet is the IS-2. Not a bad tank for beginners as it is easy to master. So if you're new to tanks or it's your first time exploring Heavy Tanks, this is an ideal tank to start with. Like many heavy tanks, the IS-2 comes with an enviable gun for its tier. On Tier VII, it wields a 122mm Tier VIII gun.
On the plus side, this IS-2 comes with the white stripes used to easily distinguish soviet vehicles during the war in Berlin.
Find out more about the tank below!
---
Event Start: 06 May, 2016 (Friday) @ 13:50 UTC+8 (05:50 UTC)

Event End: 13 May, 2016 (Friday) @ 13:50 UTC+8 (05:50 UTC)
---
Package Name




Military Parade - IS-2

Package Contents
IS-2
1 Garage Slots
* Each tank comes with "0 Skill" Brother in Arms Crew

2,750

Value in Gold
8,300

Price


USD 34.62
---
Featured Premium Tanks
IS-2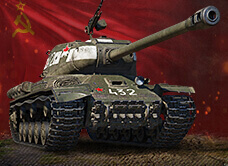 This Soviet Tier VII heavy tank features a straight glacis plate of increased effectiveness, differentiating the IS-2 from the regular IS tank researched in the Soviet Tech Tree. This version became the epitome of the Red Army's might and saw active use during the later months of World War II. This IS-2 is modelled in high definition and bears the broad white identification markings on the turret, worn by the tanks that fought in the Battle of Berlin.
Mighty and easy to master, the IS-2 is a great choice for heavy tank fans and collectors alike.
---
Purchase these deals for yourself or as gifts for your friends. Please refer to the Premium Shop Guide for information on how to use it.