Tank Commanders,
Have you read the latest issue of World of Tanks Magazine yet? Other than awesome tank-related news, there's also a special offer for a Premium Shop package! Download the magazine and enjoy the articles. Do keep an eye out - there are cool Premium Shop deals like that appearing in the news from time to time.
---
Event Start: 05 July, 2016 (Monday) @ 14:00 UTC+8 (06:00 UTC)

Event End: 30 July, 2016 (Saturday) @ 14:00 UTC+8 (06:00 UTC)
---
Package Name




Super Pershing: American Boy

Package Contents
T26E4 Super Pershing
1 Garage Slot
30 Days Premium
5 Personal Reserves (100% XP for 2h)

1,000

Value in Gold
12,250

Price


USD

45.42
---
---
Featured Premium Tanks
T26E4 Super Pershing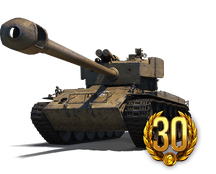 The T26E4 Super Pershing is an American Tier VIII premium medium tank which has improved armour in comparison to the M26 Pershing. It is even possible for some shells to penetrate the spaced armour without the tank taking serious damage. The tank's DPM and accuracy are decent.
However, do take note that the T26E4 Pershing is very slow for a medium tank. So, use strategies that work best with medium tanks. Knowledge of different terrains and sneaking up on enemies from the rear and sides will contribute to your future victories.
---
Purchase these deals for yourself or as gifts for your friends. Please refer to the Premium Shop Guide for information on how to use it.