Featured Premium Tanks
leKpz M 41 90 mm GF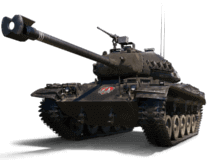 leKpz M 41 90 mm GF
The leKpz M 41 90 mm GF is one special tank. It is a Light tank that rests on Tier 8 of the German tech tree. If fast action is your kind of entertainment, you will enjoy the M 41 / 90's good speed and 90mm gun.
This vehicle is on a time-limited sale, and only available for Wargaming League Finals.

Purchase these deals for yourself or as gifts for your friends. Please refer to the Premium Shop Guide for information on how to use it.