Workshop Rewards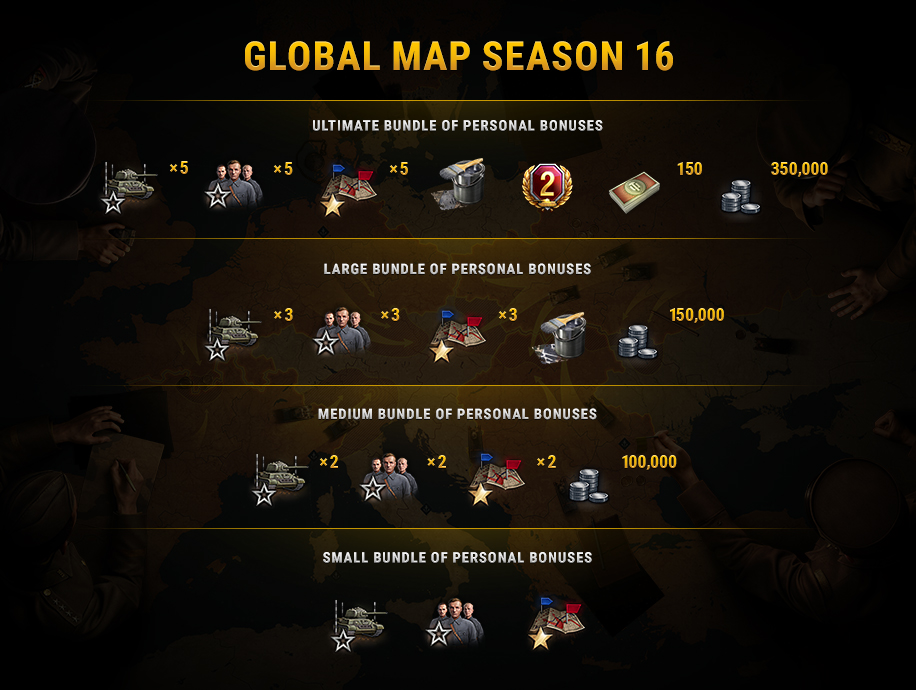 Ultimate Set of Personal Bonuses

Large Set of Personal Bonuses

Medium Set of Personal Bonuses

Small Set of Personal Bonuses
General
Victory Points
Map Pool
Seasonal Leaderboard Rewards
Battle Format:

15v15, Tier X
Prime Time:

16:00 to 23:00 UTC +8

.

Provinces

Regular, auction, and landing provinces will be available on the Global Map.
There will be a total of 120 provinces on the map with ~20% landing and ~5% auction provinces.
The battlefield is divided into zones with various levels of income.

Penalties are

ON

.
"Fog of War" is

ON

.
Alliances are

OFF

.
Clan operations are

ON

.
Revolts are

ON

.

Vehicle Lock

: 36 hours

Province Income Cap: ON

Only the 15 lowest-income provinces connected to the clan's HQ will be counted.

Influence and Divisions

Division cost

1st - 5th: 200 Influence
6th & 7th: 500 Influence
8th & 9th: 1000 Influence
10th onwards: 5000 Influence

Division upkeep is free.
Division modules are enabled for strategic effect.

Landing Tournaments and Auctions

Number of landing tournament applicants:

16

.
Maximum number of active landing applications per clan:

6

(Clan must have at least 90 members who own a Tier X vehicle)
Clans owning provinces

cannot

land on the Global Map.
Clans

can

attack landing provinces by land.
The province owner participates

only

in the Final Battle with the winner of the challengers' tournament on their own province. Applicable to landing provinces, auction provinces, and attacks from adjacent territories.

First day of the Season

All Global Map provinces will be landing provinces on the first day of the Season. At the end of Prime Time, provinces will switch to the main mode as per the general rules of the Season.
Number of applications for landing tournaments on the first day of the Season:

32

If a battle for a landing province ends in a draw, it will be counted as a defeat for both challengers.
Clans will be awarded Victory Points equal to the gold they have earned from province income and quests.
Battle Victory Points will be calculated according to a fixed base value (

Victory_points_base = 50

), using different multipliers for different types of Global Map battles:



| | |
| --- | --- |
| All battles within Challengers' tournament on Landing Provinces | 1 |
| Battles between Contenders on regular or auction Provinces | 3 |
| Battles against Province owner on any type of Province | 10 |

| | |
| --- | --- |
| < = 1000 | 1.0 |
| 1001 - 1050 | 1.1 |
| 1051 - 1100 | 1.2 |
| 1101 - 1150 | 1.3 |
| 1151 - 1200 | 1.4 |
| 1201 - 1250 | 1.5 |
| 1251 - 1300 | 1.6 |
| 1301 - 1350 | 1.7 |
| 1351 - 1400 | 1.8 |
| 1401 - 1450 | 1.9 |
| 1451+ | 2.0 |

Penalty system:


Number of no-show Battles over 7 Days

Penalty

1
Warning
2

10% deduction of Clan Victory Points
10% deduction of Clan Influence Points

3
25% deduction of Clan Victory Points
20% deduction of Clan Influence Points


50% reduction in available Clan Landing Applications

> 3
50% deduction of Clan Victory Points
30% deduction of Clan Influence Points


100% reduction in available Clan Landing Applications
Abbey
Ensk
Karelia
Live Oaks
Mines
Redshire
Sand River
Steppes
Westfield
Cliff
Fisherman's Bay
Himmelsdorf
Lakeville
Malinovka
Murovanka
Prokhorovka
Ruinberg
Serene Coast
Tundra
Position


Medal

Clan Style

Tactical Number Inscriptions


Projection Decals

Pin-up Decals

1

Winner of the Sixteenth Season 1st Class

Fire Element & Nightfall

Yes

Yes

Yes

2

Winner of the Sixteenth Season 2nd Class

3

Winner of the Sixteenth Season 3rd Class

4 - Top 10%

Season Elite

Top 10% - 50%

Season Veteran

Nightfall

No

Top 50% - 75%

-

-

No

No
| Position | Bonds |
| --- | --- |
| 1 | 60,000 |
| 2 | 50,000 |
| 3 | 40,000 |
| 4 | 35,000 |
| 5 | 30,000 |
| 6 | 25,000 |
| 7 | 20,000 |
| 8 | 15,000 |
| 9 | 10,000 |
| 10 | 5,000 |
| 11-20 | 2,500 |
| 21-30 | 1,500 |
| 31-50 | 1,000 |