We have lots of competitive activities lined up for you next weekend. Be sure to check out the 7v7 Brawl Tournament on 17 May as well if you want to win gold, bonds, and the stunning Lava Ocean style!
Are you planning on reinforcing your Stronghold, or just itching for a challenge? Then you'll definitely want to rally your clanmates and join the tournament format of your choice in the upcoming Skirmish Cup!
Up to 20,000 and 500,000 await the top teams in each tournament group. And as always, the more teams enter the tournament, the more groups and therefore the more prizes there will be to go around. Plus, each clan may field as many teams as they can muster!
Get ready to do battle in these familiar, yet challenging formats:
Tier VI 7v7 (HK & ANZ servers)
Tier X 15v15 (HK server only)
Only
clan members
will be able to form teams for this tournament. However, up to 5 Legionnaires from other clans or who do not belong to any clan may be recruited to join each team.

So, what are you waiting for? Register now and start filling your clan vault with treasures!
Registration ends: 16 May 2020 (Sat)
17:00 UTC +8 (HK server)
16:00 UTC +10 (ANZ server)
Match date: 16 May 2020 (Sat)
18:00 UTC +8 (HK server)
17:00 UTC +10 (AU server)
Tournament Information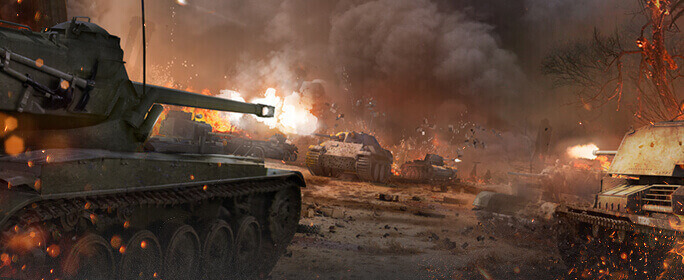 A separate tournament will be played on each server.

Teams may register for both tournaments if they wish, but each team can only play a single format (Tier VI 7v7 / Tier X 15v15) in each tournament.
Each clan may register as many teams for each tournament as they can muster.

Available Formats:

Tier VI 7v7 (HK & ANZ servers)
Tier X 15v15 (HK server only)

Game Mode: Standard Battle

, Round-robin BO1

Fog of War: ON
Prizes (per team, per group)

Tier VI 7v7




1st place

-

3,500

+

100,000




2nd place

-

3,000

+

75,000




3rd & 4th places

-

2,500

+

50,000

Tier X 15v15




1st place

-

20,000

+

500,000




2nd place

-

17,500

+

400,000




3rd & 4th places

-

15,000

+

300,000

Gold prizes will be divided among team members according to the number of battles played.
Industrial Resource prizes will be credited to the team captain's clan.
Tournament Terms & Conditions
Expand
Please read this carefully before registration!
A minimum of 5 participating teams per format in each separate tournament; if the minimum number is not met, the relevant format will not be played.

Rewards will only be given to players who have participated in at least 1 battle during the tournament.

Captains MUST confirm their team's lineup to validate their registration; teams that have not confirmed their lineups by the end of the registration period will not be able to participate in the tournament or receive prizes.

Prizes will be credited within 2 weeks (10 working days) of the end of the tournament.

Wargaming Asia may choose to terminate the contest/event or change/reassign the prize at any time without notice.

In addition, Wargaming Asia reserves the right to disqualify players who do not comply with official Wargaming rules and tournament regulations, or those who seek to abuse the mechanics of the tournament.
Collapse