Tank Commanders!
We're three days into Taipei Game Show 2016, and things just kept getting better and better! What was the highlight of the day? That, of course, was when the voice actresses of popular anime series "Girls und Panzer" and "Arpeggio of Blue Steel -ARS NOVA-" appeared live on stage to greet the excited Wargaming crowd! If you haven't yet, come on down to the Taipei Game Show! We'll be here for another two days!
11:00 -

5v5 Challenge: Streamers Torpedo Duel
The first event of the day was "5v5 Challenge: Streamers Torpedo Duel", which is a unique way of playing World of Warships. We invited players and famous Taiwanese streamers to play, and in this game mode, they were restricted to the first-ever Republic of China (Taiwan) Navy's Pan-Asia destroyer, DD-14 Lo Yang.

The unique rule was that guns were banned – battles were to be fought using torpedoes only, which meant that players would have to test their ability to make full use of torpedoes in between reloads. Engagement ranges were also reduced,and for the most part, the battlefield was deadly quiet. The only sounds came from the torpedo warnings, which the silence made more alarming than normal. Each battle was filled with excitement, and all participants had a good time trying out this special game mode.
13:00 Meet and Greet with the Voice Actresses of

Arpeggio of Blue Steel -ARS NOVA-
This was the most anticipated event of the day! The voice actresses of the popular anime Arpeggio of Blue Steel -ARS NOVA- appeared live on stage to greet the Wargaming crowd. At 13:00, not the voice actresses who voice Iona (Fuchigami Mai) and Myoko (Fukuhara Ayaka) from the series took to the stage. The audience was greatly enthused to meet the people behind the voices of their favourite characters, and they greeted each other with excitement.
While on stage, the actresses gave a short demonstration of their voice acting skills. Three lucky fans also got to go on stage and talk to them face to face in a Q&A session! An autograph session followed after, bringing an end to the event segment.
14:30

Voice actresses Mai Fuchigami Meeting
Ms. Fuchigami returned to the stage, this time as Miho Nishizumi from the popular anime "Girls und Panzer". Ever since her performance during the 2014 Taipei Game Show, fans had eagerly awaited her return! This time around, Mr. Max Chuvalov, World of Tanks' Marketing Product Manager, was on stage with her to talk about some events that they did together, as well as prospects for future cooperation. Mr. Chuvalov also announced a new mod for World of Tanks, which would feature Girls und Panzer content in World of Tanks.
Towards the end of the segment, Ms. Fuchigami played several rounds of Rock, Paper, Scissors with lucky fans, who walked away with autographed content. Following that, she exited the stage to thunderous applause from below.
Shortly after, Tt Gaming brought in some awesome eSports peripherals to share with the crowd.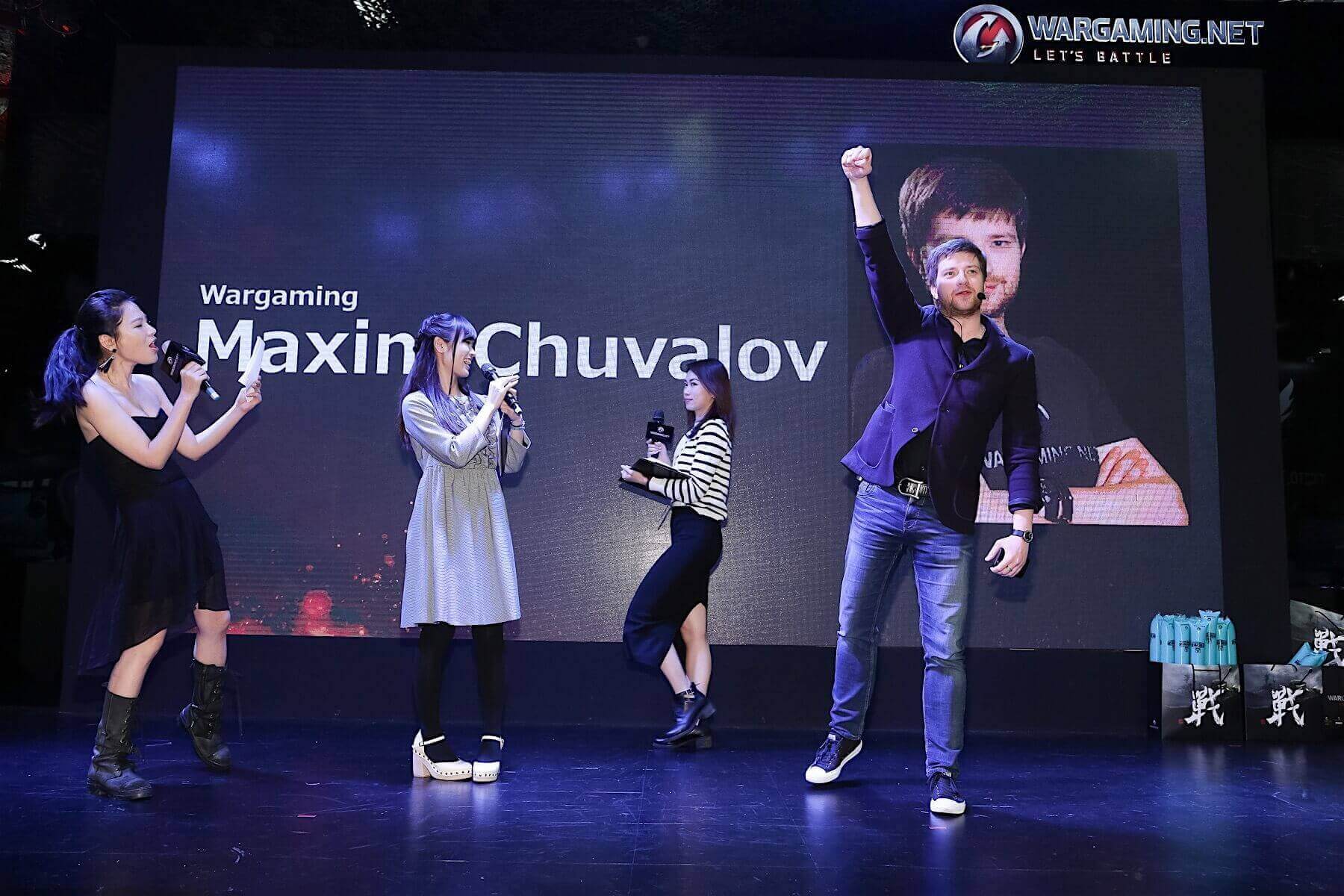 16:00
World of Tanks PS4 Edition Designer Meeting
For those who enjoy adrenaline-packed armoured warfare on the PS4, a special guest from Wargaming's Baltimore office sure got their attention: Mr. Chad Steingraber. He was here at the Taipei Game show to talk about the future of World of Tanks on the PS4. During the segment, Mr. Steingraber provided a live demonstration of in-game content, and answered questions from inquisitive fans, giving them a clear picture of what to expect.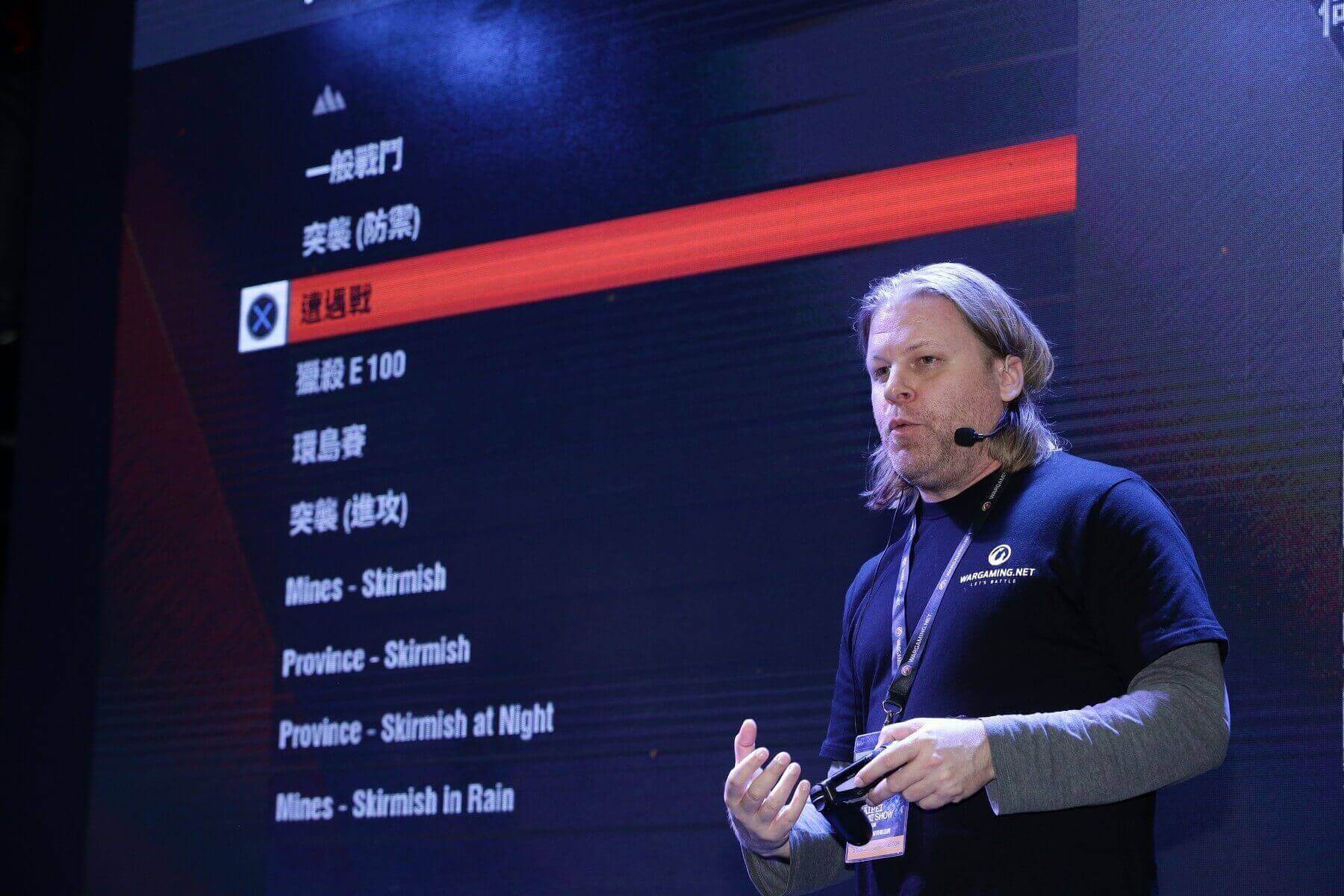 17:00 Lucky Spin
If you're attending TpGS 2016, come and experience Wargaming's updated line of products at the Wargaming booth and get a chance to win great prizes!
Simly experience the following games at the Wargaming booth: World of Tanks, World of Warships, World of Tanks: Console edition, World of Tanks: Blitz, and World of Tanks: Generals and then follow the guidelines to participate in the Lucky Spin for a chance to take home something awesome.
The best of all the prizes are, of course, PS4 and Xbox One consoles!
Other cool things you can win include: World of Tanks/World of Warships Mouse Pad, World of Tanks/World of Warships T-Shirt, World of Warships Navy Bag, World of Warships Torpedo Pen, World of Warships Omamori, Wargaming cup mat, World of Tanks Medals.
That's not all -- there will be numerous high-valued sponsor prizes which will be announced on-site, so be sure to drop by every day for your chance to score it big!
Thanks for your participation, everyone! See you tomorrow!
Let's Battle!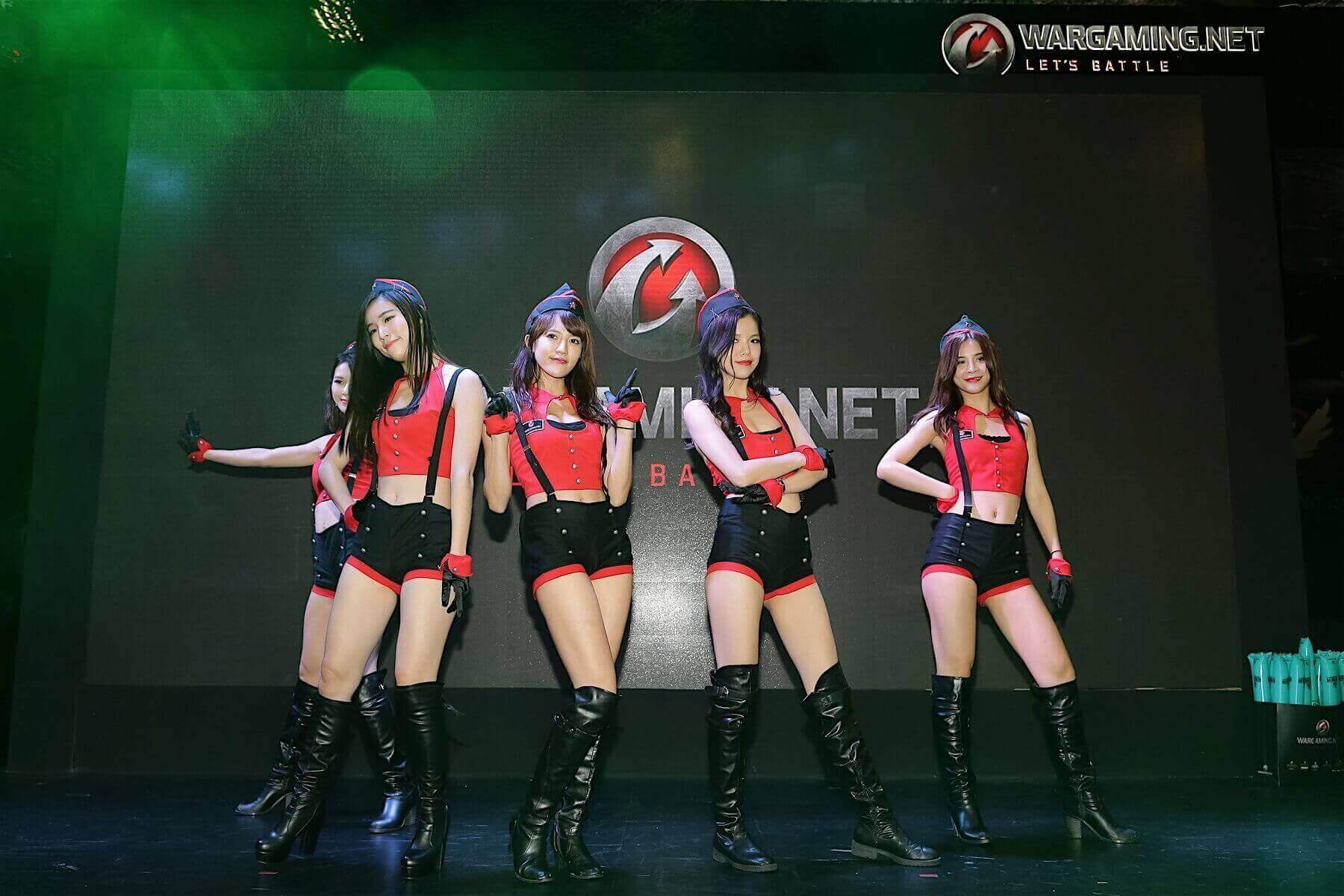 ---
[TW] TpGS 2016 Wargaming 4th Day (Feb 1) Programme
Time
Programme
Details

10:30 - 11:00

WG Girls Opening Show
WG Girls Dance & Programme Introduction

11:00 - 12:00

5v5 Challenge: Horsemen Cat & Mouse
Play games and have fun with a famous eSport team

13:00 - 13:30

WG Lucky Show

WG Girls Dance & Prize Giving

13:30 - 14:30

5v5 Challenge: Horsemen Cat & Mouse

Play games and have fun with a famous eSports team

14:30 - 15:30

QK's Battleship Classroom
Battleship talk show by a famous streamer

15:30 - 16:00

Razer Show

Join the game for big prizes!

16:00 - 17:00

5v5 Protect the Battleship Princess

Play games and have fun with

the

WG Girls

17:00 - 17:30

WG Lucky Show

WG Girls Dance & Prize Giving
Last but not least, you can receive a Limited Edition Wargaming Taipei Game Show 2016 Badge by showing us your Service Record with the "World of Tanks Assistant" App or by logging in with your Wargaming ID! We're only giving out 100 of these each day, so be sure to grab them while you can! Use them to demonstrate your commitment, and ability to your platoon mates!