Tank Commanders!
A little drizzle over the showgrounds wasn't going to stop us. It's the first day of the Taipei Game Show and we were all pumped up and ready to go! The battle-hardened Wargaming crowd braved their way to our booth. If you were here with us today, thanks for dropping by! Be sure to check the photos to see if you're in it.
If you weren't able to come join us, don't fret – here's a breakdown of today's highlights.
10:30 Grand Opening
The Wargaming booth opened up to the eager audience at 10:30, starting with a sizzling dance by the Wargaming Girls. We can be sure everyone felt the heat!
Next up was a spectacular display of might and steel by the retired former Military Honour Guard of the ROC Military. It was the first ever live performance by them in the history of Taipei Game Show!
Then Mr. Max Chuvalov, World of Tanks' Marketing Product Manager, took to the stage with a brief speech. As this was the 3rd time Wargaming participated in the Taipei Game Show, he complimented that it was thrilling to see how the fans and franchise grew even beyond his imagination in Asia over the years, and how he was thrilled to present the Republic of China (Taiwan) Navy's proud jewel – the DD-14 LO-Yang Destroyer of Pan-Asia to the World of Warships audience. Finally, with the introduction of World of Tanks to PS4, Mr. Chuvalov welcomed PS4 console players to the ever-growing players of the Wargaming franchise, and wished everyone a Happy Chinese New Year.
With the download rate of World of Tanks reaching new heights for the PS4, the general manager of Sony Taiwan Mr. Tatsuo Eguchi came on stage as a VIP to share some comments as well. He hoped that this will be the start of a long and prosperous joint-venture which would bring more highly anticipated games to the Playstaion players.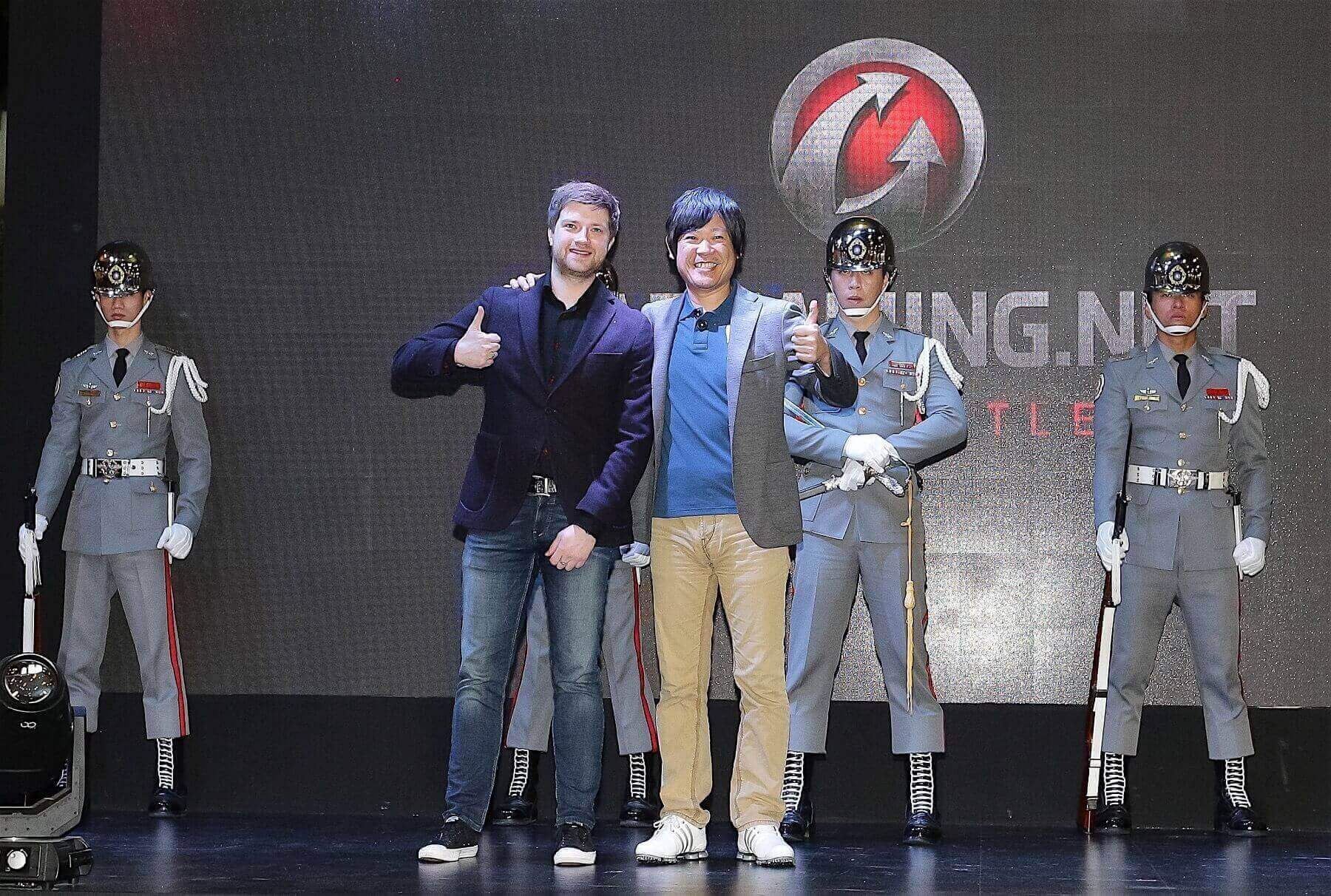 Finally, the host welcomed other guests to the stage, including Sky - the General Manager of Wargaming Taiwan Office, Hisashi Yaginuma - Wargaming Asia's World of Warships Publishing Producer, Chad Steingraber - Senior Game Designer at Wargaming Chicago-Baltimore, and Ozan Kocoglu - Mobile Producer. All guests and WG Girls stood out and lined up for one awesome photo.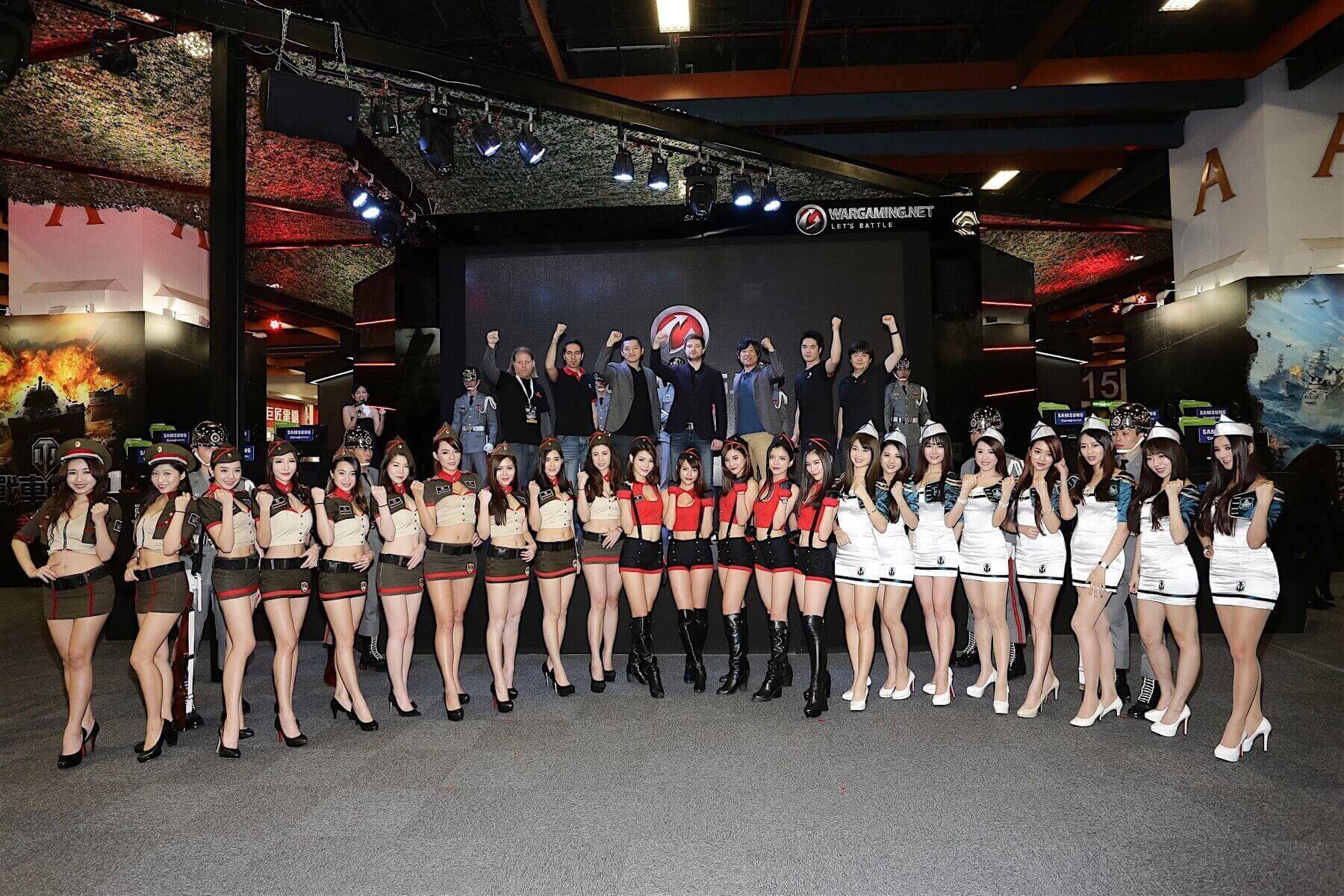 11:00

Protect the

Battleship Princess
Moving on to Events: "Protect the Battleship Princess" pitches randomly-selected audience members and Wargaming Girls to a World of Warships battle – Live on stage! The players must defend the ships controlled by the Wargaming Girl, and thus a fleet consisting of an entourage of knights and a princess was formed.
14:30 Game Designer Meeting
For those who were enjoying the adrenaline-packed tank warfare on PS4, a special guest from Baltimore sure got our attention: Chad Steingraber. And he was here at Taipei Game show to talk about the future of World of Tanks: PS4. Mr. Steingraber gave a clear demonstration of in-game content and provided answers to the questions that fans had in mind, receiving superb feedback.
16:00
Protect the Battleship Princess
On the second round of "Protect the Battleship Princess", randomly-selected audience players and Wargaming Girls duked it out on stage once more – the players had to defend the ships controlled by the Wargaming Girl, creating an entourage fleet of knights and a princess. This time, the Princess took the initiative and went head-strong, leading an assault, and though she did not survive to finish the battle, the round proved spectacular to behold, with shells and torpedoes dotting every inch of the battlefield.
That's it for today, hope to see you tomorrow at Wargaming Booth!
---
[TW] TpGS 2016 Wargaming 2nd Day (Jan 30) Programme
Time

Programme

Details

10:30 - 11:00

WG Girls Opening Show
WG Girls hot dance & programme introduction

11:00 - 12:00

5v5 Challenge: WG Staff High Sea Combat

Play games and have fun with

WG

Staff

13:00 - 13:30

WG Lucky Show

WG Girls dance & giveaway time

13:30 - 14:30

5v5

Challenge:

WG

Staff High Sea Combat

Play games and have fun with

WG Staff

14:30 - 15:30

World of Warships Producer Meeting
Learn more about WOWS!

15:30 - 16:00

Samsung Show

Join the game for big prizes

16:00 - 17:00

World of Tanks Generals Veteran Player Demo
Veteran player talkshow

17:00 - 17:30

WG Lucky Show

WG Girls dance & giveaway time
Last but not least, you can receive a Limited Edition Wargaming Taipei Game Show 2016 Badge by showing us your Service Record with the "World of Tanks Assistant" App or log in your Wargaming ID! We're only giving out 100 of these each day, so be sure to grab them while you can! Use them to demonstrate your commitment, and as a show of power to your platoon mates!