Tank Commanders!
At the pre-show press conference for Taipei Game Show (TpGS) 2016, held by the Taipei Computer Association, Wargaming released more exciting and important information about the event! Please read this article to learn about the special content that we will feature at TpGS 2016.
Arpeggio of Blue Steel/Girls und Panzer Voice actresses are back!
Remember Mai Fuchigami, the voice actress of Miho Nishizumi in Girls und Panzer? She will be back on stage, live, at the Taipei Game Show! There's more - Ayaka Fukuhara, voice actress of Myoko in Arpeggio of Blue Steel, will also be present! Both players and fans alike should keep their eyes peeled: don't miss the opportunity to "hear" from them in person at the Taipei Game Show!
Meet the Producers: Game Secrets Revealed!
As game creators and developers, we feel that we have an obligation to let players and guests get a better understanding of Wargaming's creations. That being the case, we're planning to bring in Hisashi Yaginuma(柳沼恒史), the World of Warships Asia publishing producer, and Chad Steingraber, the World of Tanks Playstation 4 Senior Game Designer at Wargaming Chicago-Baltimore, on stage. While up there, they will talk to our players about game content and future developments. All questions are welcome in this face to face meeting, so don't be shy. Ask about what you want to know!
ROCN Lo Yang At The Forefront!
Last but not least, the head of Wargaming's Taiwan office declared in his speech: WOWS will soon release the Republic of China Navy destroyer, DD-14 Lo Yang, in the game! WOWS has been critically acclaimed worldwide, and response from Asian players, especially those in Taiwan, has been nothing short of enthusiastic. With the help of Wargaming's Taiwan office, WOWS will soon release the first premium ship based on ROCN ships, the first of which is DD-14 Lo Yang. The release is planned to coincide with TpGS. Stay tuned to the portal for the latest news.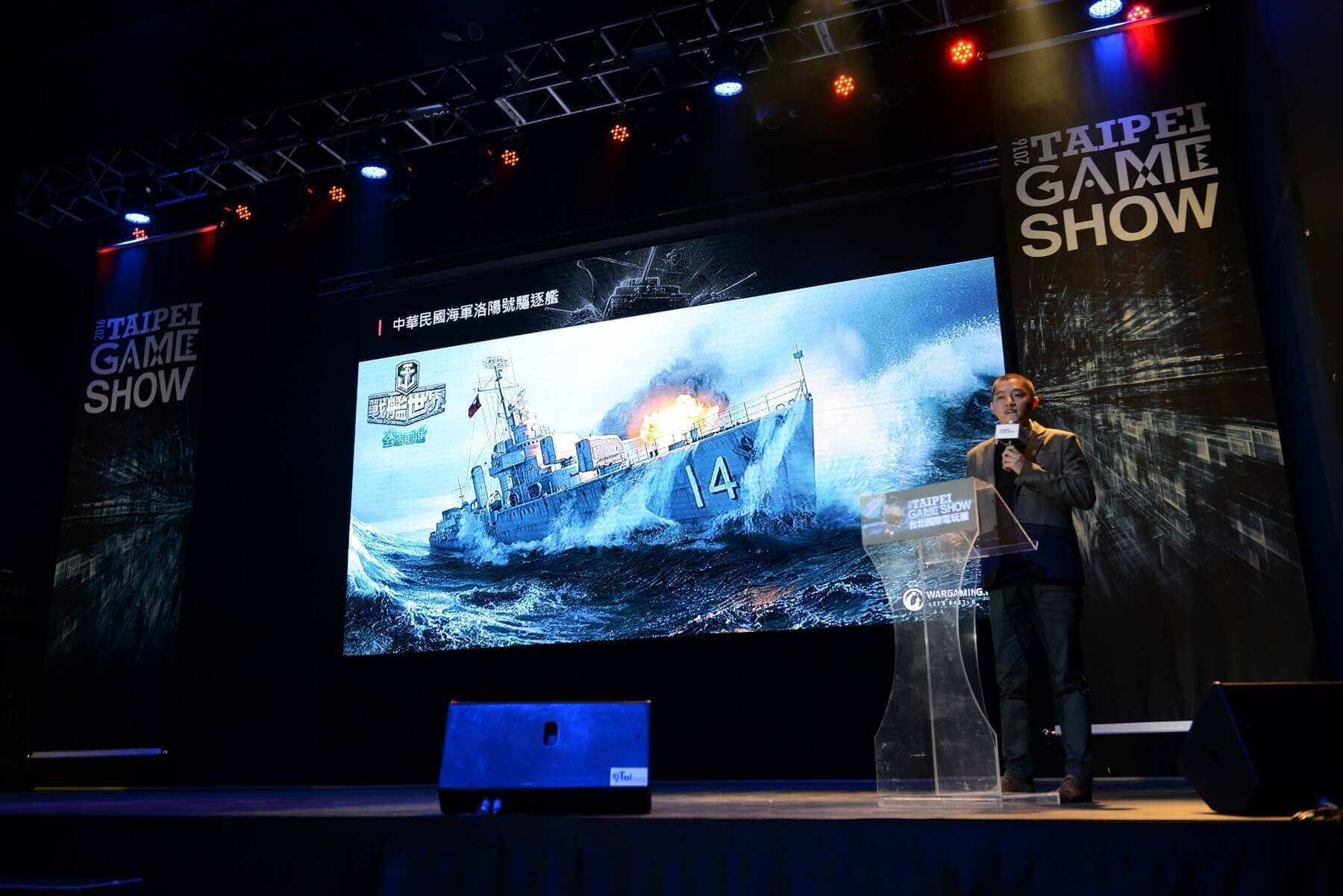 Let's Battle!
---
Event Schedule
Wargaming @

Taipei Game Show 2016



Date

29 Jan (Fri) ~ 2 Feb (Tue) , 2016

Time

Daily 10:00 - 18:00 UTC +8

Location

No. 5, Section 5, Xinyi Rd, Xinyi District, Taipei City, 110 -

Taipei World Trade Center Hall 1, Booth A221