Tank Commanders,
The Fengshan Army Academy held an open house recently, and Wargaming was in attendance! It's been two years since our last visit. We had fun with the academy students, tank commanders, and local visitors, and you must be eager to know the whole story!
09:00 - A Wonderful and Sunny Day
As expected, the visitors of Fengshan Army Academy open house were greeted with the summer sun of southern Taiwan. Visitors who arrived early even had the chance to witness exciting demonstrations of combat skills, such as parachuting.
Vistors crowded around Wargaming's booth, located in front of the Kai-Shek Hall alongside other booths. At our booth, we had computers set up for visitors and players to test their skills in World of Tanks using the American M41 Walker Bulldog, a Tier VII light tank, in the Republic of China Marine Corps' camouflage paint scheme.
10:00 -

Miniature CM-32 Taiwan Infantry Fighting Vehicle (TIFV)
A miniature "CM-32 TIFV" was deployed as well, which proved highly popular amongst children. So many of them wanted to mount the vehicle to experience what it was like to be a tank commander! Many of them took photos as well.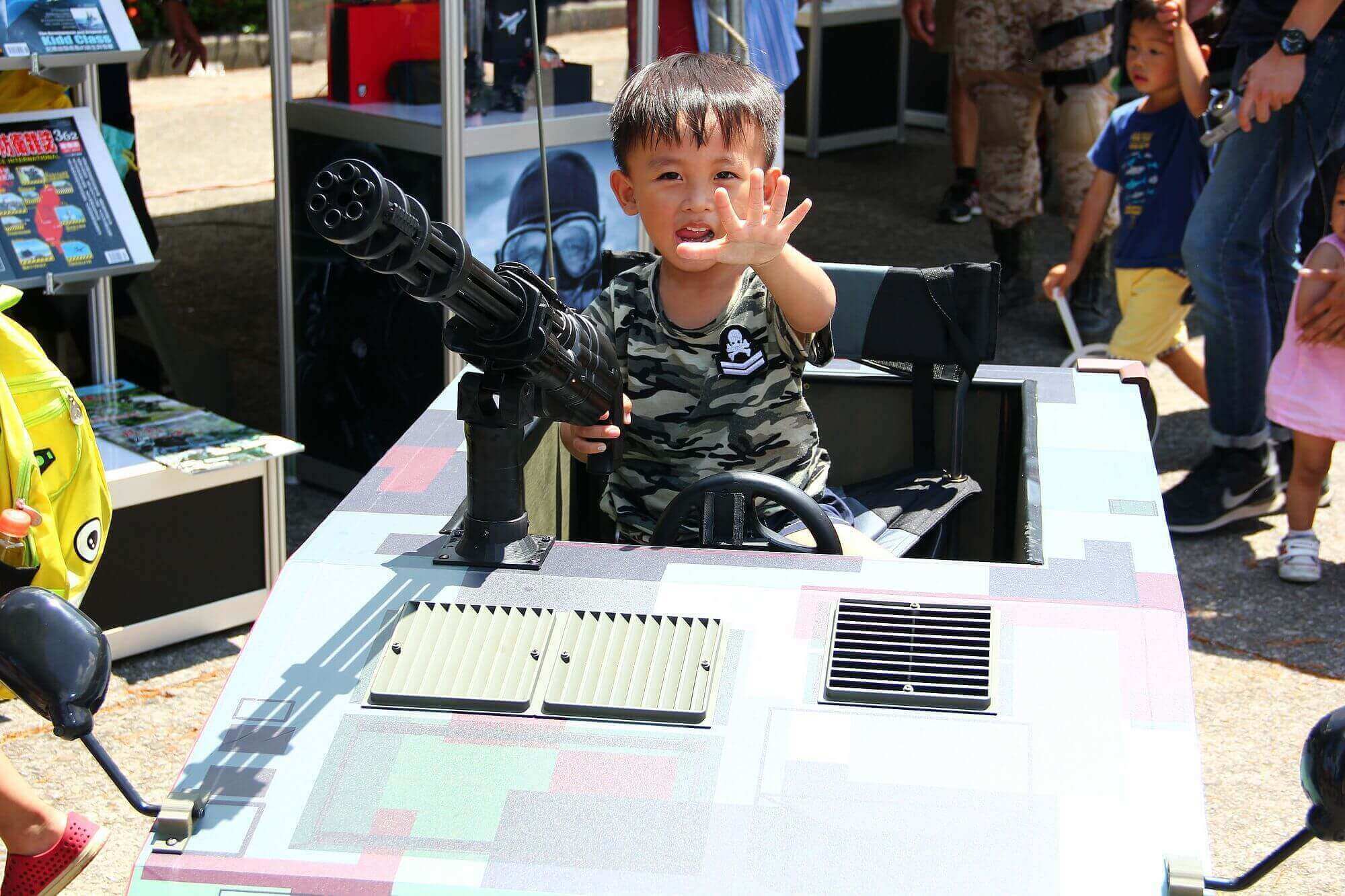 Besides the TIFV, the WG Girls also caught the eyes of players and visitors! Even the soldiers and officers wanted photos with them. Visiting students from Burkina Faso also visited our booth!
Liking the Facebook fan pages of Defense International and World of Tanks was also rewarding: those who did so had a chance to take photos with the "CM-32 TIFV" model and take part in the raffle for a chance at winning the toy brick tank, a miniature KV-2 model, World of Tanks T-shirt, paper tank model, and Wargaming's special L folder!
11:00 -

Military Weapon Community Guide Tour
At 11:00, Wargaming started the core event, a "military weapon community guide tour", in which military experts from Defense International and the national army representative introduced high-tech instruments of war such as the AH-64 Apache, AH-1 Cobra, CM-11 Brave Tiger to tank commanders. Surprisingly, the representative introducing the CM-11 was also a tank commander in the World of Tanks!
Later, the players gathered with Sky, the manager in charge of Wargaming Taiwan, and the WG Girls. Together, roared "Let's Battle!" in front of the Brave Tiger for a group photograph. After the event, players each received souvenirs, including a World of Tanks T-shirt, a memorial badge, a World of Tanks document file, a World of Tanks fan, a sports drink, and a set of paper tank models!

Tank commanders, we achieved great success in this event, and we want to thank you for your continued support. See you at the next open house!