KV-2 (R) Valhallan Ragnarok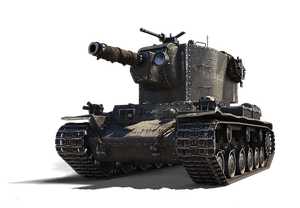 What's Hot

Firepower:

Awesome alpha damage can blow enemy tanks away in a single hit.
Protection:

Although not particularly thick, the KV-2 (R) armour is perfect for side scraping.

Use the fear factor:

Intimidate your enemies, then crush them and take home tons of EXP and Credits.

What's Not

Pick your shots carefully:

Mediocre accuracy, long aim and reloading times.
Don't go out on your own:

This tank is vulnerable during reloading.
Carry a scout around: Your view range is bad, so let your allies scout for you before you move.
[Premium Shop] Warhammer 40,000 Tanks Storm the Battlefield
Event Start: 07 September, 2018 (Friday) @ 14:00 UTC+8 (06:00 UTC)
Event End: 14 September, 2018 (Friday) @ 14:00 UTC+8 (06:00 UTC)
Click on the bundle names below to display more information. Remember to log in on the Premium Shop to see all items on sale!
KV-2 (R) Valhallan Ragnarok - Supreme (USD 86.25)

KV-2 (R) Valhallan Ragnarok - Ultimate (USD 51.72)

KV-2 (R) Valhallan Ragnarok - Standard (USD 31.40)

Style: BDR G1 B - Mordian (USD 10.89)