KV-5
KV-2 (R) Valhallan Ragnarok
AMX 13 57
T14
Strv S1
M56 Scorpion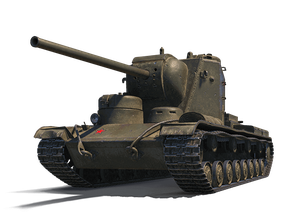 Nation:

U.S.S.R
Tier:

V

III
Type:

Heavy Tank
What's Hot

107mm gun has good firepower and damage.
Strong armour allows for excellence in close combat.
Large size allows it to easily damage the

commander's cupola

- a common weak spot of most enemies.

What's Not

Slower speed is a common trait amongst heavy tanks - plan your course well.
Not ideal for those who get panic attacks in close range fights. Its low accuracy requires you to get closer to enemies.
The reason why Mr. KV-5 Radio Operator hates his job is simple - the radio operator's cupola is a well-known frontal weak spot. Do him a favour and angle your armour to protect him from an early demise.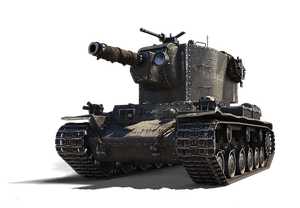 Nation:

U.S.S.R
Tier:

VI
Type:

Heavy Tank
What's Hot

Firepower: Awesome alpha damage can blow enemy tanks away in a single hit.
Protection: Although not particularly thick, the KV-2 (R) armour is perfect for side scraping.
Use the fear factor: Intimidate your enemies, then crush them and take home tons of EXP and Credits.

What's Not

Pick your shots carefully: Mediocre accuracy, long aim and reloading times.
Don't go out on your own: This tank is vulnerable during reloading.
Bring a scout around: Your view range is bad, so let your allies scout for you before you move.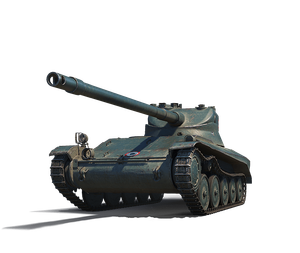 Nation:

France
Tier:

VII
Type:

Light Tank
What's Hot

Float like a butterfly: Very high mobility -- great acceleration and top speed
Sting like a bee: Fast-reloading magazine
Accurate gun
Low profile: Hard to hit

Rare and collectible!

What's Not

Low ammo capacity
Low alpha damage - must hit enemies multiple times to deal significant damage
Poor gun depression: Need to put yourself at risk to deal damage

More likely than other tanks to receive damage to multiple modules/crew at the same time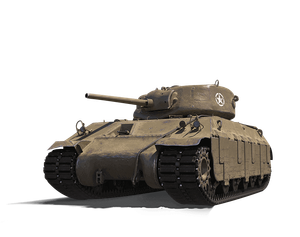 Nation:

U.S.A
Tier:

V
Type:

Heavy Tank
What's Hot

Excellent frontal armour profile: well-sloped frontal hull & strong turret armour

Spaced side armour is strong: neutralises HE & HEAT rounds, easily bounces AP rounds of same tier

Sufficient weight and speed for ramming

What's Not

High skill required: shells have low penetration and gun has low accuracy

Watch your flanks! Your hull & turret traverse are slow.

Hide your big frontal weak spot: the MG port!
Armour above side skirts is easily penetrated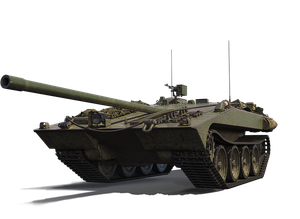 Nation:

Sweden
Tier:

V

III
Type:

Tank Destroyer
What's Hot:

Efficient damage dealer: Excellent penetration and high shell velocity
Sneaky: High camo rating, low profile
Escapes easily

What's Not:

Gun cannot traverse: Must move the hull to aim
Poor mobility in Siege mode: Easily flanked

Low survivability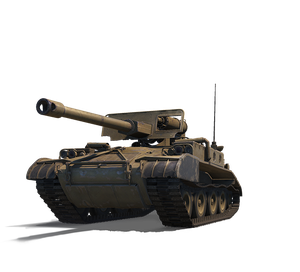 Nation:

U.S.A
Tier:

V

II
Type:

Tank Destroyer
What's Hot:

High camo rating
Good gun handling
Excellent gun arc
Good gun depression
Decent mobility for a tank destroyer
Good penetration

What's Not:

Vulnerable to HE shells
Weak armour
Low gun traverse speed
Not suitable as a USA TD crew trainer
[Premium Shop] Fabulous Friday Sales - 15 March
Sale Period: 15 March, 2019 (Friday) @ 14:00 UTC+8 to 22 March, 2019 (Friday) @ 14:00 UTC+8
Click on the bundle names below to display more information. Remember to log in on the Premium Shop to see all items on sale!
KV-5 Returns - Standard (USD 32.61)

KV-5 Returns - Deluxe (USD 60.72)

KV-5 Returns - Supreme (USD 94.46)

KV-2 (R) Valhallan Ragnarok - Standard (USD 31.40)

KV-2 (R) Valhallan Ragnarok - Deluxe (USD 51.72)

KV-2 (R) Valhallan Ragnarok - Supreme (USD 86.25)

AMX 13 57 - 25% Off (USD 46.22)

AMX 13 57 - Best Buy! (USD 68.24)

Collector's Gem: T14 (USD 11.10)

Collector's Gem: T14 - Deluxe (USD 28.40)

Strv. S1 - 25% Off (USD 34.65)

Strv. S1 - Best Buy! (USD 42.72)

M56 Scorpion - 25% Off (USD 39.85)

M56 Scorpion - Best Buy! (USD 62.41)

x5 Experience - Standard (USD 11.25)

x5 Experience - Deluxe (USD 20.70)

x5 Experience - Supreme (USD 28.01)

Living in Luxury (USD 48.01)