Tank Commanders,
The Advent Calendar is officially up and running!
On the 7th day of December, we bring you a sale featuring the ISU-122S. For the next 24 hours, you'll be able to purchase this this bundle for this tank:
ISU-122S - Standard: Contains the tank, 1 garage slot, and some gold
More details about the bundle, including the price, can be found below. Enjoy!
Roll Out!
---
Event Start: 09 December, 2016 (Friday) @ 13:45 UTC+8 (05:45 UTC)

Event End: 10 December, 2016 (Saturday) @ 14:20 UTC+8 (06:20 UTC)
---
Package Name




ISU-122S - Standard




Package Contents
ISU-122S
1 Garage Slot
3,250


Value in Gold
8,300

Price


USD

34.62
---
---
Featured Premium Tanks
ISU-122S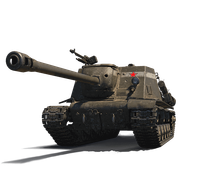 The offer for Day 9 in the Advent Calendar features the ISU-122S. This vehicle is a heavy assault gun with high damage per minute and good camouflage values.
Get it together with a garage slot, some gold, and a BiA Crew.
---
Purchase these deals for yourself or as gifts for your friends. Please refer to the Premium Shop Guide for information on how to use it.