Tank Commanders,
The Advent Calendar is officially up and running!
On the 4th day of December, we give you a sale featuring the M46 Patton KR. For the next 24 hours, you'll be able to purchase two different bundles containing this rare tank:
M46 Patton KR

- Standard: Contains the tank and 1 garage slot

M46 Patton KR

- Ultimate: Contains the tank, 1 garage slot, 5 EXP x5 victory tokens, personal reserves, and

5,500
More details about the bundle, including the cost can be found below. Enjoy!
Roll out!
---
Event Start: 04 December, 2016 (Sunday) @ 14:00 UTC+8 (06:00 UTC)

Event End: 05 December, 2016 (Monday) @ 14:20 UTC+8 (06:20 UTC)
---
Package Name




M46 Patton KR Standard




Package Contents
M46 Patton KR
1 Garage Slot


Value in Gold
9,000

Price


USD

37.43

Package Name




M46 Patton KR

Ultimate




Package Contents
M46 Patton KR
1 Garage Slot
15 EXP x5 Victory Tokens
30 Personal Reserves: +100% Crew XP (2hrs)

5,500

Value in Gold
16,000

Price


USD

58.09
---
---
Featured Premium Tanks
M46 Patton KR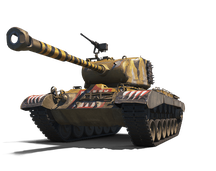 The offer for Day 4 in the Advent Calendar features the ferocious M46 Patton KR that will strike fear in the hearts of the enemy team, thanks to its fearsome custom paint job!
Get it together with a garage slot, some Personal Reserves, a solid amount of gold and a free bonus of 15 missions for your new Patton!
Important: The missions included in this package can be completed only with the M46 Patton KR and will activate once the First Victory of the day bonus is used up. The missions will expire on 31 January 2017.
---
Purchase these deals for yourself or as gifts for your friends. Please refer to the Premium Shop Guide for information on how to use it.