Tank Commanders,
The Advent Calendar is officially up and running!
On the 18th day of December, we bring you a sale featuring the Rheinmetall Scorpion . For the next 24 hours, you'll be able to purchase this bundle for this tank:
Rheinmetall Skorpion

- Ultimate

: Contains the tank, 1 garage slot, x5 EXP for Victory mission unlock, and some gold
Note: The mission for x5 EXP can be completed 15 times per account. For random battles only, on the Rheinmetall Skorpion, the player must rank within top 10 in EXP in the team. The first win does not count.
More details about the bundle, including the price, can be found below. Enjoy!
Roll Out!
---
Event Start: 18 December, 2016 (Sunday) @ 13:45 UTC+8 (05:45 UTC)

Event End: 19 December, 2016 (Monday) @ 14:20 UTC+8 (06:20 UTC)
---
Package Name




Rheinmetall Skorpion - Standard




Package Contents
Rheinmetall Scorpion
1 Garage Slot

Value in Gold
11,200

Price


USD

46.21

Package Name
Rheinmetall Skorpion - Ultimate

Package Contents
Rheinmetall Scorpion
1 Garage Slot
30 Personal Reserves: +100% Crew EXP (2h)

6,750

Value in Gold
19,450

Price


USD

69.88
---
---
Featured Premium Tanks
Rheinmetall Skorpion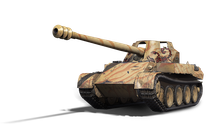 The Rheinmetall Skorpion is a vehicle that is built to take out enemies before they can land a hit on you. It's built for speed and assault. So use your speed as armour, and be very secretive about your position in battle.
---
Purchase these deals for yourself or as gifts for your friends. Please refer to the Premium Shop Guide for information on how to use it.