Tank Commanders,
It's the 17th day of the Advent Calendar!
Today, we bring you a sale featuring the E 25. For the next 24 hours, you'll be able to purchase this tank bundle:
Day 17 - E 25: Contains the tank, 1 garage slot, gold,and personal reserves
More details about the bundle, including the price, can be found below. Enjoy!
Roll Out!
---
Event Start: 17 December, 2016 (Saturday) @ 13:45 UTC+8 (05:45 UTC)

Event End: 18 December, 2016 (Sunday) @ 14:20 UTC+8 (06:20 UTC)
---
Package Name
Day 17 - E 25

Package Contents
E 25
1 Garage Slot
10 Personal Reserves: +300% Crew EXP (1h)
15 Personal Reserves: +100% EXP (1h)

5,000

Value in Gold
15,750

Price


USD

49.39
---
---
Featured Premium Tanks
E 25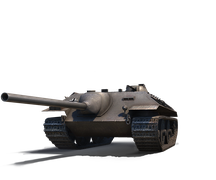 The E 25 is a German Tier VII premium tank destroyer.
Its superior speed of 65km/h allows it to move into action quickly. And its Power/Wt Ratio allows it to climb places fairly quickly.
The E 25 does, however, have low penetration abilities. But its accuracy will allow you to hit weak spots with ease. It also has weak armour, so be sure to utilize this TD's speed and move around to avoid getting hit.
---
Purchase these deals for yourself or as gifts for your friends. Please refer to the Premium Shop Guide for information on how to use it.