Event Start: 17 June, 2016 (Friday) @ 14:00 UTC+8 (06:00 UTC)

Event End: 24 June, 2016 (Friday) @ 14:00 UTC+8 (06:00 UTC)
---
Package Name




IS-3A

Package Contents
IS-3A
1 Garage Slot


Value in Gold
12,490

Price


USD

51.33

Package Name




IS-3A Ultimate

Package Contents
IS-3A (100% crew)
1 Garage Slot
30 Personal Reserves (100% Crew XP for 2h)

5,000

Value in Gold
19,590

Price


USD

69.84

Package Name


FCM 50 t


(One time offer)

Package Contents
FCM 50 t (100% crew)
1 Garage Slot
1 Month Premium

2,500

Value in Gold
18,200

Price


USD

56.12

Package Name


M4 Revalorisé


(One time offer)

Package Contents
M4 Revalorisé (100% crew)
1 Garage Slot
1 Month Premium

2,500

Value in Gold
13,300

Price


USD 41.43

Package Name




Löwe

Package Contents
Löwe (100% crew)
1 Garage Slot
1 Month Premium

2,500

Value in Gold
18,800

Price


USD

57.30

Package Name




Tank Buffet Pack 2

Package Contents
STA-2
Heavy Tank No. VI
Kanonenjagdpanzer
3 Garage Slots

3,000

Value in Gold
25,050

Price


USD

88.77
---
Event Start: 17 June, 2016 (Friday) @ 14:00 UTC+8 (06:00 UTC)

Event End: 24 June, 2016 (Friday) @ 14:00 UTC+8 (06:00 UTC)
---
Featured Premium Tanks
IS-3A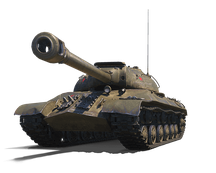 The IS-3A is a Tier VIII vehicle from the USSR tech tree. This awesome vehicle only existed in theory. Students from the BTV military academy created a diploma thesis on installing an automatic loader in the IS-3 and T-10. In World of Tanks, the IS-3A is able to load slightly faster without the loader crew. However, the autoloader does not have a clip.
FCM 50 t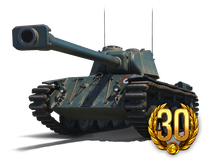 Take the FCM 50t if you're looking for a French tank that can aid your transition from medium to heavy tanks. This Tier VIII heavy runs at a maximum speed of 51km/h and can provide you with the familiarity of a medium tank's speed. On the plus side, it has a decent gun that penetrates 159-265mm of armour. The tank can put up a good fight with excellent aim time, accuracy, and reload time.
One of the tank's drawbacks is its low damage for its tier. The large size makes the tank bad at performing sneak attacks or taking cover.
M4 Revalorisé
Shermans under French banners may seem bizarre. What is this tank even doing in Tier VIII battles? Any vehicle can turn it into a burning sieve in no time!
However, everything falls into place when you look at the armament. The accurate and powerful 105 mm gun with great penetration just wipes out opponents. Standard APCR shell can penetrate up to 200 mm of armor and cause up to 390 points of damage. Not to mention that the tank can carry HEAT shells!
The M4A1 Revalorisé is truly lethal, but beware — the vehicle is vulnerable to return fire (especially during an 11-second reload). As soon as you get used to it, this French tank will bring you a lot of fun and credits!
Löwe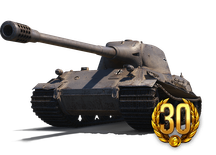 The Löwe is a Tier VIII Premium heavy tank. It has an excellent gun for a Tier VIII heavy with better accuracy & penetration compared to a Tiger II's top gun. The excellent view range allows you to earn credits quickly.
The tank's upper glacis armour is strong enough to withstand 122mm of penetration and its well-sloped front of turret can bounce of shells even from Tier IX TDs.
STA-2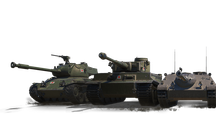 Good damage per minute is in your cards if you're riding the STA-2. This vehicle is a Tier VIII Japanese vehicle. It makes an incredible sniper. While it has an above average HP for its tier, you will still need to be cautious when soaking up damage due to the tank's low armour values. For best results, work in a team with other tanks with better armour.
Heavy Tank No. VI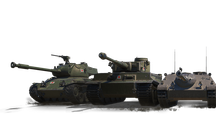 Japanese Tier VI Heavy Tank.
Solid armour, high rate of fire, high durability and great view range allows the Japanese Tiger to meet Germany's quality standards. The lower tier of the Japanese tank explains the weaker gun. An 88-mm gun is a perfect fit, as a thick steel skin is more likely to make a difference in Tier VI battles.
Remarkable rate of fire and damage-per-minute makes the Tiger an ideal choice for focusing fire on single targets or holding back multiple enemies at a time. Besides this, the tank has a strong gun mantlet and can exploit all the advantages of it by rotating the hull and absorbing damage. In a high tier battle, stick to allies, use rapid fire to immobilize enemies, and hit them in the rear and sides.
Purchase the Tiger and start training a crew for Japanese heavy tanks!
Kanonenjagdpanzer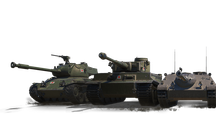 Even though the Kanonenjagdpanzer is not easy to master, it is still a very great vehicle to drive. In fact, compared to the E 25, it is way harder to play, not just because of the bigger size or higher Tier, but because it relies on your team mates and requires map awareness. However, if you are skilled enough, you will earn lots of credits in no time. We recommend you join a platoon of medium or light tanks to make your life easier. Also, after each battle you can be sure that every single credit was gained through proper and hard work. This tank feels really German.
If you like zipping around the battlefield and annoying enemy tanks with a constant barrage of shots, you will definitely love the Kanonenjagdpanzer.
Event Start: 17 June, 2016 (Friday) @ 13:50 UTC+8 (05:50 UTC)

Event End: 30 June, 2016 (Thursday) @ 13:50 UTC+8 (05:50 UTC)
---
Mission: Kanonenjagdpanzer
Restrictions:
Conditions:
Be one of the Top 10 EXP earners in your team
Reward:
---
Purchase these deals for yourself or as gifts for your friends. Please refer to the Premium Shop Guide for information on how to use it.