Tank Commanders,
A strong gun and good view range are reliable tools in battle. The FV4202 (P) has both. This vehicle will be a permanent addition to the Premium Shop.
Check the deals below for more!
---
Event Start: 15 March, 2016 (Tuesday) @ 14:00 UTC+8 (06:00 UTC)

---
Package Name




FV4202

Package Contents
FV4202
1 Garage Slot


Value in Gold
7,600

Price
USD 31.80
---
Featured Premium Tanks
FV4202 (P)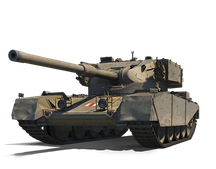 The FV4202 (P) is a Tier 8 Premium tank with a great gun. If you are looking for a sniper or a support tank with good damage capabilities, this is it. With this tank, you will enjoy good gun stabilisation too which works great when shooting on the move. A good view range will help you to take down enemies from afar with lower chances of detection.
---
Purchase these deals for yourself or as gifts for your friends. Please refer to the Premium Shop Guide for information on how to use it.