Tank Commanders,
Did you know? The most produced and successful tanks of World War II happen to be Medium Tanks. Mainly because they were more cost-effective to produce in those times of scarcity. And probably more importantly - had a balance of mobility, armour, and firepower.
The Cromwell B is a British Medium Tank that likely has lots of tales to share from its participation in the Berlin War.
Find out more about the vehicle below!
Event Start: 13 May, 2016 (Friday) @ 14:00 UTC+8 (06:00 UTC)

Event End: 20 May, 2016 (Friday) @ 14:00 UTC+8 (06:00 UTC)
---
Package Name




Military Parade - Cromwell B

Package Contents
Cromwell B
1 Garage Slots
* Each tank comes with "0 Skill" Brother in Arms Crew

3,050

Value in Gold
6,750

Price


USD 28.57
---
Featured Premium Tanks
Cromwell B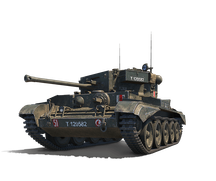 This British Tier VI medium tank is a collector's version of one of the most distinguished vehicles ever fielded by the United Kingdom. Amazing mobility and a rapid-firing gun make the Cromwell one of the most esteemed vehicles of its tier. The Cromwell B is a highly detailed model of the real vehicle, bearing a historical paint job and numerous carefully reproduced elements that will please even the most demanding connoisseur of WWII armour.
Swift and elegant, Cromwell B is a perfect gift for any medium tank commander or collector.
---
Purchase these deals for yourself or as gifts for your friends. Please refer to the Premium Shop Guide for information on how to use it.